This website let's you see what David Bowie was doing at your age
We are all still in shock as we process the passing of iconic rock legend David Bowie. Mixed in with the feelings of grief and loss are global feelings of awe as we revisit his incredible career and the artistry and talent that launched him to stardom. Few artists are as prolific, imaginative, and constantly inventive as Bowie was, which is part of what made him a role model for so many. And just in case you need some goals from the Thin White Duke, a new website has put together his major milestones according to the age at which he accomplished them.
"What Did David Bowie Do At Your Age?" is a simple site that asks you to input your age. Then it gives you the highlight (or in some cases, highlights because Bowie was an unstoppable creative machine) from Bowie at that same age.
So what was Bowie doing when he was my age, aka 27? Turns out he was moonwalking his way through the Diamond Dog tour. The year before he released Alladin Sane, and at 28 he presented the "Best Rhythm & Blues Performance by a Female Artist" Grammy to Aretha Franklin. Only Bowie could send the crowd into hysterics simply by putting on a pair of sunglasses.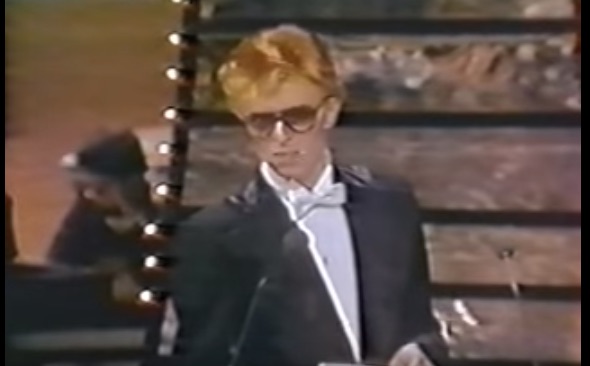 Other milestones include his first major UK hit, "Space Oddity" when he was 22, the arrival of Ziggy Stardust when he was 25, getting punched in the face by Lou Reed at 32, and appearing as Jareth in Labyrinth at 39.
Basically, if you're wondering what Bowie was doing at your age the answer could be anything from creating an alter ego that would forever change music or starring in a Broadway show. But the answer always comes down to one simple thing: At every age, David Bowie was being absolutely amazing.
Related reading: 
Here's David Bowie's last music video, released just days ago
5 David Bowie songs that shaped my teenhood
(Image via Supbowie.com)