David Beckham is everybody's dad in photo of his son driving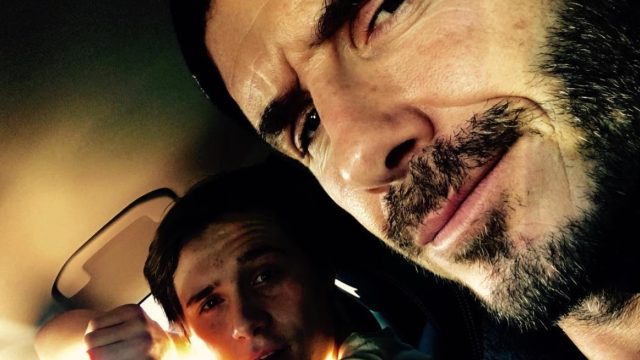 Heads up, British drivers. The next time you stop at a red light, Brooklyn Beckham might roll up beside you.
The eldest child of soccer star-turned-Sexiest Man Alive David Beckham and his fashionista wife Victoria (formerly known as Posh Spice because #girlpower) turned 17  in March, making him the magical age when Brit teens learn to drive. TBH it kind of blows our minds that Brooklyn is just now getting behind the wheel. He's a pretty sophisticated kid, after all. He's already photographed a major campaign for Burberry and modeled for the British fashion label Reserved. So we just kind of imagine him cruising around the UK in an Aston Martin or something. Not so, apparently.
Just like every other teen on the planet, Brooklyn is learning to drive the old fashioned way…from his parents. Yesterday, David Beckham captured one of their driving lessons on film, and we can't stop laughing at his expression.  I mean, look at this face:
Beckham captioned the pic, "The face of a dad that's almost 41 being driven around by his little boy (not so little)." And yeah, he's giving us total dad face. It's classic.
But hey, David Beckham should be getting used to being chauffeured around by his family members. Just two weeks ago, Brooklyn posted the following Insta of his dad on the back of some sort of tractor (seriously, what is that thing?) being driven by mom Victoria Beckham.
Side note: No one has ever looked so blazingly hot on the back of a tractor before. For real, it's making my eyes hurt.
Dad's not the only one in the hot seat, though. From the looks of her Insta, Victoria is also taking turns teaching Brooklyn the ins and outs of the road. Her photo is captioned, "Do I look nervous?" Um. No VB, you do not. You look amazing, as per usual.
Brooklyn posted his own behind-the-wheel pic, too. As expected, it's in moody black and white. Because obviously.
Best of luck with your driving lessons, Brooklyn!
And David, if you need another driver anytime in the near future, I humbly volunteer. Call me. No really.