How to Establish Boundaries With Your Roommates About Dating Post-Quarantine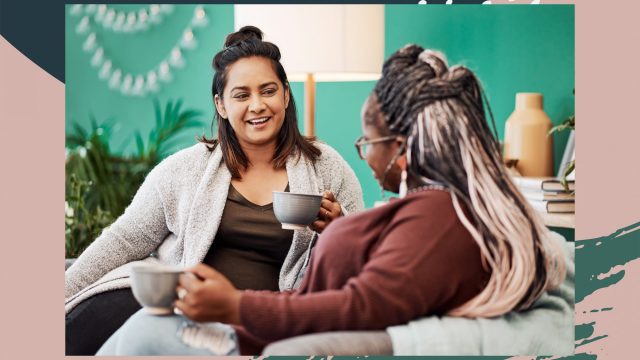 Dating can be fun and sexy, except for when, you know, it can put you and everyone around you at risk of catching a deadly infection. Since the coronavirus (COVID-19) pandemic began, the dating scene has looked pretty different. With social distancing measures in place, many people have had to put hookups and in-person hangouts on hold and give virtual dating a go instead. Now, as different parts of the country start to open back up, some people are beginning to resume aspects of pre-quarantine life and might be wondering if it's okay to get back in the IRL dating game. Before inviting your Tinder date over for a good time, though, there's one thing you should consider (among many others): your roommates.
Whether your local authorities have lifted coronavirus-related restrictions or not, it's important for you and the people you live with to establish rules for your own shared space. This means that you should set guidelines for who can come into your space and discuss where you and your roommates will be going outside of your home. (Of course, these conversations will look different for essential workers and those who have to spend more time in public spaces.) This might seem a little extreme, but when living during a pandemic, everything requires a bit more care. Having these conversations with your roommates is about having respect not only for each other but also for that person you swiped right on.
To learn how to navigate this new age of dating, we consulted sex and relationship experts. They shared advice on establishing boundaries with your roommates when dating post-quarantine and how to keep your sex life interesting if in-person dating isn't an option.
How to Establish Boundaries with Roommates About Dating Post-Quarantine:
Start the conversation early
Tatyannah King, sex blogger and sex coach for the Blex app, says roommates should be proactive when establishing boundaries for their shared space. "The best time to chat with roommates about setting boundaries about having their partners hang out and sleep over would ideally be before anyone finds it to be a problem in the first place," she says. At this point, she explains that everyone can approach the conversation more objectively without emotions or resentment running high. Your shared boundaries may continue to change as the outside world does, so starting these conversations as early as possible will give you a stronger basis for moving forward. 
Be specific about the guidelines
Ambiguity is never the way to go when establishing boundaries—and there shouldn't be much room for interpretation amid conversations about you and your roommates' collective health and safety. "To establish boundaries, each roommate can be clear and specific on what situations they would not allow under any circumstances, what situations could be handled on a case-by-case basis, and what situations they don't mind no matter what," King says. For example, maybe you wouldn't allow anyone new into your apartment who has been spending time in public or among crowds of people, but you may allow someone who has been staying at home and isolating. If you live in a place with access to a backyard area or an accessible rooftop, you could also discuss the option of having someone over strictly to spend time outside. 
Aligning with the Centers for Disease Control and Prevention recommendations, King advises that anyone who wants to invite a new person over to a shared living space should ensure that that person has maintained self-quarantine for at least a 14-day period prior. "They should also take into consideration if their new date has any conditions that would increase their chances of contracting COVID-19, such as having asthma or being a heavy smoker," she adds.
You and your roommates should also be setting guidelines about the shared spaces everyone is entering outside of your home, too. That means that just because you aren't inviting someone over to your place doesn't mean you're free to go to theirs, because this can increase the risk of bringing coronavirus back into your home. When deciding whether to take a trip outside of your home, whether to your partner's place or just to the store, consider this: "In general, the more closely you interact with others and the longer that interaction, the higher the risk of COVID-19 spread," the CDC explains on its website.
Be honest about your concerns
Best-case scenario, you and your roommates will be able to establish boundaries in a mutually respectful manner. If you feel that your roommate is doing something to disrespect the guidelines you both have set (like having people over without being cautious), it's important to be respectfully upfront and honest about how you're feeling. Though it may be uncomfortable to bring up the issue, and it may feel like you're being too strict, health and safety shouldn't be something you have to compromise on—especially not in your own home.
It may also be the case that your roommate wasn't clear on the rules, which is another reason why it's important for roommates to be as specific as possible with guidelines early on. King says you can always update "roommate etiquette guidelines" to make sure everyone is on the same page. For instance, you could include requirements that everyone washes their hands properly and consistently before entering shared spaces and that anyone who doesn't live in the home wears a mask upon entering the space, or you can set a time to sanitize and clean the apartment together every so often.
Be vigilant, no matter what
No matter how healthy or worry-free you're feeling, the pandemic isn't over, and carrying on with life as if it were can be dangerous. As public health experts recommend, King also asserts that "everyone should behave as if they have already been exposed to the virus," meaning that everyone should take extra precautions, whether or not they've been exposed or are showing symptoms. This is especially important considering that studies estimate that 40 to 45 percent of those with coronavirus are asymptomatic. It doesn't matter if you "feel fine": Taking precautions and setting clear boundaries will allow you and your roommates to ensure that you are doing everything you can to avoid contracting or spreading the virus. Plus, establishing boundaries with your roommates also establishes mutual care and respect for each other, which is just better energy for your shared space regardless. 
Normalize these conversations with your potential partners
While you get comfortable having conversations about coronavirus safety with your roommates, you should be having them with your romantic interests or partners, too. Sexologist Jess O'Reilly, PhD., host of the @SexWithDrJess podcast, says you should be asking your potential or current partner(s) these questions to discuss boundaries:
Do you want to date online or consider meeting in person (now or in the future)?
How many people are in your bubble? Do you want more people in your bubble?
What types of interaction make you comfortable/uncomfortable?
Do you want to meet inside or outdoors?
And are you comfortable with (potential) physical touch?
When asking these questions, make sure to answer them for yourself, too, and be as specific as possible.
Though dating culture is undergoing some changes, Dr. O'Reilly believes it's for the better, and she's already seen improved communication in regards to boundaries and expectations. "Discussions of testing have become more normalized, and hopefully the destigmatization of these conversations outlasts the pandemic," she says. "If we can talk about hand-washing, wearing masks, and physical distancing with total strangers, hopefully we'll continue the conversation with our lovers to discuss STIs, condom use, and regular testing." 
Okay, so you've talked boundaries, but what if it's still not okay to bring dates over?
Just because in-person dating may be put on hold doesn't mean you can't find new ways to remain sexually active, connect with your body, and be intimate. Below are a few ways you can keep things interesting without being in the same room as that special someone.
Use interactive sex technology
Sex technology continues to grow, and it can be especially useful in times like these. If you aren't able to be with your partner in person, Dr. O'Reilly recommends taking advantage of sex toys that sync with interactive apps, like We-Connect, and allow you to control the speed, intensity, and vibrations of your partner's toy while also video chatting. "This is highly interactive and can be just as hot as in-the-flesh sex for many of us," she says. Dr. O'Reilly specifically recommends the brand We-Vibe's Pivot; Melt, an air stimulator toy; or Chorus, a remote-controlled couples vibrator.
Don't be afraid to get kinky
In the tone of DJ Casper in the song "Cha-Cha Slide": Now it's time to get kinky. Or, in Dr. O'Reilly's words, "This is the time to get creative, and those who do will probably find that the benefits far outlast the isolation of this pandemic." She even cited NYC Health's official Safer Sex and COVID-19 guidelines, which explicitly mention kinky sex: "Make it a little kinky. Be creative with sexual positions and physical barriers, like walls, that allow sexual contact while preventing close face-to-face contact." Dr. O'Reilly also says this is an opportunity for people to "hone their digital sex skills" if they want to, explaining that some people are even setting up private orgies and dirty-talk play parties online. 
Sext the night away
Dr. O'Reilly has this advice for those looking to strike up a sexy conversation via text: "Consider your lover's seduction learning style and their core erotic feeling as you craft messages that make them feel sexy, curious, excited, relaxed, challenged, loved, and more," she says. "Take advantage of the variety of options including photos, videos, voice notes, text, GIFs, and live chats."
For those who are interested in sexting with a new partner, remember: Consent is just as important digitally as it is in person. Be sure that both you and the person you're communicating with have mutually agreed to enter the territory of sexting together. "Be sure to ask for permission and be mindful of your lover's boundaries," Dr. O'Reilly says.
Enjoy some solo play
Sometimes, you're that special someone. So, after cooking yourself a nice dinner, go ahead and turn down the lights, get in the mood, and give yourself the masturbation session you deserve. It's truly the safest way to have sex.