9 dating apps ranked, on a scale from 1 to I'm going to throw my phone into a river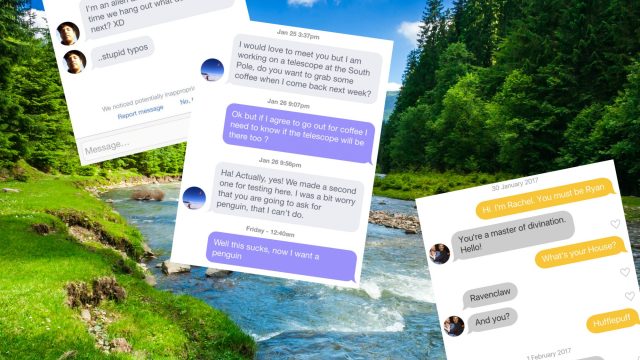 Hello, Rachel here, HelloGiggles' resident Single Expert! As in, I'm an expert at being single! When it comes to being single, I excel at the task, and I'm so good at it, people often come to me, looking for advice, like "what kind of effort does it take to become someone who is so good at being single?" I'm here if you need me.
But sometimes, I do like to dip my toes into the world of online dating. Maybe you've already been privy to my adventures (because they are ?). While those are fun and all, what happens if I am really looking for ~something serious~? Seeing as how Valentine's Day is right around the corner, I ventured out with one mission:
Try all the online dating apps to figure out which ones work, and which ones will lead me into a downward spiral that makes me question every single life choice I've ever made up to this moment.
Turning to the Apple App Store, I downloaded 9 apps, and tried them all out. (Tinder was not included here, because been there, deleted that.) Here are my honest reviews of them all, and which ones make me want to throw my phone into the nearest body of water and watch it sink to the very bottom, never to be retrieved again.
Bumble is described as the dating app for ~ladies~ and like, okay. Whatever that means. I still honestly have no idea. Just like all the other dating apps, this one uses swipe left/swipe right, except that, TWIST, the ~ladies~ have to message first. Also, you only have 24 hours to message, or the match disappears FOR-EV-ERRRR. But, the guys have the option to "extend" the match for another 24 hours. I had one guy who extended the match one hour into our initial match, so it showed that I had 47 hours to message him. I did it at like, hour 35…and then he never messaged me back again. Okay????
The app is easy enough to use, but it feels like all the guys are kinda…jerks. SORRY! But they all seem to have this weird mentality about the girl messaging first, and none of them are ever too "into it." The conversations fade away after like 36 hours.
Is my phone in the river? No, still hanging out on the edge.
Maybe the app is called Clover because you're supposed to ~get lucky~ but I couldn't figure out how to set my preferences on it, and yes, it kept matching me with dudes I was not looking to meet. Whether or not you've "connected" with someone doesn't matter, because you can request a date with ANYONE, which is a way creepier way to try and get someone's attention rather than just saying, "hey." I had all these messages like, "Meet David for coffee?" And I was like "who the F is David?"
Is my phone in the river? Tossing it in right now.
Are you looking for a dating app that has a lot of weird rules, and makes you pay for matches in hypothetical coffee beans? Then oh wow, you should sign up for Coffee Meets Bagel immediately. Trying to get away from swipe left/swipe right, this app 1). Lets the guys pick which ladies they like, then 2). You get to see 5 of these eligible bachelors a day, and either connect or pass on them, and 3). You can also just go into discover mode and find your own guys, but those will cost you coffee beans. Why am I bartering for dates with coffee beans? I HAVE NO IDEA. This isn't old country where I have a coffee bean dowery. So what is going on CMB.
Also, you only have a match for 8 days before it CLOSES FOREVER. It also gives you all these weird prompts like, "ask Nick about the last place he traveled via airplane!" And like, don't tell me how to flirt, Coffee Meets Bagel.
Is my phone in the river? Not yet, but I'm inching to the edge right now.
In truth, I've had Hinge on my phone for a while (thank Senior Editor Madison for peer pressuring me into it months ago). Hinge has gone through a few updates this past year, and I was really into the OG version of it. That version only showed you friends of your FB friends, and it was nice and comforting, because I felt like these dudes had already been pre-vetted — since you know, they were friends with my friends.
The new version of it shows you everyone, and your profile is a "story." You have to answer questions like, "What's your typical Sunday?" and "Where to find me at the party." You can go through and like and/or comment on someone's picture or answer, and then if the dude wants to connect with you, he will. TBH, I'm not that into this new version of Hinge (now it's a paid service), but since I was grandfathered in from the OG version they gave it to me for free, so I can't bring myself to delete it because if I want it back again I have to pay for it OKAY?
Is my phone in the river? Nah, I'm sitting on a park bench by the river, and it's a nice day so things are fine…for right now.
Yes, I'm Jewish. Yes, my dad has been (politely) trying to force me onto JDate for years now. Maybe I just don't "get" how it works, but JDate is hella confusing. The desktop version is FINE, I guess, but the app is very weird. No one has names, just profile numbers (yay, privacy, I guess?) but the interface is just clunky and it's hard to change the profile settings. I also never completed my profile, yet JDate is still telling me that I've matched "100%" with some of these dudes. OH REALLY?  Honestly, wouldn't put it past my dad to be paying JDate to match me with nice Jewish boys in the area.
Is my phone in the river? I am tossing it in right now, sorry dad.
JSwipe is the Jewish Tinder of my dreams. Swipe left/swipe right, but I actually matched with guys who didn't suck?? It was a nice change. Have any of my matches lead to true love? No, but let's not give up hope just yet.
Is my phone in the river? No!! This is actually kinda nice!
Oh wow, Happn is weird and very stalker-y. It connects you with people you've passed, so it's always tracking your location. When I think like, "oh cool connects me with people I've passed walking down the streets!" it does that, but it also connects you with everyone you happen to pass in your car on the highway. I guess this app is useful if you see a guy on the train and you want to talk to him but miss him, this app can help you find him. Or if you want to find the guy who cut you off in traffic getting on the highway.
The creepiest part of this app is that it gives you the distance between you and the guys you're looking at. So like, it will connect me with the dude three doors down from me in my apartment and be like "Billy is 300 feet away from you," and I'm like OK TURNING OFF THE LOCATION SERVICES.
Edit: After this was published Happn reached out to me to clarify that there's no way to "stalk" someone, which is in fact true. However, during my minimal interaction with the app, it showed me where I had first crossed paths with someone, and how far they were away at the current moment — all in a radius, sure. But it could show me the radius of the building, and I'd know that whoever I just crossed paths with was *also* in the building. IDK, I still deleted Happn, OKAY? 
Is my phone in the river? Ker-plop.
Would you like hundreds of creepy men to send you unsolicited messages? If the answer is yes, you should check out OkCupid. There's no need to match with anyone to send messages. Guys, from all over your area, can just message you willynilly! How cool is that??
The answer is: Not cool! Many of these messages started quite forcefully with, "Hey we should meet, give me your phone number." And…no, dude. I actually only interacted with one dude and:
Is my phone in the river? Oh hell yes.
I had Zoosk on my phone for 45 mins and then I deleted it. The interface looked like when you have to open Facebook in Safari on your phone and you hate the world. I don't have the patience to deal with that, also — while all of these apps have you connect via Facebook — Zoosk sent me Facebook notifications and NO.
Is my phone in the river? Yes, and I tied a brick to it.
Listen, this app matches you with local dogs in your area, aka, THE DREAM.