This dating app study found the most effective compliments to give to someone you're into, and you'll want to take notes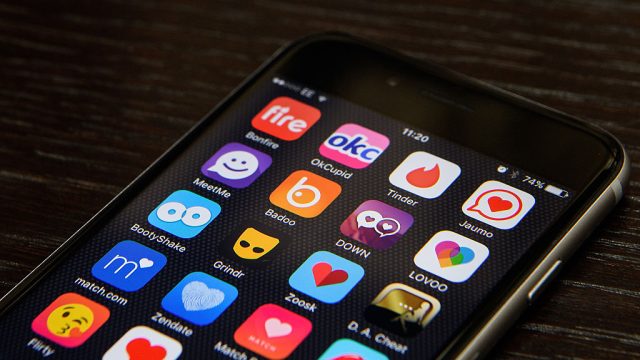 If you're on Bumble, Tinder, Hinge, Happn, OKCupid, JSwipe, Christian Mingle, Plenty of Fish, or ANY of the plethora of dating sites and apps and are exhausted, this news is for you. A new dating app study by Plenty of Fish looked at the first messages people sent to each other, and which ones are most likely to get a response.
It can be tough to start a conversation on an app!
Other people are intimidating! Or unresponsive. Some have truly terrible opening lines. But luckily, now we know what buzzwords get and keep conversations going. Guess what, it's NOT, "Going to Whole Foods, want me to pick you up anything?" (Thanks forever, Aziz.)
Plenty of Fish studied the messages that got responses, and found that leading with a compliment is actually an excellent strategy in early conversations with a potential partner. Words like "beautiful," "pretty," and "gorgeous" were among the top words that led to a response, as were words like "handsome," "cute," "nice," and "smile."
So your most effective opening sentence is most likely going to be something like…"Hey, handsome! You have a gorgeous smile." Or "Wow, you are so pretty! Look at those beautiful eyes."
"Striking up a conversation with someone you're interested in can be intimidating, but having proven words that [people] will respond to on a dating app makes for a great starting point! Plenty of Fish's communication manager Shannon Smith told Brit & Co. "We scoured through 60 thousand messages to identify the top words used by men and women that actually lead to conversations… we love that subtle compliments make all the difference!
If you need a bit more help, POF (that's shorthand for Plenty of Fish) published the top 10 words that led to a conversation, by gender.
These were the top conversation-making words used by women:
1. Nice
2. Love
3. Handsome
4. Great
5. Smile
6. Beautiful
7. Cute
8. Interested
9. Chat
10. Meet
These were the top conversation-making words used by men:
1. Beautiful
2. Love
3. Nice
4. Gorgeous
5. Pretty
6. Sexy
7. Today
8. Great
9. Smile
10. Interested
Why not give a few of these buzzwords a try in your next in-app convo? You might start a summer love, or at least learn a few new adjectives for "attractive."