This new dating app is geared toward plus-size women
Every dating app has its supporters and its naysayers. Happn, for example, allows you to match up with people you've crossed paths with throughout the day IRL — a quality that some call brilliant and others have been dubbing creepy. Now, the Internet is divided over a new app that just launched in November: WooPlus, which is specifically geared toward plus-size women.
The app was launched to help "BBW (big beautiful women), BHM (big handsome men), plus-size singles and fat admirers" find love. "The unfortunate reality is that the current dating environment is very cruel to bigger girls," the app's San Francisco-based CEO Neil Raman told Mirror. "My sister experienced this herself. It was very painful and unfair. I decided to solve this problem and create an app just for big girls."
Raman got the idea in 2014, when the dating website Simple Pickup conducted a social experiment in which a woman showed up to her Tinder dates wearing a fat suit, eliciting cruel and frustrated responses from her dates. Raman and co-founder, Michelle Li, built WooPlus, which has a Tinder-like interface that allows you to swipe yes or no to plus-size singles; matches are given 48 hours to message each other. Before being matched, however, you're required to fill out a profile, asked about your body type and body shape (with options ranging from "inverted triangle" to "rounded/apple."
"Tinder relies on a match being made between two individuals depending more on physical appearance. As a result, there haven't been many positive remarks made by plus sized users," Becky Han, a member of the WooPlus marketing team, told People. "We hope big girls can seek love and friendship in a comfortable and non-discriminating environment while enjoying the fun to swipe and get matched."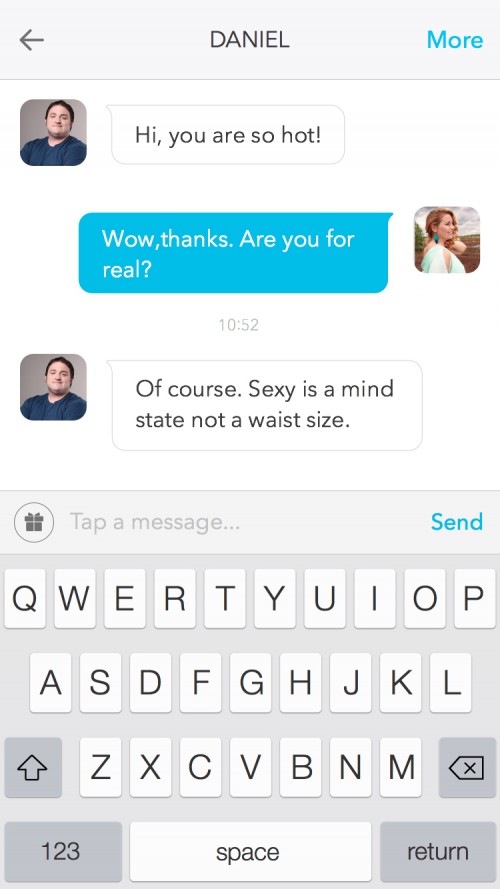 However, the app has received quite a bit of criticism, especially with one particular aspect: While women must be plus-size to use the app, men don't have to be, which many feel gives the app a "fetishizing" quality while further categorizing plus-size women as "other."
"For me it feels that instead of addressing the way plus-size women are treated in society – and most certainly on the dating scene – we are having to further separate them,"London-based plus-size blogger Callie Thorpe told ASOS. "Personally I am also not a fan of the term BBW – it makes me feel like I am a fetish purely for men and I'm not comfortable with that. It baffles me that people think that men can only like one type of woman!"
Another important thing to note is the app's tagline — "Big girls, you've got more admirers than you think" — as well as its use of phrases like "Real women have curves."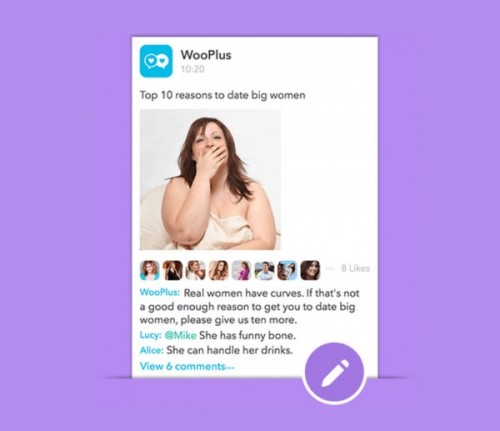 Many women have been taking to Twitter to express their concerns about the app.
However, others feel that it's important to create a space specifically for plus-size women in the dating world. "We know [the] Tinder format works, so why not take it into more specific space?" CeCe Olisa from Plus Size Princess told Daily Dot. ". . . It's always important to have options when it comes to plus-size dating."
As for the WooPlus team, they're insisting that their main priority is creating a safe space. "Someone even wrote an article to ask 'Do we really need a plus-size dating app?' She thought the existence of WooPlus would only 'make us retreat from the mainstream once again,'" Han told People. "But just as we had promised, we just want to provide a comfortable dating platform connecting big girls and their true admirers."
(Images via WooPlus.)