D'arcy Carden tells us what beauty product Kristen Bell gave her and the period foods she craves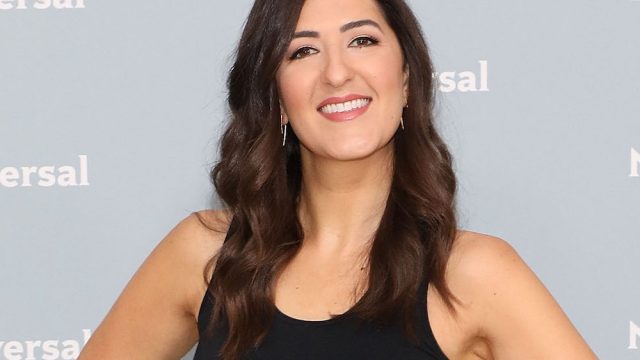 If you're obsessed with The Good Place like we are, you already know D'arcy Carden. She plays Janet, the lovable sentient database (or "Busty Alexa," as Kristen Bell's Eleanor calls her) that acts as a personal assistant to the inhabitants of the otherworldly realm. The entire cast of the show could easily be accused of scene-stealing, which makes Carden even more impressive. She captivates every scene she's in, so it's not surprising that Playtex asked her to star in its new spoof video.
In the short, Carden presents a totally made-up tampon called "Xtra," which features a "horoscope calibration" (wait, maybe we do need that) and doubles as a vaginal steamer (Chrissy Teigen, where you at?). Carden and Playtex hilariously mock all the extraness in the current feminine care climate to highlight how the brand's actual product — the Simply Gentle Glide — brings it all back to basics.
With Playtex's new clear applicator, which is free from colors, dyes, and BPA, the collab was an easy choice for Carden. "Partnering with Playtex made sense for me, because I was, like, let's just keep it simple," she told HelloGiggles. "If my tampon is safe and gentle and reliable, then I'm happy. I don't have to worry about what I'm putting in my body."
https://www.youtube.com/watch?v=vsS3pQ9S1og?feature=oembed
We got a chance to talk to Carden about everything from the foods she craves on her period to her favorite products, including the one fancy skin care item that Kristen Bell surprised her with.
HelloGiggles: Since we're talking tampons, what foods do you crave on your period, if any?
D'arcy Carden: A reliable craving for me is anything warm and cheesy. I would also be down with a grilled cheese or a pizza. I'm more of a savory type of gal. You just have to listen to your body. Maybe one month, it's a chocolate milkshake, and one month, it's a cheeseburger. Periods just tell you. My body tells me exactly what it needs, whether it's to sit in the bath for an hour, or if it's to go on a three-mile hike.
HG: What are some self-care things you do to de-stress?
DC: I'm a huge mask person. I love a face mask. I don't even know how often you're supposed to use them, but sometimes, and maybe especially when I'm on my period, I could do one every day. It's such an easy, simple thing, and it makes me feel like I'm doing so much. You know what I mean? It's great.
HG: Are there specific masks that you always use?
DC: I like to switch it up, and one of the perks of working in entertainment, where you have people doing your hair and makeup, is occasionally you score freebies. So, if a makeup artist wants to give me a face mask, I will take it and I will use it until it's gone. Right now, I'm using a L'Oreal Pure Clay Mask. It's also fun, because it's bright blue. I would scare my dog a little bit, but it's a fun look. But I'll take a sheet mask, I'm big into skin care. I also love a bath, but the sad news is that my house doesn't have a bathtub. So, when I am at a hotel or when I'm traveling, I take full advantage of the bath.
HG: Do you do bath bombs?
DC: Yes, I love a bath bomb from Lush. It's funny. There are things like that, to get back to the tampon, there are things in beauty that are extra, that I enjoy, like a bath bomb. It's unnecessary, but it soothes me and chills me out, or a face mask that is blue is definitely an extra, but I feel like it's really getting the toxins out of my skin, or whatever. But when it comes to something that I'm putting in my body, like a tampon, I want it to be as simple as possible, and that is why I was so on board with these guys. When it comes to feminine care, that's what I'm all about, but beauty is a different story. With beauty, I'm like, "What you got?" I'll put it on my skin.
HG: Are there any beauty tips that you've learned from your castmates from The Good Place?
DC: Well, I work with two of the most beautiful women I've ever met, Jameela Jamil and Kristen Bell. For being these gorgeous, beautiful, glamorous women, they are both pretty simple when it comes to beauty stuff. They're don't really go over the top. The day the cast met, I remember getting into a conversation with Kristen and Jameela about La Mer, which I'm sure you know of, of course. I was basically saying that's something I would love to try someday, and then Kristen was like, "Oh, I've tried it. It's amazing. If you get a chance, try it." Then, on the first day of shooting I walked into my trailer, and there was a little box with a note from Kristen that was just like, "Have a good first day," and it was a little thing of La Mer.
HG: Oh, that's so nice.
DC: It was really nice and sweet. She was just like, "Take care of yourself. If you want to indulge, go for it. Do what makes you feel good," and that was, I thought, such a sweet little gesture.
HG: Would you say your personal style is more like Good Janet or Bad Janet?
DC: This feels like I'm being political or diplomatic, but it is exactly right down the middle. I love bad Janet's outfits. I want those pants. I actually can't believe I don't own those pants. The funny thing about the Good Janet outfit is that when we were coming up with it, Kirston Mann, who is the costume designer, went through my closet. It was based on a shirt and a little vest that I have, and a little skirt that I brought in, and we put it together, and she was like, "Oh, this is the silhouette that we need." So they created this amazing purple costume for me. Then, with Bad Janet, we knew we wanted to go for this bad girl look. Remember at the end of Grease when she's in the leather? We wanted to go for that vibe, and that's the look that I've loved since I was a little girl. I definitely was more into the bad Sandy at the end of Grease than the hoop skirts when I was little.
HG: Is your go-to, everyday makeup similar to Janet's?
DC: My daily makeup is on the Good Janet side, for sure. I love a nice, glowy, good dewy skin, and then I love a bold eyebrow. I'm not a big lipstick person, but I love lip balm. Actually, I would say I'm getting more into lipstick. Doing things like The Good Place and having makeup artists try different makeup on you is a fun way to see what you would like in real life. I thought I wasn't a lipstick girl, and now that they're trying different lipsticks on me all the time, I'm like, "Huh, maybe I could rock a pink lip."
HG: What makeup do you always carry in your bag?
DC: I always carry this Benefit concealer called Boing. I've used it for 10 years, and I love it. And I love a Rosebud salve lip balm, and Dior mascara. Those are my staples, and then anything else is just a rotating cast of characters.