Danielle Herrington cried when she heard Tyra Banks's message about her "Sports Illustrated" cover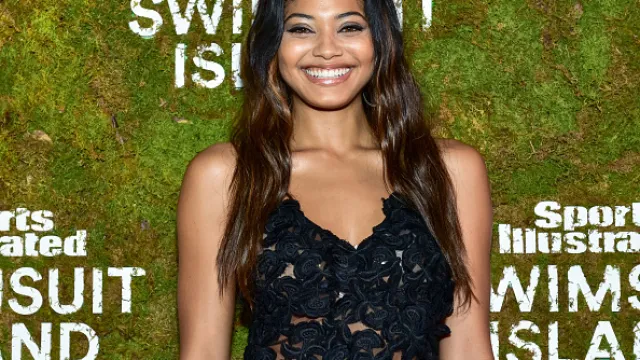 In case you haven't heard, the Sports Illustrated swimsuit issue is here, and this year's cover model is making history. Danielle Herrington is the third black woman to be featured in the swimsuit edition. And Tyra Banks, the swimsuit issue's first black cover model, had some encouraging words for the up-and-comer.
In a February 13th interview on Good Morning America, Herrington revealed that she first heard about Sports Illustrated and the swimsuit edition from watching The Tyra Banks Show. The model said she had always admired Banks, and when she learned that Banks was the first black woman to grace the cover of the swimsuit issue, she wanted to continue her legacy.
That was when host Michael Strahan revealed a special message Banks had recorded for Herrington.
"So many little girls are looking at you and saying, 'Oh my gosh, that could be me one day," Banks said in her message. "There are so many people telling little girls that look like us that we're not good enough and that we can't achieve our goals, but by them looking at me back in the day and then looking at you now, you are the living embodiment to say that dreams do come true."
Herrington blinked back tears at the message from her role model.
https://www.youtube.com/watch?v=O6Hpa06lkAE?feature=oembed
"She is my idol and she was the one I looked up to, so for me to be the one that little girls in the next generation are going to look up to is just really inspiring to me," Herrington told Strahan after Banks's message.
Sports Illustrated also arranged for Banks to tell Herrington that she had landed the 2018 swimsuit edition cover. At a fake photo shoot, the supermodel announced Herrington's cover in her best America's Next Top Model voice, and the two shared an emotional embrace.
https://www.instagram.com/p/BfIwDW2l0eT
Herrington has been modeling for 11 years. This year is her second appearance in Sports Illustrated, after she was featured in the 2017 swimsuit edition's Rookie Class.
As our country becomes more and more diverse, it's crucial that people of color are represented in all areas of pop culture. Herrington's cover is a great step forward, one that, hopefully, will continue as a trend in the future. Congratulations to Herrington on this great honor!