Danielle Brooks, aka Taystee from OITNB, has a message for media when it comes to plus size visibility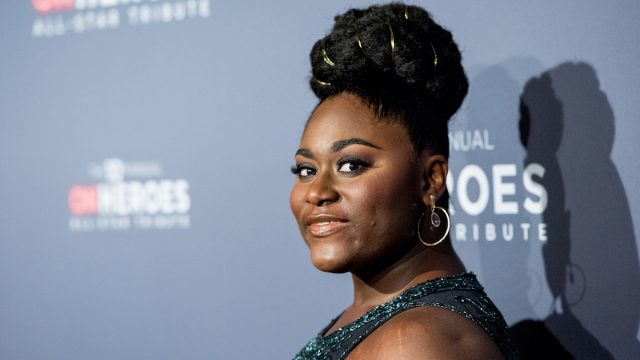 The Tony-Nominated Broadway star and actress in Orange is the New Black, Danielle Brooks is linking up with social media to discuss America's Next Top Model and their lack of plus size models on the 24th cycle of the show. Danielle Brooks' "open-letter" about plus size visibility needs to be heard. Her series of messages on Twitter and impactful posts on Instagram all address the fact the reality show which does not feature one single plus-size contestant, yet the plus-size supermodel Ashley Graham is a judge with host Rita Ora.
Whitney Thompson is still the show's sole plus-size winner, which she won in 2008. Ashley Graham commented on the shows lack of full figured models to E! News by saying, "Unfortunately, it didn't happen for this round, but that's alright." For Danielle Brooks, this is totally NOT alright. She wrote:
A curvy judge but no curvy contestants? 😕 Out of all 24 girls not one was plus. You had an Asian, African, a red head, transgender, an androgynous sister, even twins...(much love for that) but not 1 plus size woman-when 67 percent of women are plus in the US??
The actress continued writing, "We are worth these incredible opportunities. We deserve to be seen." Brooks' followers are incredibly supportive of her message towards America's Next Top Model as well. One fan wrote, "preach, girl. Thanks for using your voice/platform to generate awareness. It's time for all kinds of beauty to be showcased," which totally exemplifies the overwhelming power that social media for spreading positive messages.
https://www.instagram.com/p/BN94lrMDjh5
And Brooks isn't the only one who is mad. Plus-size model, Liris Crosse, shared a few thoughts on Curvy Fashionista. "It's a disappointment to have a plus model judge and no contestants that represent her field of expertise. How was that allowed to happen?! Who let that slide?! With all the major strides particularly made in the past five years with plus models, I don't see how the average woman is still not represented on a show like ANTM," she wrote. More than half of women in the US wear a size bigger than a 12 and the majority of clothing brands do not cater to these sizes, leaving out a large part of our population. The fashion industry, which still largely markets and creates clothing for white, thin, cis women leaves out the very real, and very honest bodies that the majority of women have. While the show's inclusion of Ashley Graham is a step towards positivity, host Rita Ora's introduction of Graham on the show was incredibly problematic in terms of the stereotype that plus-size models are always "brave" in accepting their body. "Ashley Graham is my sexy curvy model. She's going to bring confidence to these girls. She's gonna make them know that tits and a butt is okay," said Ora on ANTM.
https://www.instagram.com/p/BN9e68IDhdo
The representation of all body types is essential to a show with such a large following and viewership. Danielle Brooks is voicing her anger, and rightfully so. To come one step further, only to revert one step back is not a good, fierce look for America's Next Top Model. Keep talking, Danielle!