Daniel Radcliffe and Elijah Wood want to star in a movie together, and this would be confusingly epic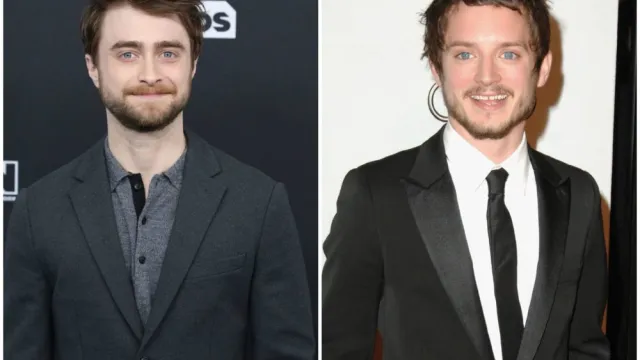 No, Daniel Radcliffe and Elijah Wood are not the same person. If you're wondering why this even needs clarification, Radcliffe and Wood's uncanny resemblance has long been the subject of many jokes. The two actors often talk about being mistaken for the other on late night talk shows. During a Reddit AMA in 2015, Radcliffe shared a particularly hilarious anecdote, writing:
"I have signed a picture of Elijah Wood–and I think we've both said in interviews that we would like to play each other in films of our lives–but I was on a red carpet in Japan, and this Japanese man gave me a picture of Elijah, and I knew I wasn't going to get past the language barrier to explain, so I wrote 'I am not Elijah Wood, signed Daniel Radcliffe.
Well, Radcliffe has revived Elijah Wood comparisons once again. Radcliffe stopped by BuzzFeed on October 5th, where he played with puppies and answered fan questions. During the adorable video, the actor revealed that he'd be on board to star in a film opposite Wood.
Watch Radcliffe play with puppies and answer fan Q's below.
https://www.youtube.com/watch?v=BDnXdeoiYRE?feature=oembed
In the clip, Radcliffe responded to a fan question that asked: "When are you and Elijah Wood finally going to do a project about brothers or mistaken identity?"  The Harry Potter star replied, "I would love to do something with Elijah Wood where we play brothers. I don't know if he'd be up for it, but I can only speak for myself—I'm on board. Whoever wrote the question, you go write the script."
Shortly after, Wood took to Twitter with a response. The Lord of the Rings actor tweeted: "totally down for a duo flick!"
We're totally freaking out over this exchange, and we need this film to hit Hollywood ASAP. Only, perhaps it would be difficult to follow for those who are convinced that Radcliffe and Wood are, in fact, the same person.