These are the most powerful Twitter reactions to Danica Roem's historic win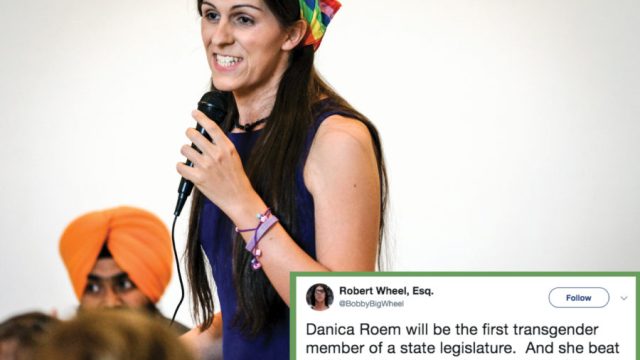 Many are experiencing restored hope in politics this morning after yesterday's (November 7th) local elections, not least of which because Virginia just elected its first openly transgender woman to state legislature. Obviously, we're cheering for the entire LGBTQ+ community after this major win.
Back in June, Danica Roem made political history in Virginia by securing the Democratic nomination for the 13th District seat in Virginia's House of Delegates. And her recent victory is made that much sweeter because her opponent, conservative Republican Robert G. Marshall, tried to pass the failed "bathroom bill," which aimed to bar transgender citizens from using the bathroom of their choice. He also reportedly calls himself Virginia's "chief homophobe." (We're cringing, too.)
Marshall held the seat for 26 years and, as reports suggest, treated Roem particularly badly during this campaign, refusing to engage in respectful debates and insisting on using male pronouns when referring to her. But Roem persevered, winning last night's election by about 2,000 votes.
And social media users were quick to celebrate her victory:
https://twitter.com/udfredirect/status/928274639977099266
false
false
""Discrimination is a disqualifier, Roem said, according to The Washington Post, when she realized she was headed toward victory. "This is about the people of the 13th District disregarding fear tactics, disregarding phobias…where we celebrate you because of who you are, not despite it.
She also noted that her first priority will be to tackle infrastructure issues, starting with road issues on Route 28 near her home — which is what initially inspired her to take the leap into politics.
Congratulations to Roem on this tremendous milestone. We're rooting for her.