This has got to be the most dangerous scooter ride in the entire world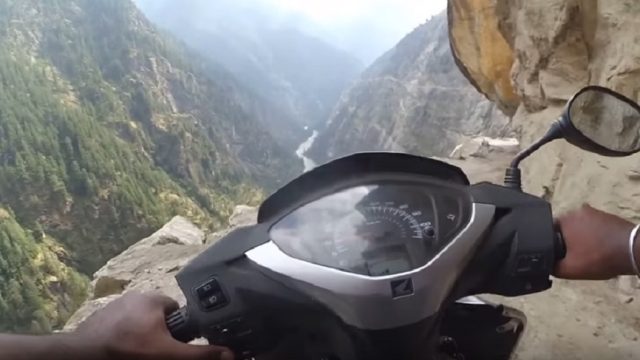 We love a good road trip as much as the next traveler, but this video of an insanely dangerous scooter ride on a cliff-side road stopped our wanderlust dead in its tracks. This narrow, twisty pathway could easily serve as inspiration for one of the planet's scariest thrill rides — it's just that terrifying.
Honestly, it doesn't matter if you got more than enough sleep before driving — we couldn't possibly wish anyone well and send them off riding down this road in Pangi Valley, India. It is widely regarded as the world's most dangerous due to its steep mountainside location, rocky surface and incredibly sharp turns.
According to the video caption, the brave individual riding a Honda Activa scooter is making a death-defying trek across Sach Pass, beginning in Killar and then on to Kishtwar. The journey is broken up into two separate videos, the first of which features a camera mounted to the back end of the scooter, which gives us a glimpse of the driver's foot, which is just too damn close to the cliff side.
On top of the road's narrowness, it's extremely foggy. Seriously, wearing a seat belt should be required for viewing this vid. It's just too stressful.
https://www.youtube.com/watch?v=UNAUpmIHow8?feature=oembed
If you've developed a muscle cramp from straining too hard, here's your chance to take a quick stretch and massage break before diving into the second half of the trip, which doesn't get any easier to watch.
https://www.youtube.com/watch?v=9GPvwbUaxug?feature=oembed
So, those were some gorgeous views, but seeing as we have sweaty palms just from viewing, we're going to assume its best that we don't experience this road in person.