There was yet another shocking elimination on "Dancing with the Stars" last night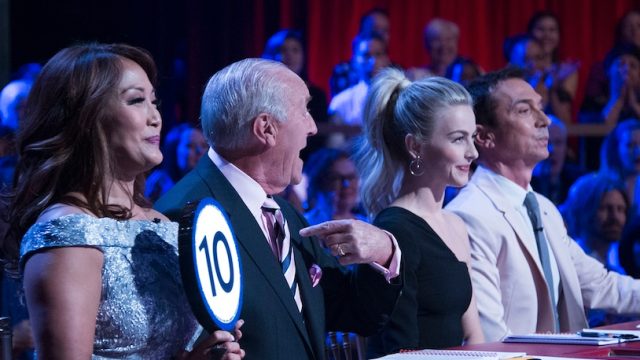 The judges, dancers, and audience alike were floored last night when Simone Biles was eliminated on Dancing with the Stars after an impressive nine-week run on the show. The four-time Olympic gold medalist was voted off Dancing with the Stars despite two perfect scores from the judges during her performances on Monday night, and it seemed like no one could believe what had happened.
Biles had become a fan-favorite and showed off her amazing dance chops, so to see her go home was a truly shocking elimination, especially after earning such high scores. The final four celebrities in the competition — Biles, David Ross, Rashad Jennings and Normani Kordei — were competing for a spot in next week's finals.
https://www.instagram.com/p/BUJo_sXjKe4
When Biles and her partner, Sasha Farber, were eliminated, there were audible boos in the audience, and the four judges appeared visibly stunned. Biles was gracious after the loss, telling the judges, "I'm just thankful to be at this competition. I feel like I've learned a lot about myself. I've matured. And I can't wait to go home and I'll be back next week at the finale."
Still, her loss was shocking because her performances for the evening (the jive and the rumba) each earned her a perfect score. Biles and Farber finished last in the fan vote.
https://www.instagram.com/p/BUIlvThDqyZ
After the show, People.com reports that Biles told reporters how much the experience meant to her, saying, "I found out a lot about myself. I think today I experienced what they wanted. It felt refreshing. I did feel free, so I cant ask anymore. We went out with a bang."
Despite the elimination, Biles has the best attitude about the entire thing, and she did a fantastic job no matter what. Props, girl.