One of the new "Dancing with the Stars" contestants is a former Beyoncé dancer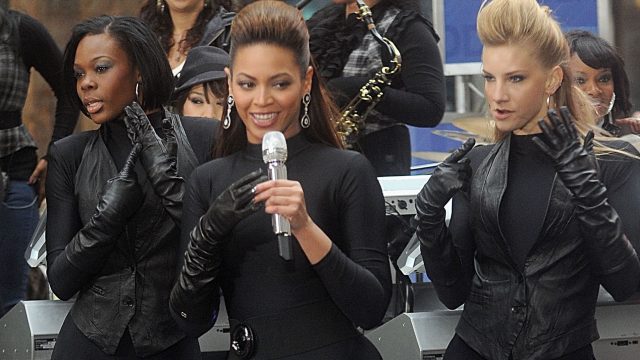 The cast of Dancing with the Stars Season 24 was revealed live today on Good Morning America. Like every season, the ~star~ contestants and their dancing partners reveal the pairs live on air and then shake their hips and give us a sample of the upcoming season.
This year's biggest names are Bachelor Nick Viall and Olympian Simone Biles. People are already placing their bets on Simone to win because athletes tend to do really well on this show. But don't place that bet just yet.
https://www.youtube.com/watch?v=EZp6VAnfvTQ?feature=oembed
If you know anything about dancing, then you know that this season's biggest threat is actually Heather Morris and her dance partner Maksim Chmerkovskiy.
If you remember, Heather was on Glee, as the ditzy cheerleader.
Y'all remember her, right?
Okay, but what some people may not know is that before Glee, Heather was a PROFESSIONAL DANCER. Yeah, she danced backup for Queen B during The Beyoncé Experience world tour.
https://www.youtube.com/watch?v=Eaq3A4azyyM?feature=oembed
Based on that video alone, they should just hand her the mirror ball trophy right now.
For at least a year, whenever Beyoncé would perform "Single Ladies" — it was almost always with Heather.
And then remember the mind-blowingly epic episode of Glee when Heather BECAME Britney Spears?
https://www.youtube.com/watch?v=bJT4g7nC3Sw?feature=oembed
Like??????
We thought the whole point of Dancing with the Stars was watching the contestants adorably struggle with choreography and get better over the weeks? Because Heather will SLAY from the get-go.
Well, sorry to all the other contestants on Dancing with the Stars, because the winner is right here. BLOOP!