This professional dancer proposed to his dance partner mid-performance, and the crowd could not handle it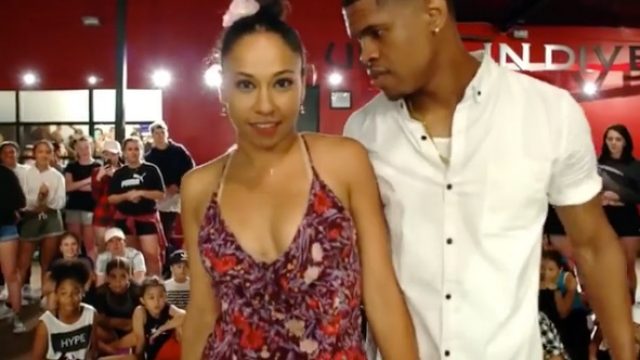 If what your Monday morning needs is a little sweetness, settle in…because we've got the most adorable love story for you. Viral wedding proposals on the internet are nothing new these days, but this one is so good, you might actually shed a tear.
This dancing proposal between these two dance partners is the pure goodness we all need to start the week. Here's the backstory: Los Angeles-based choreographer and dancer Phil Wright had been dating his girlfriend and dance partner Ashley Liai for eight years…when he decided to pop the question.
The couple were performing in front of a crowd at L.A.'s Millennium Dance Complex, when Wright proposed to Liai mid-dance routine, and it's possibly the most charming thing ever.
During their stunning dance routine to John Legend's "You & I (Nobody In The World)," Wright surprised Liai by getting down on one knee mid-song, and the look on her face is so incredible, we've got goosebumps. The music stopped and the crowd went silent, and Liai breathlessly said yes…causing the crowd to erupt in cheers and applause, naturally.
In a moment straight out of a movie, Wright put the ring on his lady's finger, and the two embraced for a smooch. We're not crying…you're crying.
The two dancers were met with more applause and bouquets of flowers, enjoying their first moments as an engaged couple in front of a slew of people (aww!).
We thought stuff like this only happened in rom coms, but it turns out…fairy tales are real, and they're beautiful.
Congratulations to the soon-to-be married couple…we think #MyMrWright is the best wedding hashtag of all time, and we can't wait to see video footage from what we're sure will be a totally epic first wedding dance.