Damon Wayans Jr. told us all about his new app for entertainers, and the best scene he ever shot for "New Girl"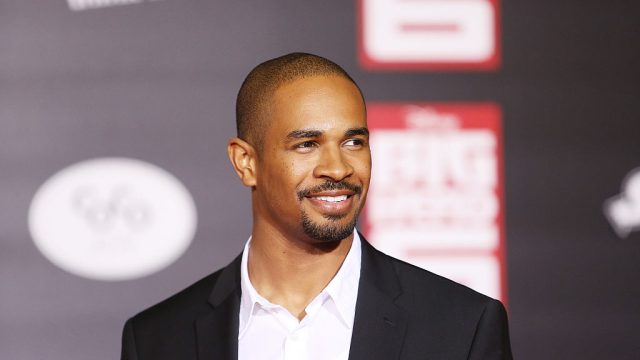 You probably know (and love) him as Coach on New Girl or Brad on Happy Endings (RIP), but the inimitable Damon Wayans Jr. is also an entrepreneur, and his new app could very well change the way entertainers find jobs and get paid.
The app, called Special Guest and available on iTunes now, is like Airbnb and for entertainers: If you're an artist — a comedian, dancer, actor, singer, hula hooper, or otherwise! — you create a profile on the app, complete with videos and links to your social accounts, then venues or individuals can look you up, communicate with you, and hire and pay you all through Special Guest.
"I wanted to create a platform that made it easier for talent to get gigs, to get paid to do what they love," Wayans told HelloGiggles. "I think this is kind of a throwback — there's nothing quite like live entertainment."
Wayans and his business partner, Kristopher Jones, recently appeared on the new Apple Music show Planet of the Apps to raise funds to launch their app. The show is a cross between Shark Tank and The Voice and features celebrity entrepreneurs, such as Jessica Alba and Will.i.am, who act as "mentors," taking on startups like Special Guest and helping them through the process of creating their pitch and eventually appearing before big-money venture capitalists.
Wayans and Jones scored Will.i.am as their mentor, and they landed a $1.5 million investment — a pretty successful day at work.
We had a chance to chat with Wayans and Jones about the app this week — and of course we snuck in a few questions about "New Girl," too.
HelloGiggles: What was the inspiration for the app?
Damon Wayans, Jr.: I do stand-up comedy, I'm a live entertainer, and when I'm not traveling around the U.S. and I'm local [in L.A.] I'm working on my jokes; usually you work on your jokes in these places called open mics. A lot of the time, they're not just for comedians — there are comics, there's poets, there's musicians. So one day I was at this open mic and this red-headed young lady went up, freckles all over, and she played the acoustic guitar — her own music — and it was beautiful.
I was just sitting there watching her and thinking, it really sucks that a lot of these people, who are so talented, will never really have the opportunity to make money off of what they love to do. They're ultimately going to have to put their passion to the side and get a regular job. There's nothing wrong with a regular job, but when you're very creative like that it kind of eats you up having to make [your passion] a hobby.
HG: Aside from the fact that this is an app with a payment system built in, how is this different than booking talent someplace like Craigslist?
DW: You won't get murdered!
HG: Yeah, fair enough!
Kristopher Jones: Really our mission is to make it easier and more affordable for anyone to do this. If you think of apps like Uber, Airbnb, and others, it's tough to envision these types of apps within the Craigslist model. [Special Guest and these other apps] remove some of the risk — the Craigslist risk, if you will — of having to guess whether or not the person that shows up at your place is going to be qualified.
The app itself was built to mimic what would happen if you had a manager. The manager would help vet the venue, so you're going to be able to see reviews and ratings of the actual host or venue. [And] if you're a consumer looking to hire entertainment, you're going to be able to see the entertainer's profile, check out their videos, check out their social media.
HG: So does your team actually vet these entertainers?
KJ: The app was built to automate a lot of that quality control. So I'll just give you a quick example: If you're talent and you come into the app, we walk you through the profile setup [and one step] is to verify your identity and make sure that in fact you are who you say you are. So it's all built in naturally to the technology…we're using fraud-prevention tactics. And then at the end of the day, we do rely on the community — the people in the app who are booking talent and posting their talent profiles —  to rate one another. So it's a marketplace, and the highest-rated performers are the ones who are going to get the best-paid gigs, and the same will be the case on the venue side.
HG: What kinds of entertainers are using the platform?
KJ: One of the things it's becoming is a good platform for contestants from America's Got Talent, The Voice, American Idol. Just last week we had one of the most famous American Idol non-winners ever, William Hung, join the app.
He's a motivational speaker, actually, though I'm sure you could hire him within the app to come and serenade you, which would be totally kickass, but he's really in the app to be a motivational speaker. He talks about his experience on American Idol, what it felt like to get rejected, and then ultimately how he became world famous for being rejected.
We also have the #1 Obama impersonator, the #1 Cher impersonator, and kind of everything in between. We have hundreds of live entertainers in the app, and bookings are taking place daily.
HG: Why was it important for you to create this democratized space for entertainers?
DW: There's two reasons. One, I'm an entertainer, and selfishly I want to see every entertainer win. I want people to not have to put what they love to do to the side; I want them to be rewarded for their talents. And also, because of mobile, I think that human beings have kind of grown a little distant…it's a really feel-good thing, to hear live music versus hearing it on YouTube; it's like night and day.
The ability to tailor your entertainment to whatever you like is a great idea, too. Before this app, if I wanted to come see a comedian I like, I'd have to go to the comedy [club] and wait three or four comics I didn't even want to see just to see the guy I wanted to see. Whereas with my app, as it gets bigger, I could actually hire that exact person to come perform for me and my friends at an office party or in my backyard.
HG: Damon, I'd love to ask you a couple of questions about "New Girl" while I have you, since our site was founded by Zooey Deschanel and our readers are big fans of hers and yours.
DW: I went to high school with her!
HG: Wow! Well, everyone on this last season evolved in a pretty big way emotionally, but I think Coach more so than anyone. What was it like to play Coach this season?
DW: Playing Coach is always great. I love the fun and the wildness that he brings to the group. He's a little cave man-y in some of his ways, but he's also very open to change; he's very vulnerable when he's put on the spot, I like that about him. He's pretty transparent — what you see is what you get with Coach. If he knows he's wrong, he'll admit it and his wall will come down. He's sweet. [This season] was very fun. I love working with all those guys; all the people I work with on that show are personal friends of mine, so whenever the camera comes on it just feels like I'm getting paid to hang out with my friends.
HG: What's the most memorable moment from set after all these seasons?
DW: I never really got to do too many episodes with Lamorne [Morris's] character, Winston. And I think it was actually our first time that we had a storyline together, we're baking cakes. We were just improvising those scenes, and it was just one of the most fun times I've had on that show. We were baking a cake, and I can't even remember the context, but we were baking a cake and it was funny. Lamorne kept making me laugh during takes.
https://www.youtube.com/watch?v=4yNwRV10ffM?feature=oembed
HG: My last question, and it's not related to "New Girl," but we're all dying to know: Will "Happy Endings" ever get a reboot?
DW: I have no idea! I really don't know. But I know that everybody who was in that show would be down to at least do an episode or two.