Dakota Johnson opened up about the worst part of those recent pregnancy rumors—and it's not what you'd expect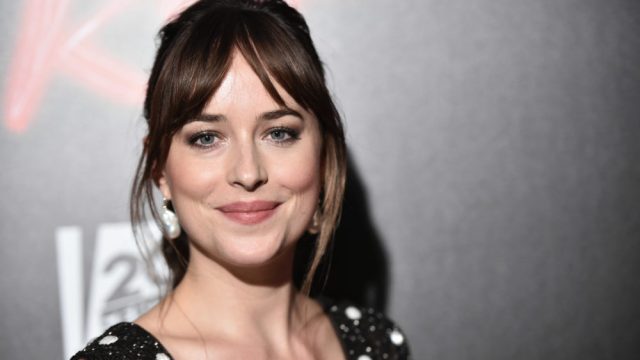 On October 9th, several sites reported that Dakota Johnson was pregnant, claiming she and boyfriend Chris Martin threw a gender reveal party at Martin's L.A. home on Sunday, October 7th (paparazzi snapped photos of pink and blue balloons, which is what led to the whole baby-news assumption). However, Johnson appeared on The Ellen DeGeneres Show on Thursday, October 11th, and made it clear that she's actually not pregnant.
The actress stopped by to chat about her new movie Bad Times at the El Royale, but DeGeneres got right to the point, noting that Johnson was wearing "a mighty tight outfit for someone who's pregnant." DeGeneres continued, "Well, this is Thursday, but Monday it came out that you were pregnant. So, I'm just saying…How's that going?"
Johnson clarified the pregnancy rumors. "Well, the only thing I'm pregnant with is a lot of really good ideas. But not any babies," she said. "There were balloons that happened to be pink and blue…and so then I was pregnant?"
https://www.instagram.com/p/BixTYlpgoXk
Johnson then revealed that the biggest downside of everyone thinking she was pregnant is the fact that she had to reveal to everyone she knew she had a birthday party.
"I had to be like, 'It was just my birthday.' Then all the people I didn't invite to my birthday knew that I had a birthday party."
LOL. That's actually insanely relatable.
Watch the full clip below.
https://www.youtube.com/watch?v=DKK3RnOpPVI?feature=oembed
Here's hoping that Johnson (now 29) had a wonderful birthday despite the unfortunate balloon incident…and also that her 30th is less dramatic.