Dakota Johnson had a completely understandable way to prep for sex scenes in "Fifty Shades"
Sex on screen is awkward, but Dakota Johnson had a very understandable way to prep for Fifty Shades Darker. While pretty much none of us could imagine filming a sex scene in front of people, Johnson has mastered it.
Well, maybe not mastered it, but she has done it a lot over the past few years. Beginning with Fifty Shades of Grey, the 27-year-old actress had to find her kinky side and get okay with being naked.
Even though Johnson has opened up about having a "European" attitude towards nudity, it still isn't easy to film sex scenes.
Luckily, she's found a coping mechanism we can all understand.
"With the steamier scenes, the nude scenes, how do you prepare for those?" E! News reporter Zuri Hall asked the star. "Do you take a shot?"
According to the How to Be Single star, that is pretty much exactly what she does.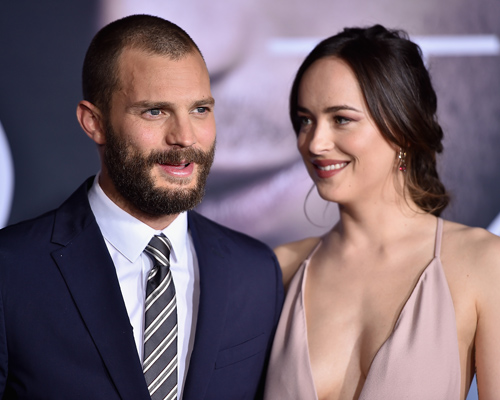 "Yeah, basically," Johnson revealed. "Sometimes you gotta take a shot."
Sometimes you do, especially when it's before faking sex in front of crew members that millions will see. Oh, and even though her co-star is the hunky Jamie Dornan, it's still totally awkward.
So what is Johnson's drink of choice? Whiskey!
The actress also revealed that filming sex scenes might be strange, but they are closed sets when these scenes get filmed. Plus, they make it feel "safe" and "respectful," she explained.
We are totally okay with the way the Texas native deals with those weird filming situations. Seriously, could you imagine being in her shoes? We can't!
If you do, however, want to see what the star is talking about, you can check out Fifty Shades Darker next week. It hits theaters on February 10th.