Trekkies, rejoice: Dakota Fanning plays a "Star Trek" fan fiction writer in her next movie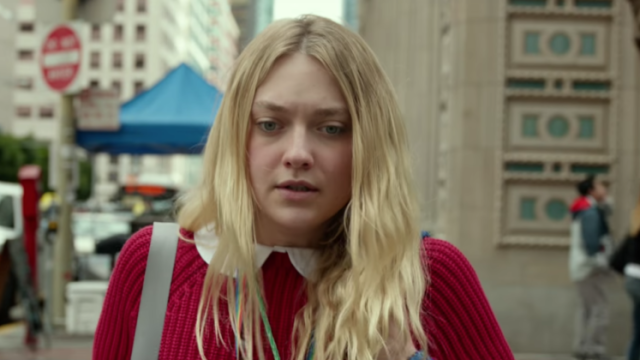 The whole idea behind fan fiction is to create a new adventure within the fictional universe you love. And the adventure that Wendy, a Star Trek fan fiction enthusiast, creates in the first trailer for Please Stand By is a little on the real side for her friends and family's comfort. Dakota Fanning stars in the upcoming movie about an autistic young woman trying to get her Star Trek script into a writing contest in Hollywood, and we can already tell we're ready to boldly go wherever her story takes us.
The Please Stand By trailer kicks off with a Trekkie scene straight out of Wendy's imagination.
There's no indication in the clip that she's trying to write the fourth Star Trek movie people have been hoping for, but she does have her heart set on submitting her work to the aforementioned Star Trek fanfic competition. Her way of getting there, however, is a little unorthodox and kind of scary (at one point, she hides in a bus baggage compartment). Toni Collette, Alice Eve, and Patton Oswalt also star in the movie, and we get the feeling Oswalt's kind-hearted, Klingon-speaking cop will be a highlight.
https://www.youtube.com/watch?v=TzQe4sqjZT8?feature=oembed
It's refreshing that Fanning's Wendy appears to be such a smart, multi-dimensional character in the movie, and her love for Star Trek seems to be a plotline, not a punchline. Too often fangirl culture gets diminished or trivialized. Wendy asks someone in the trailer, "Do you know how hard it is to write something because the story you want to tell means so much to you?" Plenty of people know how hard that can be all too well and it's exciting to know there's a story on its way that will reflect that passion.
Plus, we love the idea of fan fiction making an appearance in a big screen movie (you know, other than the 50 Shades franchise). It opens up the possibilities for many more fandom-oriented projects in the future. We'll be on the look out for a Harry Potter fanfic movie next, please.