While everyone else is staring at Dakota Fanning's outfit, we can't stop gawking at her socks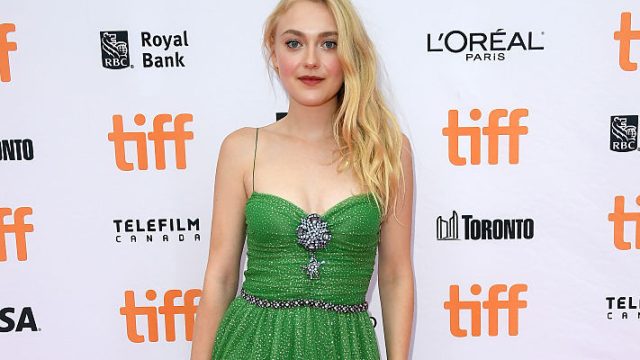 Okay, yes — we get it. Dakota Fanning looks amazing in her photoshoot for W Magazine. And as much as we love her sparkly white bell-sleeve top and her 70s vintage floral shorts, can we focus up on those socks? Fanning's rainbow knee-high socks are sending us into a tizzy! Paired with those pink and silver platform sandals, we are seeing Miley Cyrus meets Rainbow Brite and are not mad at all.
Althought Fanning looks stunning-as-ever, we must admit — the socks kind of steal the show! Fanning even added rainbow emojis into her caption in which she stated, "I've always dreamed of reading a 70s Penthouse, while wearing rainbow socks."
Looks like we're all fans of the footwear, here.
Now, we're well aware that rainbow socks are not a new invention. As mentioned before, Rainbow Brite has been wearing them for years. What we're more interested in is the fact that rainbow socks might be on the verge of becoming mainstream. A simple search of #rainbowsocks on Instagram gave us some exciting results.
Here's YouTube DIY-er Annika Victoria sporting pasted rainbow socks with her handmade bodysuit! They're subtle but super cute.
And pairing rainbow socks with white ice skates makes you look like a Candy Land queen, which is an aesthetic we're all about.
https://www.instagram.com/p/BOU_u5dDLG0
Plus, this is a trend that both men and women can get on board with.
You can find your own pair of rainbow socks at pretty much any department store. But if you choose to do your shopping online, we've found a couple of great options.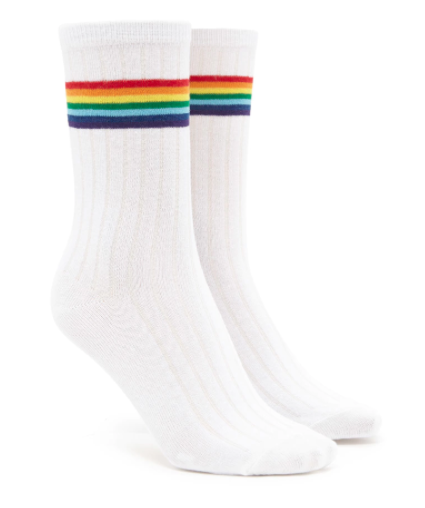 2017 is looking like it's going to be a bright and happy year. Like Dakota Fanning, do your part by making your feet just that — bright and happy!