The back of Dakota Fanning's dress is turning our eyes into happy hearts
Another day, another perfect outfit from our girl Dakota Fanning.
In today's edition of "What Did Dakota Wear Last Night," the actress was spotted out at a Toronto International Film Festival screening donning a black velvet frock with an elegant beaded detail at the waist and shoulders.
Ah, but what could possibly improve this gorgeous dress? A sensational brocade back and sparkling buttons, of course!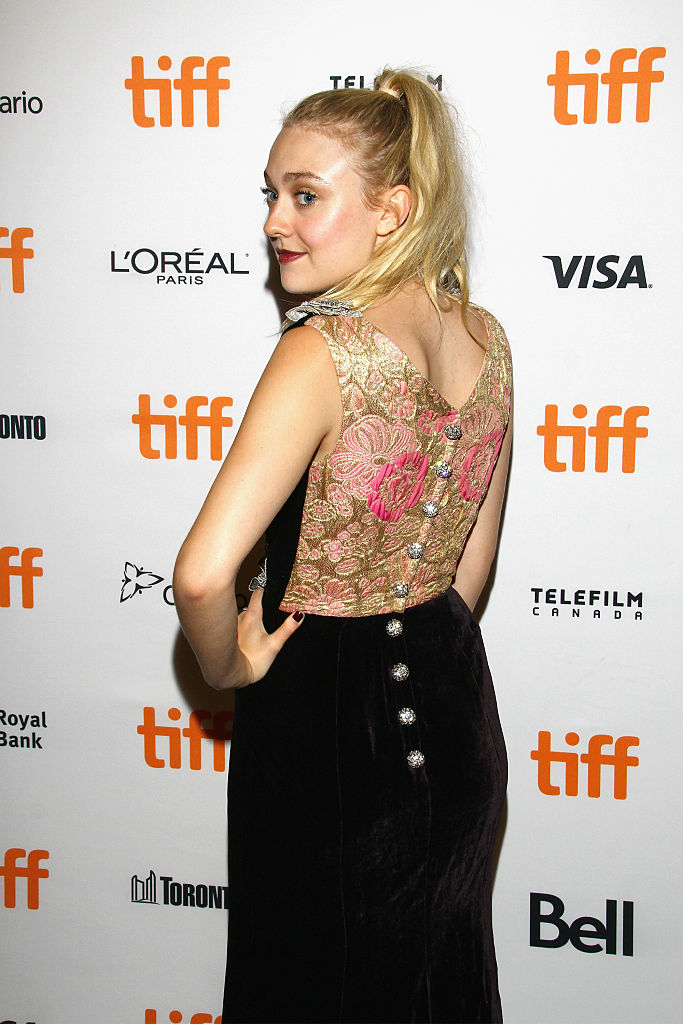 *Fans self*
Fanning wore the dress to the premiere of her latest film, Brimstone, a western thriller in which she plays Liz, a mute wife and mother who is being hunted — and courted for forced marriage — by an evil preacher who is also her father. (Are you disturbed yet?!)
The busy actress had another film screening at TIFF this week — American Pastoral, Ewan McGregor's directorial debut. In that movie, Fanning plays the daughter of McGregor and Jennifer Connelly who shocks her family by joining the anti-Vietnam War movement.
She recently spoke to Metro News in Toronto about making the film festival rounds. "I do enjoy it," she said. "There is a fun energy of people getting to see your movie. Most of the time, for the first time." But she also said that the films screened at festivals can become overshadowed by Hollywood wheeling and dealing.
"The film festival becomes about bidding wars and this and that," said Fanning. "[But] I also try to think about the people who live in Toronto who get excited for the film festival and get to go see films — I try to remember that."
We're anxious to see if either of her films get picked up for wide distribution! (Especially if that means we'll see more of Dakota on the red carpet!)