Daisy Ridley's "Star Wars" Celebration outfit perfectly matches the movie's new poster
When you play Rey in Star Wars, you're pretty much obligated to make a ~statement~ with your outfit every time you appear at an official movie event. And that's exactly what actress Daisy Ridley did at the Star Wars Celebration panel this week, donning a red and orange ensemble that perfectly reflects the color theme and dramatic tone of the forthcoming film's newest poster.
The outfit, which features a top with a boat neckline, kimono sleeves, and a obi-style waistband, looks like something Ridley's badass character Rey would wear to walk the red carpet (if there were, you know, red carpet events to attend in Jakku).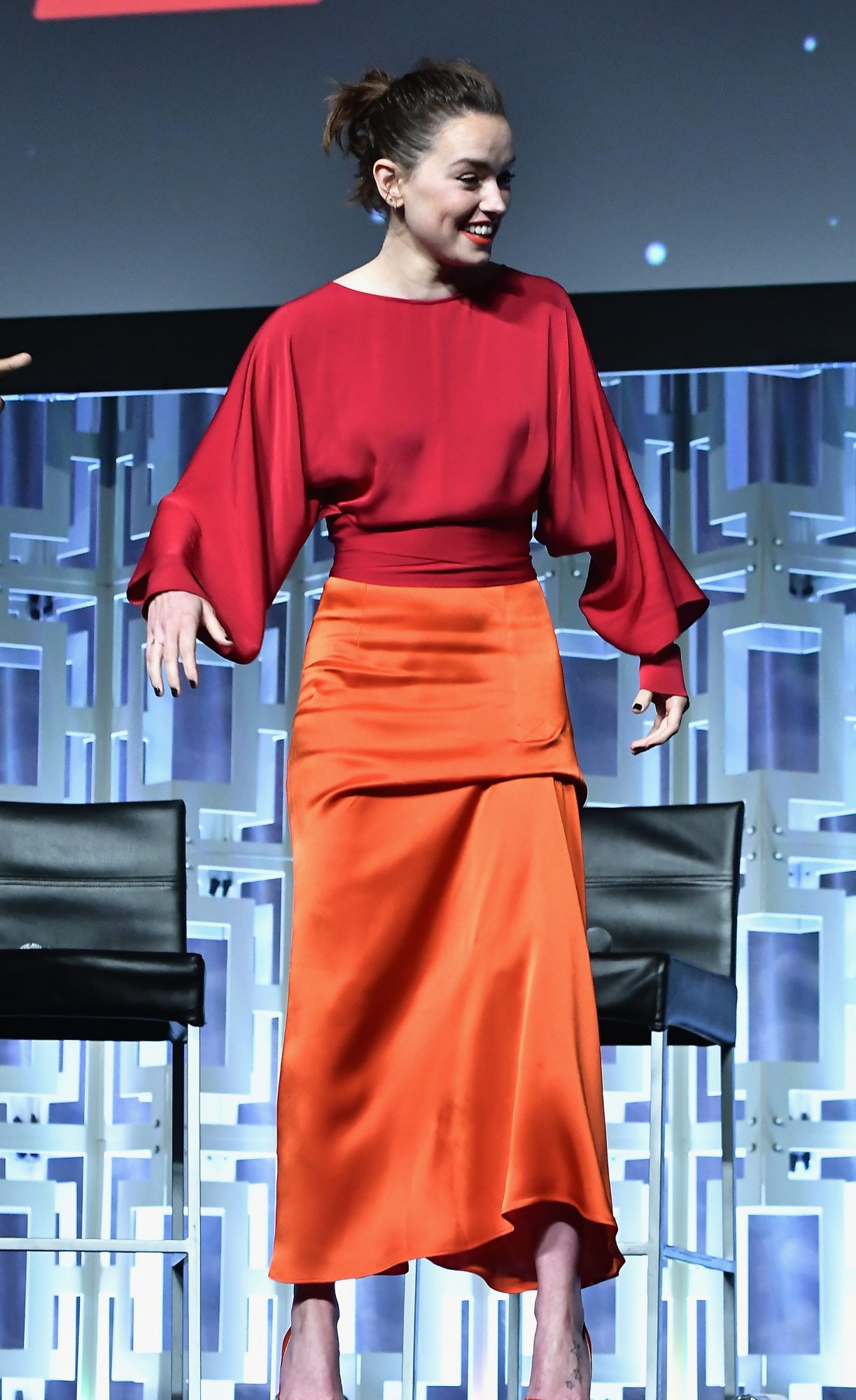 Here's another look at Ridley's lady-in-red (and orange) look.
The new Star Wars poster is washed in the exact same shade of red and orange, and features Ridley as Rey powerfully raising her lightsaber overhead.
To complete the Rey-esque look, Ridley's hairstylist, Robert Vetica, gave Ridley Rey's signature tri-bun 'do. Click through the snaps below to see it.
On the panel, looking ahead to the future of the Star Wars franchise, Ridley revealed that The Last Jedi will "go deeper into Rey's story." She added,
"What is very apparent from where we left off in The Force Awakens and begin in The Last Jedi, is that Rey has a certain expectation of Luke. And as a lot of people know, it's difficult when you meet your heroes because they might not be what you expect."
The film hits theaters December 15th, just in time to see it with your family over the holidays, and we've already started counting down the days.