It sure feels like Daisy Ridley is hinting at Rey's fate in "Last Jedi" with this outfit
This weekend was every Star Wars lover's *dream* weekend. Star Wars Celebration, which took place from April 13-16th in Orlando, Florida, lived up to it's name, celebrating 40 years of the beloved franchise, while teasing its future. In addition to honoring the 40th anniversary of the franchise (and Carrie Fisher, who passed away in December) Celebration also served as a kickoff for The Last Jedi, which will be released at the end of the year.
During The Last Jedi panel, we saw the poster, we met a new character, and we got the first trailer! While the panel itself was thrilling, there was something that caught our eye. Being Star Wars fans, we know that details are *very* important and we can't help but think that Daisy Ridley was sending us a sign with her red outfit.
As everyone has (probably) seen, the logo for The Last Jedi is not yellow, like most of the films. Instead, it's an ominous red, like it was in Revenge of the Sith and Return of the Jedi, two of the darkest and most intense Star Wars films. As we've already pointed out, the color change of the logo is supposed to be significant, meaning there's trouble ahead.
Being an incredibly precise franchise, there's no way Ridley's red outfit is a coincidence. Does this mean there's trouble ahead for Rey? Does Rey turn to darkness like Kylo Ren? Does learning her true parentage bring danger? Now that we think about it, Mark Hamill's all black ensemble and John Boyega's white jacket could also have hidden meanings (although we do know how much Finn likes a killer jacket)!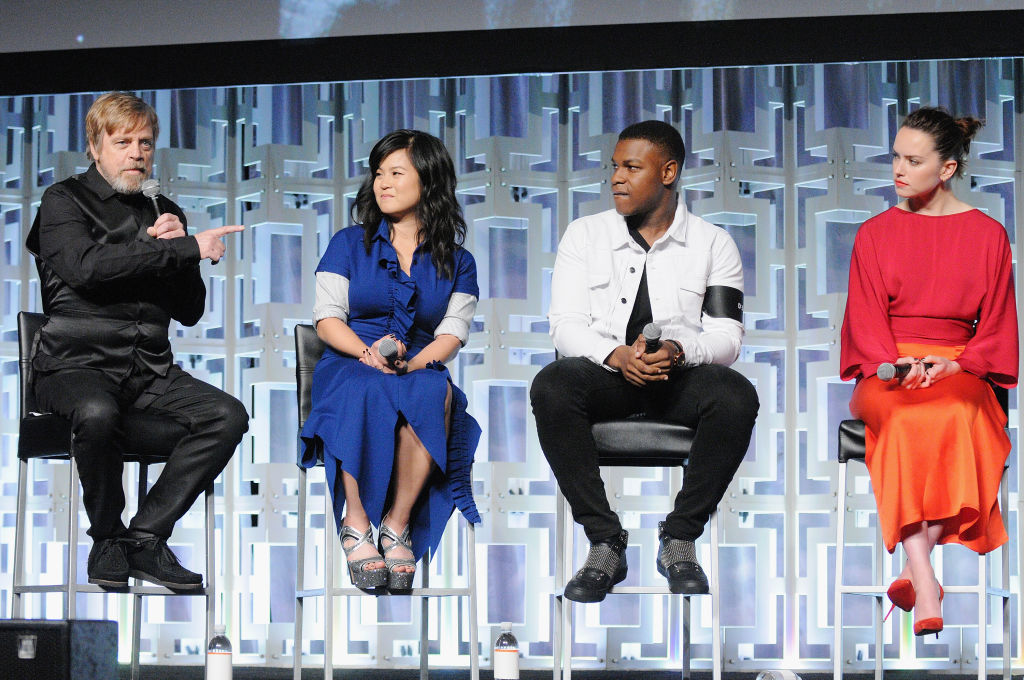 We're trying not to read too much into everything we're seeing but we have so many questions about the upcoming film, we just can't help but wonder. While we're hoping that Daisy's outfit doesn't mean too much darkness ahead, we don't think it's a spoiler to say she looks stunning in the ensemble.
The Last Jedi opens in theaters on December 15th and we'll be theorizing until then.