The first picture for Daisy Ridley's new movie is here, and you're going to do a double-take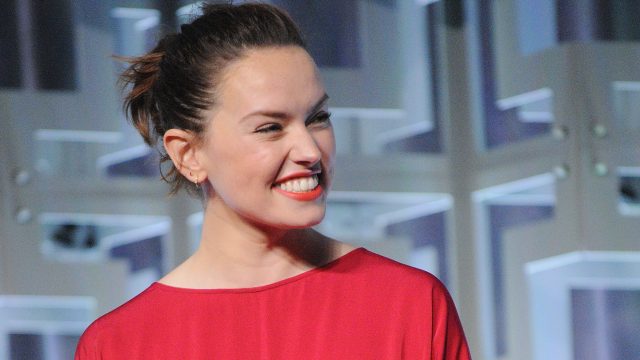 When you picture Daisy Ridley, more than likely you imagine a fierce and strong fighter either at the helm of the Millennium Falcon or ready to fight for the Resistance. That's the Ridley we've been introduced to, as her biggest movie to date has been Star Wars: The Force Awakens (and she has two movies coming out this winter, Star Wars: The Last Jedi along with Murder on the Orient Express).
Continuing on her streak of taking on kickass lady roles, the first photo from another upcoming Ridley movie is here — but you might not immediately recognize her. It's easy to spot her co-star Tom Holland, because he, well, looks like Tom Holland. Ridley does not immediately look like Ridley. Gone is the brown hair tied into three little pony tales; instead, she has a bleach blonde bob.
The image comes from Chaos Walking, which is based on the YA novel, The Knife of Never Letting Go. The story takes place in the future on a new planet where females have been wiped out by disease, leaving only men to run everything (and oh yes, that will certainly be smooth sailing). Also, according to the movie's synopsis, "All living creatures can hear each others' thoughts in a stream of images, words, and sounds called Noise." Holland's Todd happens to stumble upon Ridley's silent Viola, who has no Noise. The two must stick together to escape Todd's town, and find refuge with another nearby settlement (which happens to still have women).
Mads Mikkelsen, David Oyelowo, and Nick Jonas also star in the movie; no word on if they will undergo any dramatic hair (wig) transformations. The only downside to this new Ridley 'do is that we've got to wait a while to see it on the big screen. Chaos Walking is slated to hit theaters on March 1, 2019.