This $24 planner has a page for every day of the year and it's significantly improved my workflow
I've never really been the color-coded sticky notes type. I'm much more the "write a reminder on my hand in Sharpie then accidentally wash it off" type. In some settings, this might be charming and some would even argue that chaos is just creativity in disguise. I would argue this. But in the context of overlapping deadlines, events, and time-sensitive assignments (AKA, my job) strong organization is a necessity. After starting my first full-time job out of college, I quickly learned that my draw-outside-the-lines style of organization needed a lot more structure to stay on top of it all.
So I went on the hunt for the perfect planner. I asked my friends, family, and coworkers all for their recommendations. While their go-to planners (ones by ban.do, Kate Spade, Lilly Pulitzer and Erin Condren) were all highly acclaimed, I realized that I needed a slightly different format and something with a more subtle design. I decided that what I needed was something that had enough room to write down my time-stamped tasks for the day—like meetings, interviews, and deadlines—as well as some extra room to write out to-do lists so that I could better plan my on-going projects around the more defined parts of my schedule. I soon realized that what I needed was a daily, not a weekly planner.
While a weekly planner typically shows Monday through Friday and the weekend all on one spread, a daily planner gives each day of the year its own page.
After searching "2020 daily planner" all over the web (and being misled to multiple pages showing weekly, not daily planners) I finally found one that checked off my very specific list: the Business Desire 2020 Daily Planner. For each day, the page lists out the times from 7 a.m. to 7 p.m. so that I can write out and visualize what my day ahead looks like. On days where I have multiple meetings or interviews, this helps me see the positive and negative space in my schedule. I'll also use this list to block out an hour or two that I want to dedicate to working on a specific story or project.
Aside from the times printed in small font along the left side, the rest of the page space is open for notes, which is where I typically write my less time-specific to-do list. The daily planner also has monthly tabs and a page displaying all the dates of the month ahead for more of a zoomed-out, overview look.
This planner, to me, has the qualities of a really great boss or teacher: It offers some structure and guidance, but still allows space for creative freedom.
When possible, I try (strong emphasis on try) to get into the office about 10 minutes early and start writing out my schedule and to-do list for the day. Because unexpected things inevitably come up most days, I love how much extra room the pages allow for adding on to my list and reprioritizing different tasks. Plus, there are some added bonuses that make me love the planner even more, like perforated tear-off corners at the bottom of each page for marking my place, and a minimal, non-bulky design that makes it extra easy to transport.
Business Desire 2020 Daily Planner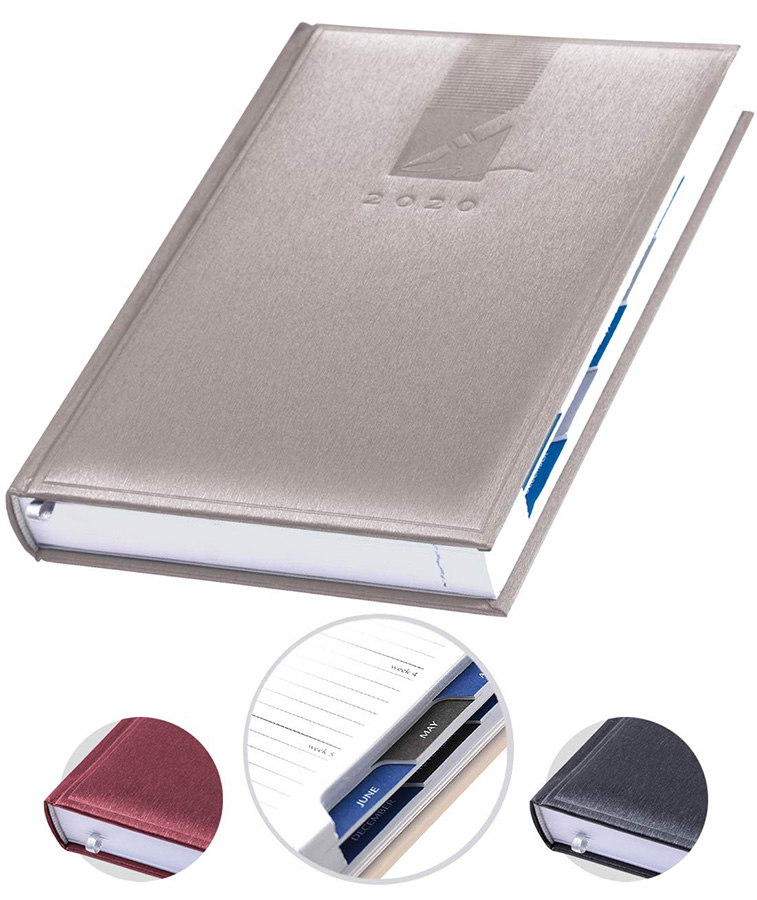 Shop it! $20.95—$23.95, amazon.com
TL;DR—I highly recommend this planner for anyone who, like me, doesn't have Type A-style organization but kind of needs to. It may be the end of February already, but I still think this planner is worth the investment this year. Not to mention, you can still make use of the over 300 pages left.