This daddy and daughter ballet class has turned us into a heart-eyed emoji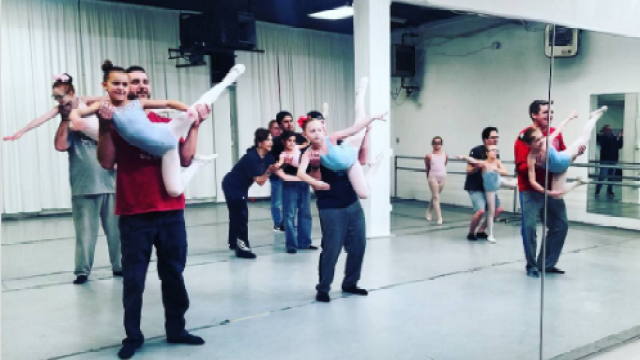 Move over goats-who-are-friends-with-puppies and babies who just ate lemons! There's a new set of viral video stars in town, and we can't believe we're saying this, but they are dads. Yup, just human dads. Don't believe us? Try watching this viral clip of a daddy and daughter ballet class and watch your icy heart melt to a sugary Slurpee in seconds. When you first realize that the tutu'd ballerinas themselves are about seven-years-old, you may think, oh, okay, so the adults will excel and the little ones will win us over with their noble and valiant attempts. Wrong. These dads try their damnedest to emulate even a smidge of the graceful form their daughters demonstrate and boy, is it wonderful. You must see to believe.
Five, six, seven, eight — and uh, Mr. Thompson? This is ballet, not open-air swimming. What are those arms?
These dads strike the elusive sixth position in this ballet class, meaning, they make up their own sort of loose armed, shapeless choreography as they grace their daughters sides. It's mesmerizing, it's humbling, it's a great check to the ego. Oh, so you lift every night at your weight bench in your basement? Can you plié? Thought not.
Sploosh! There go the last little frigid bits of our February-frozen hearts, thawed into puddles of slushy water. These dads giving their daughter's hobby a try is something neither will forget, and we applaud all of their efforts. What better way to impress your dads and your daughters! This is the ultimate "You think this is easy?  You try it!" moment. We don't see these dads missing a recital in the future.
We love the bonding that's happening here at the Philadelphia Dance Center. We want moms in karate next!
So how much practice till these dads are ready for Dancing with the Stars? We see promising careers in their futures..in professional fly-swatting. Aww. Those arms, tho.