This dad proudly wore his son's first grade drawing as a tie to graduation, and now we need to have a small cry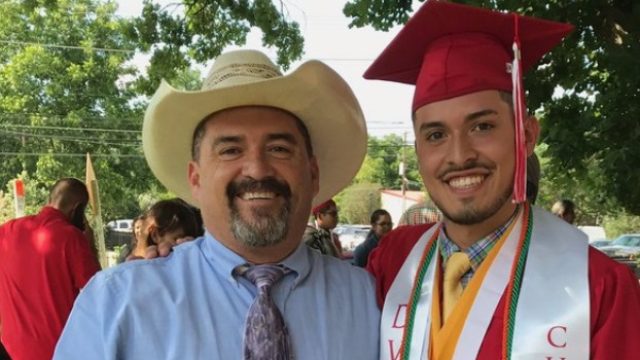 High school graduation is an emotional time for parents and students alike. You can't help but reflect on the years gone by. For many students, it marks the end of living at home and the moment a glorious new and chapter begins. Needless to say, it's easy to get a little weepy during this momentous occasion.
One father, Robert Olivo, attended his son's graduation ceremony, wearing something unexpected. He wore a handmade Pokemon tie that his son, Dylan Olivo, made for him 11 years ago when he was in the first grade.
Break out the tissues. This is an aww moment for the ages!
Dylan tweet a photo of the two after the ceremony. His father proudly dons the tie. If you look closely at the tie, you'll see Dylan's artwork. Pikachu and some Poke balls. We love that his dad is also wearing a cowboy hat and boots. Nothing like a mix of two very different genres. false
Dylan told Teen Vogue:
"I still remember making the tie for him, and I think he does too… He had it planned this whole time to wear it.... I didn't expect him to really wear it or even have it this whole time. He has never worn the tie before in his life until my graduation day."
This calls for a dad joke about the tie that bind us.
Again, we say this is a AWW moment for the ages! Of course, the internet also has its say, and it's also incredibly moved.
https://twitter.com/udfredirect/status/870485873959198720
false
There's something so tender and sweet about this simple act. It just goes to show fathers have a soft side too. We are simply beyond words.
Dylan and Robert, thank you sharing this very special moment in your lives with this rest of us. Your wonderful act of love has us thinking about our own dads. We're picking up the phone, and we're dialing.
(H/T Teen Vogue)