Everything your dad actually wants for Father's Day, illustrated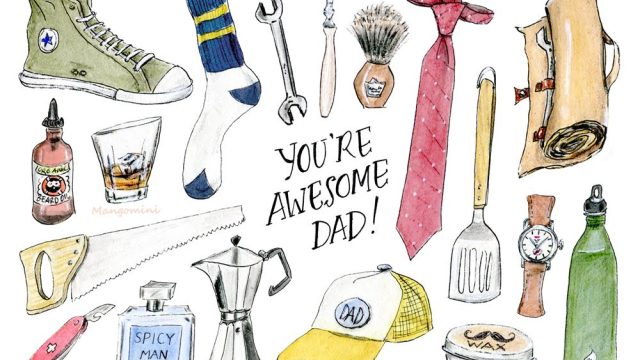 Father's Day is June 18th. Now that that's out of the way, let's get real. Father's Day — much like Mother's Day — is not an easy holiday to shop for. I mean, how are we supposed to convey love, gratefulness, and so much more in a single gift? How do we cram everything we feel about the people who raised us into a box or card? Though this feels like a lofty challenge every year, the shopping for mom or dad agita has a great payoff — when they open that gift and smile.
To help you on your Father's Day gift quest, we have the following suggestions.
1. ASOS Tommy Hilfiger Jake Chronograph Leather Watch, $229
2. Mizu M8 Water Bottle, $20.95 
3. Honest Amish Classic Beard Oil, $13.18
4. ASOS Tube Style Socks, $16
5. Nappa Dori Tan Toolkit, $210
6. New Star Foodservice Barbecue Tool Set, $16.95
7. Converse All Star Street Mid Shoes, $59.99
8. Got Me Tipsy Best Dad Ever Coffee Mug, $14.87
9. My Favorite People Call Me Dad Tee, $12.95+