This dad accidentally sent his baby daughter to day care without a shirt on because he didn't understand how overalls work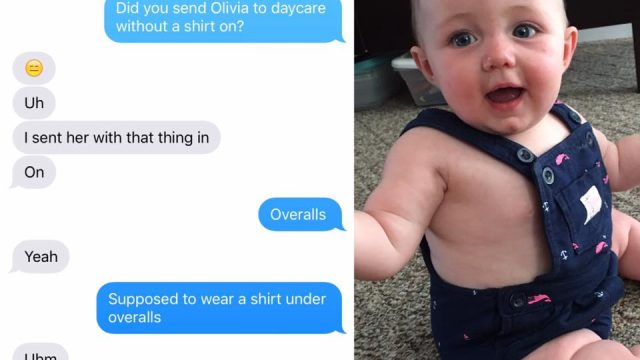 The internet is cracking up over a dad who accidentally sent his 7-month-old baby daughter to daycare without a shirt on. We know…this sounds a little nutty. But in dad Jeremy's defense, he dressed his adorable daughter in overalls. He just didn't understand what exactly overalls ARE.
According to BuzzFeed, mom Brooke Hawley-Basso usually dresses their baby, Olivia, for daycare in the morning while Jeremy dresses their 6-year-old son, Brady. On this particular morning though, Brooke had an early morning job interview, so dad had to pull double-duty and get everyone ready.
When Brooke got to daycare later that evening to pick up Olivia, she was surprised to find her sans shirt. She texted Jeremy to ask WHAT IN THE WORLD. That's when she found out that her husband didn't know what overalls were.
Brooke posted the text exchange (with accompanying photo, because cuteness!) to Ellen Degeneres' Facebook page, where it's already accumulated more that 66,000 likes. We can't help but wonder how many of those likes are from people who also don't understand overalls.
We're guessing Jeremy didn't grow up on a farm. He's never seen Kendall Jenner's Calvin Klein ad (where she at least wears a black bra under her overalls). And um, he's never seen any other human wearing overalls?
Don't feel bad, Jeremy. It looks like Homer Simpson made the same mistake once with Bart. (Although weirdly, he didn't forget his own shirt.)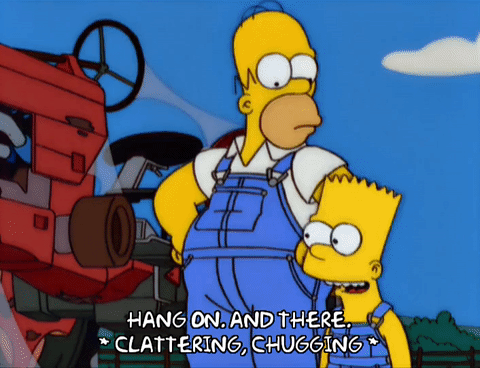 Dads. Gotta love 'em.