The Tennessee governor is considering granting Cyntoia Brown clemency, and here's what you can do to help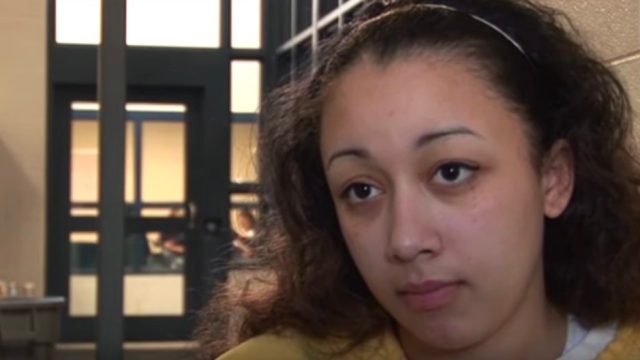 Tennessee Gov. Bill Haslam (R) is reviewing the clemency request of Cyntoia Brown—the teenage sex trafficking victim sentenced to life in prison for killing an older man who purchased her for sex and abused her. Brown was granted a clemency hearing to determine if she could potentially be released back in May 2018, but on December 6th, 2018, reports announced that Brown will officially have to serve at least 51 years in prison before she's eligible for parole. This means that she has 37 more years to serve on her current sentence.
Haslam was speaking about higher education at an event on Monday when Justian Laing, a member of Black Lives Matter Nashville and an education professional, questioned him about the case of "one of your Tennessee students and a graduate of Lipscomb University, Cyntoia Brown." Brown graduated from Lipscomb University in December 2015 and obtained an Associate's degree while in prison.
"As a victim of sex trafficking and assault, this is an unjust sentence in the first place," Laing said, according to The Hill. "She has not been treated as a victim of trafficking and not given the justice she deserves."
The Tennessee Supreme Court ruled last week that defendants like Brown convicted of first-degree murder after July 1st, 1995 are only eligible for parole after spending more than 50 years behind bars. The court issued the ruling in response to a lawsuit filed by Brown's legal team, which argued that a 2012 U.S. Supreme Court decision forbidding life sentences without parole for minors made her sentence unconstitutional (Brown was tried as an adult at the time). However, the Tennessee court argued that the 2012 ruling technically doesn't apply to Brown and her case, because she wasn't sentenced to life without parole (basically, they're splitting hairs).
"The Supreme Court's decision that Cyntoia must serve 51 years before she can be considered for parole is a human rights issue," Laing said. "And so I ask you, what really, functionally, is the difference between life without parole — which is no longer constitutional as the United States Supreme Court declared for minors, for any crime — and 'you might get parole after 51 years' for a victim of sex trafficking?"
The sex trafficking survivor—who was only 16 years old when the crime occurred—has already spent 14 years in prison. The Hill notes that in her trial, Brown testified that she shot and killed Johnny Mitchell Allen, the man who bought her for the night, because she thought he was reaching for a gun.
Haslam told the audience that his office is reviewing Brown's case and would make a decision on her clemency request before he leaves office in a few weeks. But he hedged away from given Brown any special attention, prompting a woman in the audience to repeatedly shout, "That's not good enough!"
"We're reviewing a lot of cases, and while Cyntoia's case has gotten a lot of publicity, I don't think you want us to treat hers any different than a whole lot of cases that I think people want us to review," Haslam said.
Brown's case has been in the public eye since the documentary Me Facing Life: Cyntoia's Story was released in 2011, and since then, many activists (including celebrities like Rihanna and Kim Kardashian West) have attempted to spotlight her case's injustice.
https://www.youtube.com/watch?v=MXe0asMDdCU?feature=oembed
Next, her case will be heard by the U.S. Sixth Circuit Court of Appeals, so there's still a chance this extreme wrong can be made right. To help urge Haslam to grant Brown clemency, you can join the more than 500,000 people who have signed this MoveOn.org petition, in addition to reaching out to his office.