Is Cynthia Nixon married? Meet her wife, Christine Marinoni
On Sex and the City, Cynthia Nixon proved that girls run the world as the no-nonsense lawyer Miranda Hobbes. And today, March 19th, the actress announced her campaign for governor of New York. If she defeats Governor Andrew Cuomo in the Democratic primary and is elected to office, Nixon will be not only the first female governor of New York, but also its first openly bisexual governor. And Nixon's wife, Christine Marinoni, is a political powerhouse in her own right. Here's what we know about her.
Nixon and Marinoni tied the knot in 2012, although they have been together since 2004. Nixon's wife is the former director of the New York chapter of the Alliance for Quality Education, a nonprofit that advocates for greater state funding of public schools. Nixon has worked with the organization as well. According to a profile of Nixon in The Advocate, the two met when they were both fighting for smaller class sizes in New York schools.
Marinoni most recently worked in the office of New York City Mayor Bill de Blasio as an adviser for community partnerships in the Department of Education. However, the New York Daily News reported that she resigned from her position on March 13th. Marinoni is also an outspoken advocate for LGBTQ rights. In an interview with political magazine City & State New York, Marinoni said that she and Nixon once visited the state legislature together to lobby for the legalization of same-sex marriage.
Given the couple's history of shared activism, it wouldn't be surprising if Marinoni was involved in Nixon's campaign. In Nixon's first campaign ad, which she tweeted on March 19th, Marinoni can be seen in the background, along with Nixon's children.
If Nixon defeats Governor Andrew Cuomo in the Democratic primaries and is elected governor of New York, then Marinoni would become the state's only First Lady in a same-sex marriage.
But aside from their shared activism, Nixon and Marinoni look like they have a lot of fun together.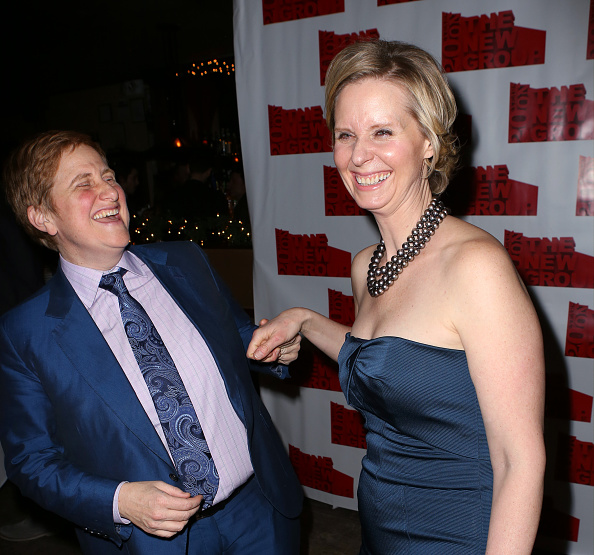 Both Nixon and her wife are clearly dedicated to improving public schools in New York. It's inspiring to see a couple so passionate about advocacy, and we wish Marinoni and Nixon the best of luck in New York's gubernatorial election.