Cynthia Nixon just hilariously shut down that "unqualified lesbian" comment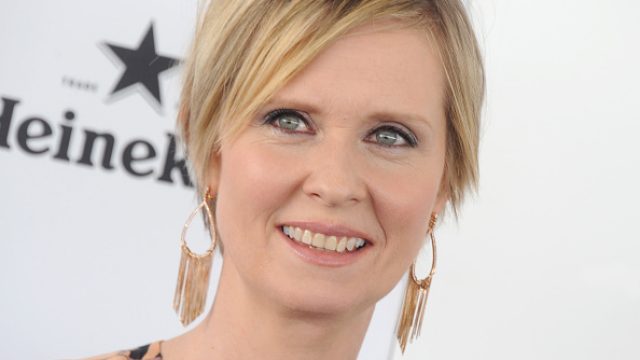 It's been less than a week since former Sex and the City star Cynthia Nixon announced her campaign for governor of New York, and she's already encountered some naysayers. On March 20th, the day after Nixon made her announcement, New York politician Christine Quinn slammed Nixon, calling her an "unqualified lesbian." And yesterday, March 21st, Nixon brushed off Quinn's jab.
At her campaign launch at the Stonewall Inn, the site of the historic Stonewall riots, Nixon addressed Quinn's comments.
"Yesterday, when I announced my candidacy, one of Governor Cuomo's top surrogates dismissed me as an 'unqualified lesbian,'" she told the crowd. "And I just want to say tonight that she was technically right. I don't have my certificate from the Department of Lesbian Affairs. But in my defense, there is a lot of paperwork involved."
In the rest of her address at the Stonewall Inn, Nixon spoke about her experience as a "queer, visible person" and discussed issues that LGBTQ people face. The former actress has said that she cannot be neatly categorized as a "lesbian." She has referred to herself as bisexual in the past, but she told HuffPost in 2017 that she doesn't feel the term completely embodies her identity.
Quinn, who is openly lesbian herself, is a vocal ally of current New York Governor Andrew Cuomo, whom Nixon has spoken out against. Nixon and Quinn also butted heads during the 2013 race for New York City mayor, when Quinn was running and Nixon endorsed her opponent in the Democratic primary, Bill de Blasio. Quinn referenced the mayoral race in her attack on Nixon.
"Cynthia Nixon was opposed to having a qualified lesbian become mayor of New York City,"  she told the New York Post. "Now she wants an unqualified lesbian to be the governor of New York. You have to be qualified and have experience."
But in a series of tweets on March 21st, Quinn clarified that Nixon's "identity has no bearing on her candidacy," and that she had only meant to draw a parallel between herself and Nixon.
Nixon is a candidate with passionate political views and a strong history of involvement, and it was wrong for Quinn to reduce her to a sexual orientation — especially one she doesn't identify with. We need to critique candidates for their views first and foremost. We wish Nixon the best of luck in her campaign for governor.