Kristin Davis is endorsing Cynthia Nixon's campaign for governor of New York, which is *very* Charlotte of her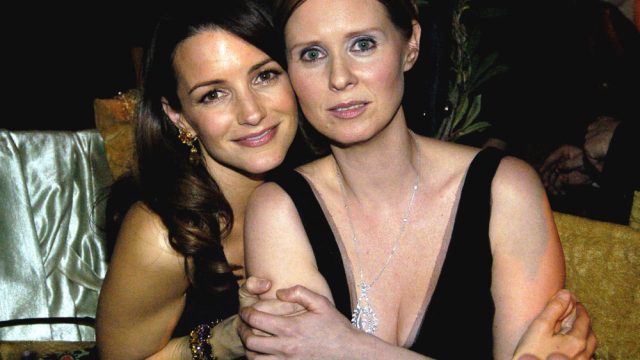 We've got a "celebrity" for a president, so that Hollywood to public office train keeps on rolling. Now, former Sex and the City star Cynthia Nixon is running for the governor of New York. Before you scoff at ~another celebrity~ moving into politics, Nixon's political views are honorable. She's a lifelong New Yorker, her campaign doesn't accept any corporate contributions, she's already an advocate for the public schools system, and if elected, she'd be the first NY official in a same-sex marriage (she's been with her wife Christine Marinoni for 14 years).
And she already has one familiar supporter in SATC co-star Kristin Davis. Even though Davis's character Charlotte was likely a Republican (Nixon is running as a Democrat), she was so earnest and passionate about everything that if Miranda ran for governor, Charlotte would have run her campaign.
Davis put her ride-or-die spirit to the test (such a Charlotte move) and already donated to Nixon's campaign, calling herself a "Day 1 Founding Donor."
https://www.instagram.com/p/Bgg9oaPgRbR
After all the SATC movie drama and Sarah Jessica Parker and Kim Cattrall's public feud, we're happy to see that some members of our favorite on-screen squad still love each other.
If a New York governor like Miranda, sorry, Nixon, is up your alley, you can learn more about her campaign here.