Cynthia Nixon wants you to know that she's NOT Miranda—she even made this video about it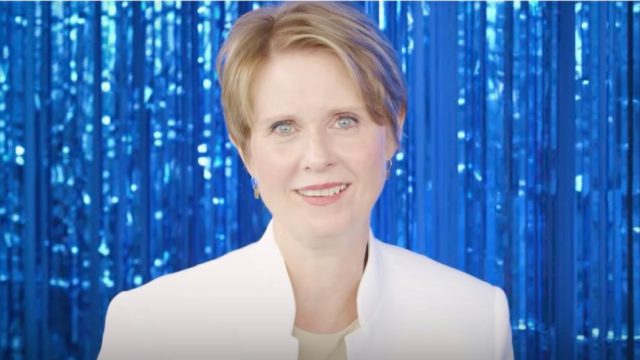 Ever since we learned that Cynthia Nixon was running for governor of New York, it's been hard to resist making jokes about Sex and the City. After all, deciding to start a new career in politics does seem like something Miranda Hobbes would do. But in a new campaign video costarring comedian John Early, Nixon urges potential voters to focus on the issues and to stop comparing her to the lawyer she once played on TV.
In the video, which was posted on September 4th by Nixon's campaign team, Cynthia for New York, Early sits down for an intimate conversation with Nixon—but starts the interview by calling Nixon "Miranda." Things quickly get worse from there.
"Speaking of housing—so sorry—how could Carrie afford to live on the Upper East Side when she literally wrote like, one column per week?" Early asks. (We'd be lying if we said we'd never wondered the same thing.)
"I don't know how Carrie could afford to do that," Nixon retorts, "but what I do know is that too many New Yorkers can't afford to live in the neighborhood or even in the city where they grew up. And that's why when I'm governor, I will strengthen and expand our rent laws to protect millions of New Yorkers."
https://www.youtube.com/watch?v=W4QmX0s5Msw?feature=oembed
As the mock interview continues, Early even drifts into a full-on Carrie Bradshaw-style reverie (which Nixon hilariously calls him out on). After another failed attempt to get the line of questioning back on track, Nixon sets the record straight.
"John, I am not Miranda," she finally says. "I am not a corporate lawyer. I am not Carrie's BFF. I am an actor and an activist who has spent two decades fighting for LGBTQ equality and women's rights and better public schools across New York state."
"My hair isn't even red," she continues. "Because I'm Cynthia. I'm a blonde. And I would like to be your next governor."
Well said, Cynthia.
All jokes aside, Nixon has an incredible track record of political activism, and her platform for governor proves that she truly wants to improve the lives of everyday New Yorkers.
If you live in New York, don't forget to vote in the governor primary on September 13th.