Cynthia Nixon is running for governor of New York, and Miranda would be proud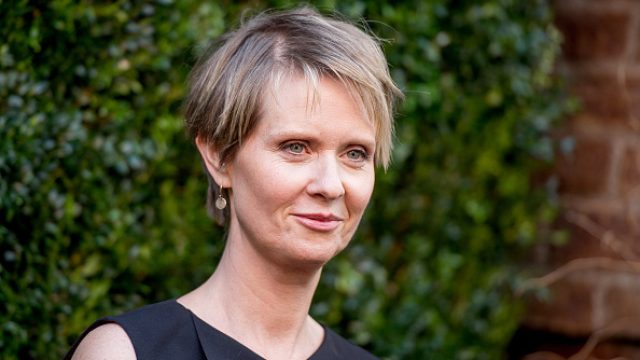 First, there were rumors that Oprah would run for president. Then, Clueless star Stacey Dash announced her run for Congress. Now, another celebrity has added her name to the list of those hoping to transition to politics. Cynthia Nixon — aka Miranda from Sex and the City — announced today, March 19th, that she will be running for governor of New York.
Nixon announced her campaign in an ad posted to her Twitter account. She will run as a Democrat and face current governor Andrew Cuomo in the Democratic primaries in September. Although she has never run for office, Nixon is a dedicated activist, having worked with the Alliance for Quality Education, an organization that advocates for greater state funding for public education. If elected, she would not only be New York's first female governor, but also the state's first governor in a same-sex relationship.
In her campaign announcement video, the actress highlighted her past experience in the New York public school system and argued that New York is in serious need of political change.
"We want our government to work again, on healthcare, ending mass incarceration, fixing our broken subway," Nixon said in her ad. "We are sick of politicians who care more about headlines and power than they do about us."
But the other Democrat on the ticket, Cuomo, would prove stiff competition for Nixon. In a Siena College poll published shortly before she announced her campaign, 66 percent of registered Democrats they would chose the incumbent governor in the primary race, while 19 percent said they would vote for Nixon. However, it's possible that support for Nixon will change as her campaign continues.
According to Emily's List, more women are running for office in 2018 than ever before, and it's awesome to see LGBTQ women like Nixon among them. We'll be keeping an eye on her campaign and the race for governor of New York. And, no matter if Nixon wins or loses, we're glad to see her channeling her inner Miranda.