The most inspiring quotes from Cynthia Nixon's concession speech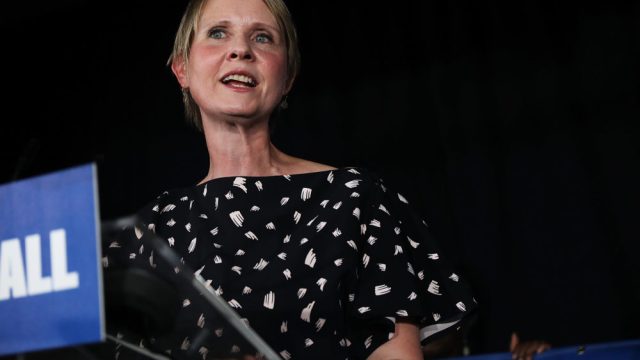 After months of campaigning, on September 13th, Cynthia Nixon and incumbent Andrew Cuomo finally faced off in the Democratic primary for governor of New York. Despite her progressive political views and the buzz surrounding her campaign, Nixon lost to Cuomo, but she acknowledged her defeat with grace and wisdom—and left us with an incredible concession speech.
Nixon lost her bid for governor after receiving 34.4% of votes, according to The New York Times. Cuomo's victory (and the double-digit margin) wasn't that surprising, though; outlets such as RealClearPolitics had heavily favored him to win.
Nevertheless, many argued that Nixon's campaign was successful in driving Cuomo and his policies further to the left. In her speech, which she delivered from Cafe Omar in Brooklyn, Nixon emphasized the change that her campaign had already incited. In one example, she noted that Cuomo, who was formerly against legalizing marijuana, changed his position after her campaign came out in support of it.
Without further ado, here are the most inspirational quotes from Cynthia Nixon's concession speech:
When she let the audience know that change is coming.
"This is more than a campaign, this is a movement. And the movement that we are building isn't just about one candidate or one election, it is about offering a vision of the way things could work if only we have the leadership the political courage to make it a reality."
When she gave a shout-out to young women and LGBTQ people.
"To all the young people. To all the young women. To all the young queer people who reject the gender binary. Soon you'll be standing here, and when it's your turn, you'll win."
When she pledged to keep working for change.
"This is not a time to settle for the way things are, or sit back and hope for things to change. This is a time to fight. And as long as New York remains the single most unequal state in the country, we will keep fighting."
When she called on others to end police violence.
"We can demand police accountability. We can invest in schools, not jails. And when we say black lives matter, we need to mean it. For Kalief Browder. And for all the Kaliefs whose names we do not know."
And when she promised to keep fighting.
"Thank you all for believing and fighting and leaving it all on the field. We started something here in New York, and it doesn't end today. This is just the beginning. And I know that together, we will win this fight."
Nixon's 2018 campaign may be over, but—as she made clear in her concession speech—change is on the horizon. And the best way to enact change is to vote in the 2018 midterm elections this November.