If you're a fan of the CW, you NEED to read these highlights from their PaleyFest Panel!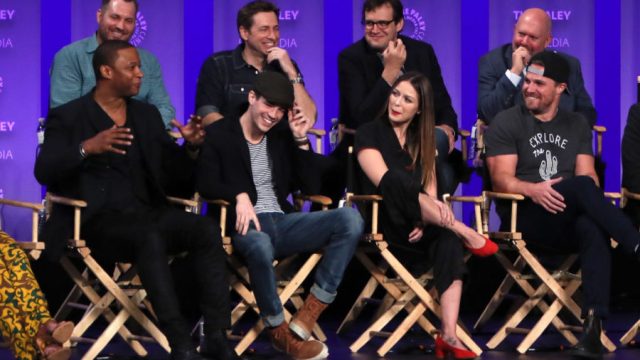 The annual PaleyFest at Dolby Theater is always filled with fun surprises, and this year was no exception.On day 2, cast members from the CW's DC Comics shows Arrow, The Flash, Supergirl, and Legends of Tomorrow took the stage to discuss upcoming highlights from the shows. They even teased a crossover episode near the finale of Legends that would incorporate characters from Arrow!
The details of the crossover largely remain unknown, but Arrow's executive producer Mark Guggenheim confirmed that it is happening(!!!). He also said Katie Cassidy will appear in the finale episode of Legends, and the penultimate episode will contain several Easter eggs.
"I will call it a surprise crossover," he said. "No one knows this because we've kept it under wraps, but there's a surprise cameo. A surprise crossover moment in the penultimate episode of Legends.
Phil Klemmer, executive producer of Legends, had more to share about upcoming guest cameos including one that sounds suspiciously like… J.K. Rowling?
"Very soon, the author of the greatest, I guess you could call it 'fantasy novel series' of all time will appear."
Hmmm. We guess time will only tell.
The PaleyFest panel also included discussion of CW shows The Flash and Supergirl to round out the comic-themed panel. While the details of the shows were fascinating as always (expect some fun new villains!) One of the coolest moments was when Supergirl herself, Melissa Benoist, spoke up about attending the Woman's March on Washington.
According to 9News, the actress and activist says her character has taught her the importance of being a role model.
"I think I was overwhelmed by that in my first season...With what's happening the world…what we do and what we stand for, playing superheroes with superpowers  — especially Supergirl, whose motto is "Hope, Help and Compassion" — I think that's a really important message to spread."
With that kind of attitude behind the CW's amazing slate of superhero shows, if you aren't already a fan, get to it!