Here are the cutest matching Christmas outfits from this year's celebrity holiday celebrations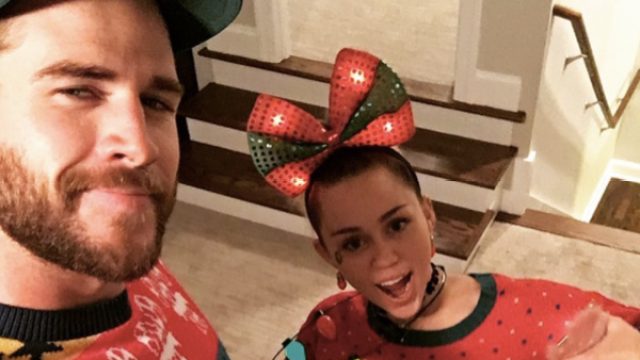 Christmas might be over — it's totally sad, we know — but all those celebrity holiday moments don't have to be. In fact, we've rounded up the cutest matching Christmas outfits from this year's celebrity celebrations to keep the holidays alive.
We know that a lot of stars dressed in matching onesies or pajamas before the big day, but this roundup is for the real holiday. Here's the funniest and cutest matching Christmas outfits from Christmas Eve or Christmas day. Yes, there's a difference between day of and the week before. It just seems so much more festive.
So who made our favorites list? You'll have to keep reading to find out!
The Hemsworth Family
The Hemsworth family proved that Aussies really know how to celebrate Christmas. Although we loved Miley Cyrus and Liam Hemsworth's pre-Christmas ensembles, their Australian celebration was even better. The entire Hemsworth family including, Liam, Miley, Luke, Chris and all their kids rocked matching onesies.
They were so fabulous in fact, that we had to give you another angle. Chris' wife Elsa Pataky showed off the backside of their pjs and they are hilarious. They have a butt flap that reads, "Naughty or Nice," with a check on "Naughty!"
The Kardashians
This year the Kardashians have yet to post a sassy pajama picture together, but based on Snapchat they looked awesome. The group rocked stripped, red and white pajamas on Christmas morning as they opened presents and we just love them. Kendall Jenner looked like a little elf in hers as she ran outside to see her mom's present.
https://www.instagram.com/p/BOdOd5EAk_r
Julianne Hough
The Dancing With the Stars judge opted for not one, but two festive holiday looks this season. She posed with her fiancée Brooks Laich in ugly Christmas sweaters on Christmas Eve first.
On Christmas day the two lovebirds posed as an elf and Santa!
The Hudson-Russell Family
Kate Hudson spent the holidays with her entire family in Aspen, Colorado and of course documented the whole thing. On Christmas, the big group, including her mom Goldie Hawn, pa Kurt Russell, brothers Oliver Hudson, Wyatt Russell and all the kids even rocked matching duds. They had red onesies with their names embroidered on the butts!
Lucy Hale
The Pretty Little Liars star opted for the elf life this holiday season with her family. "Merry, Merry from mine to yours! Happy elfin holidays ?," she captioned the family selfie.
Which matching Christmas outfits are your favorite?