These are seriously the cutest holiday outfits for dogs, because pups need ugly sweaters too
The Christmas trees are up, the festive decorations are out, and your home probably smells like nutmeg, cinnamon. and happiness right about now. The holidays are here. They're happening. Everyone you live with is likely getting into the holiday spirit — they may have even dusted off their ugly (but really adorable) holiday sweaters.
But there's one member of your family who might be feeling left out from all the festivities. Your dog.
So because I care about bringing Christmas joy to dogs, I rounded up some of the cutest, most festive holiday-wear for dogs. Because dogs deserve Christmas sweaters, too. Actually, I also care about bringing Hanukkah simcha to dogs, but let's be real — Hanukkah sweaters for dogs are hard to come by/non-existent.
Petsmart is the most affordable and convenient retailer I found for dog outfits, so here are some of their most festive winter wear for dogs — modeled by my dog, Riley (reluctantly, but she got plenty of ginger bread treats to make up for it).
1. Santa Claus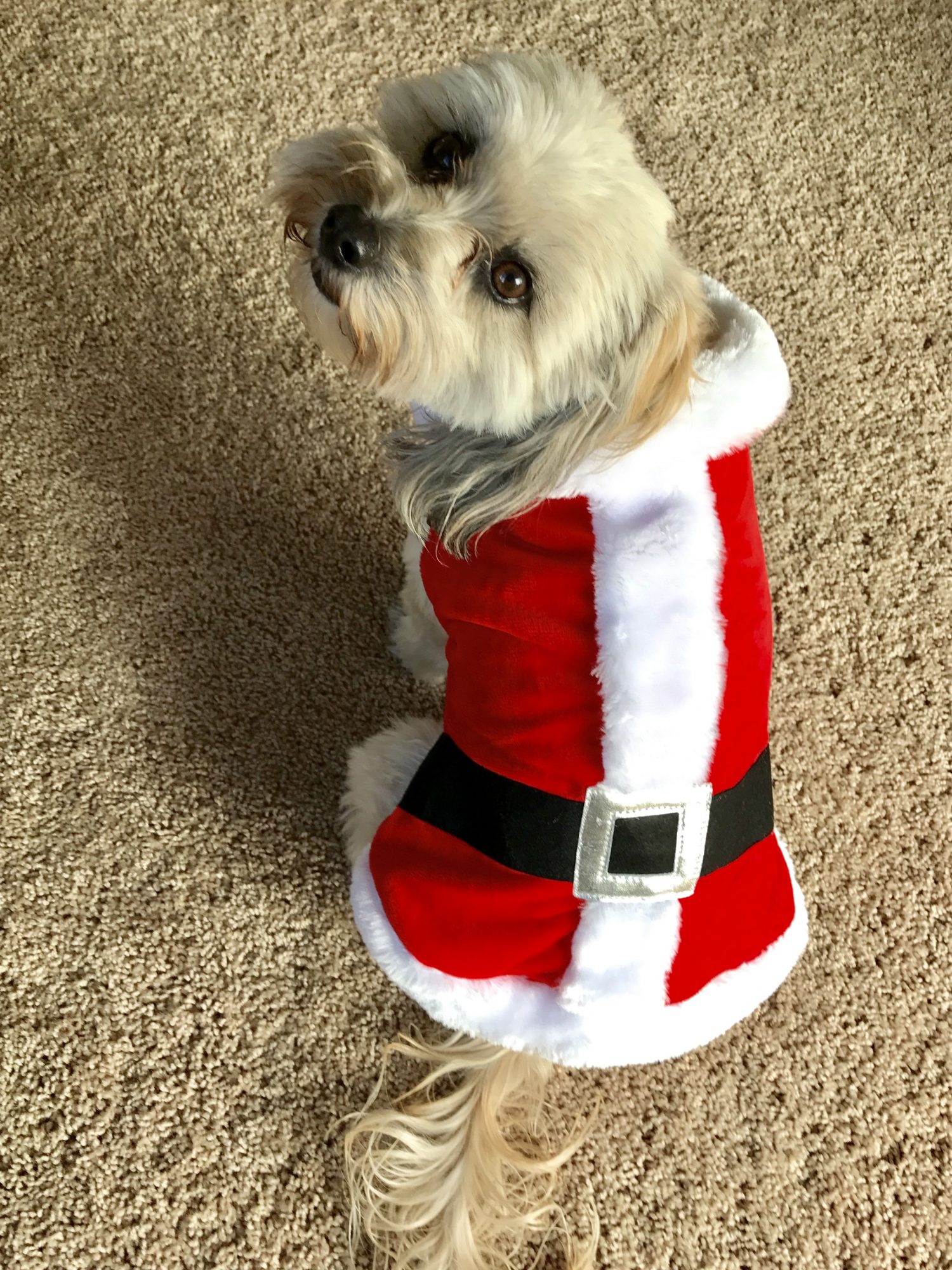 Santa has never looked so adorable (and furry). Nothing says "I'm super into Christmas" like a good ole fashioned Santa suit. Available at Petsmart for $11.99.
2. Knit Scarf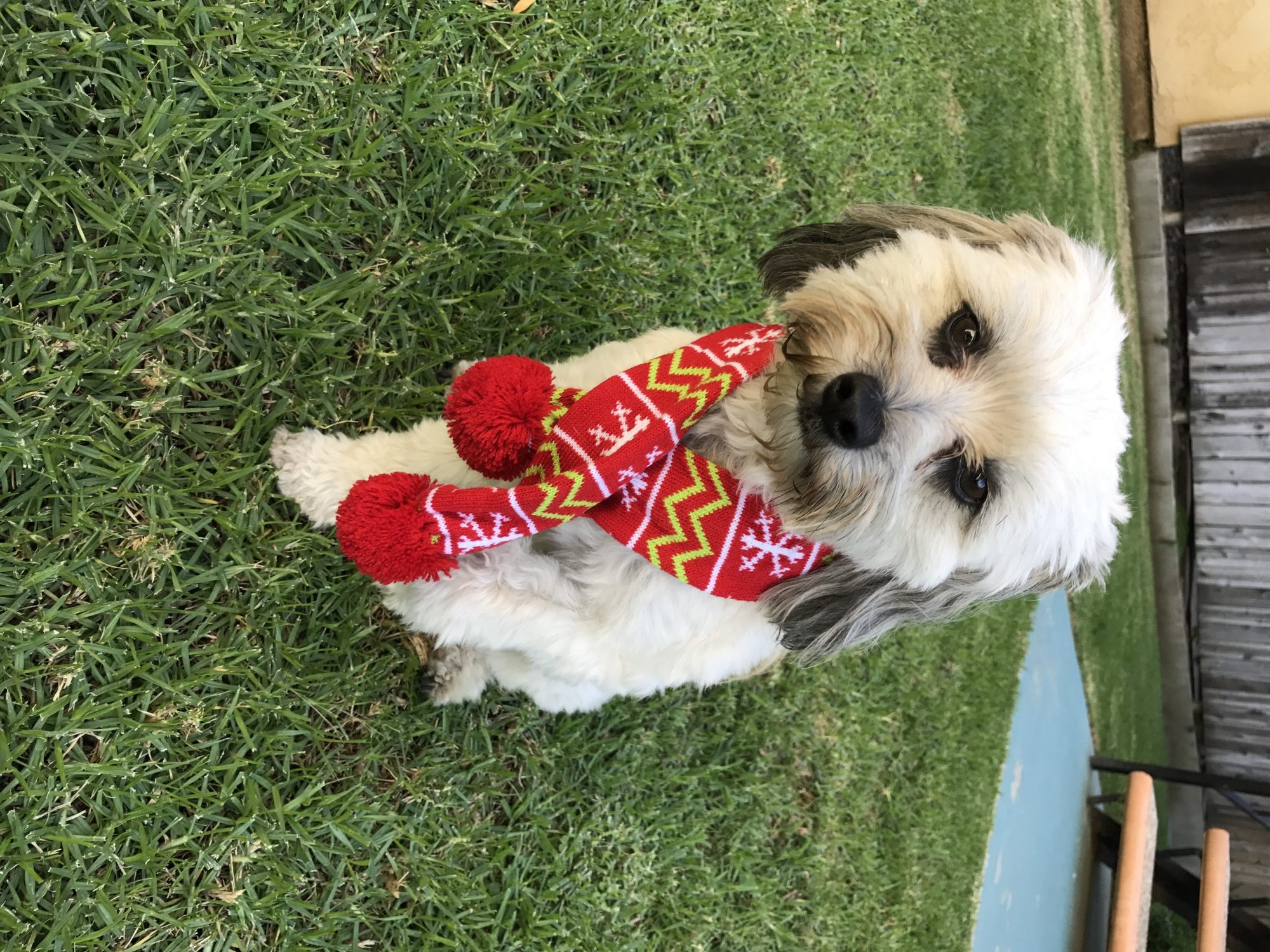 If there's a crisp in the air, your dog might enjoy this light Knit Dog Scarf. Okaaaay, you'll enjoy it way more than your dog. Because do you see how freaking adorable it is? Get it for $9.99-$11.99, depending on the size of your dog.
3. Reindeer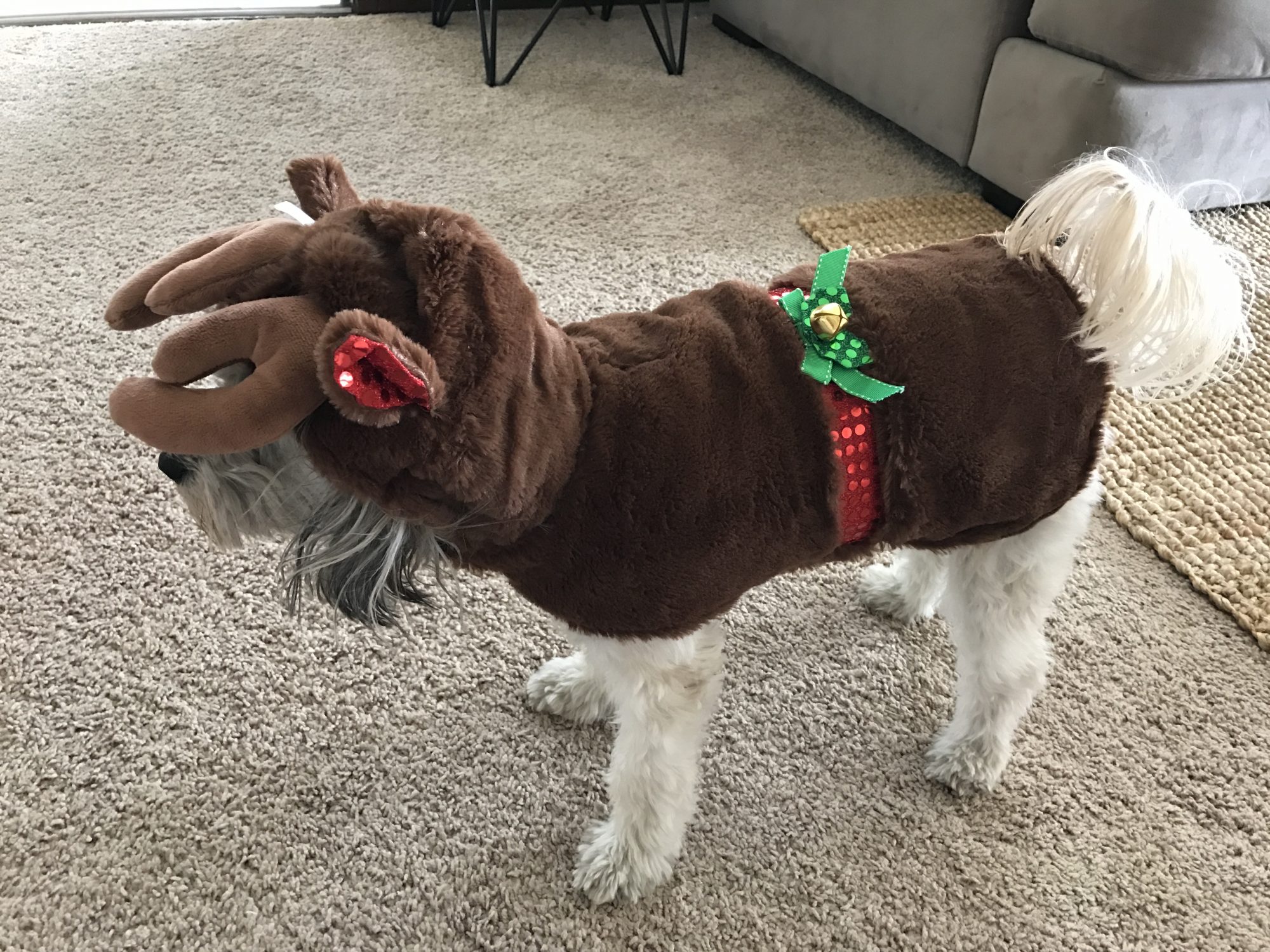 This adorable reindeer is the softest of all the outfits. Riley wasn't sure about the antlers, but she's also not sure about her own tail sometimes. The Reindeer Dog Costume is $11.99.
4. Hipster Reindeer Sweater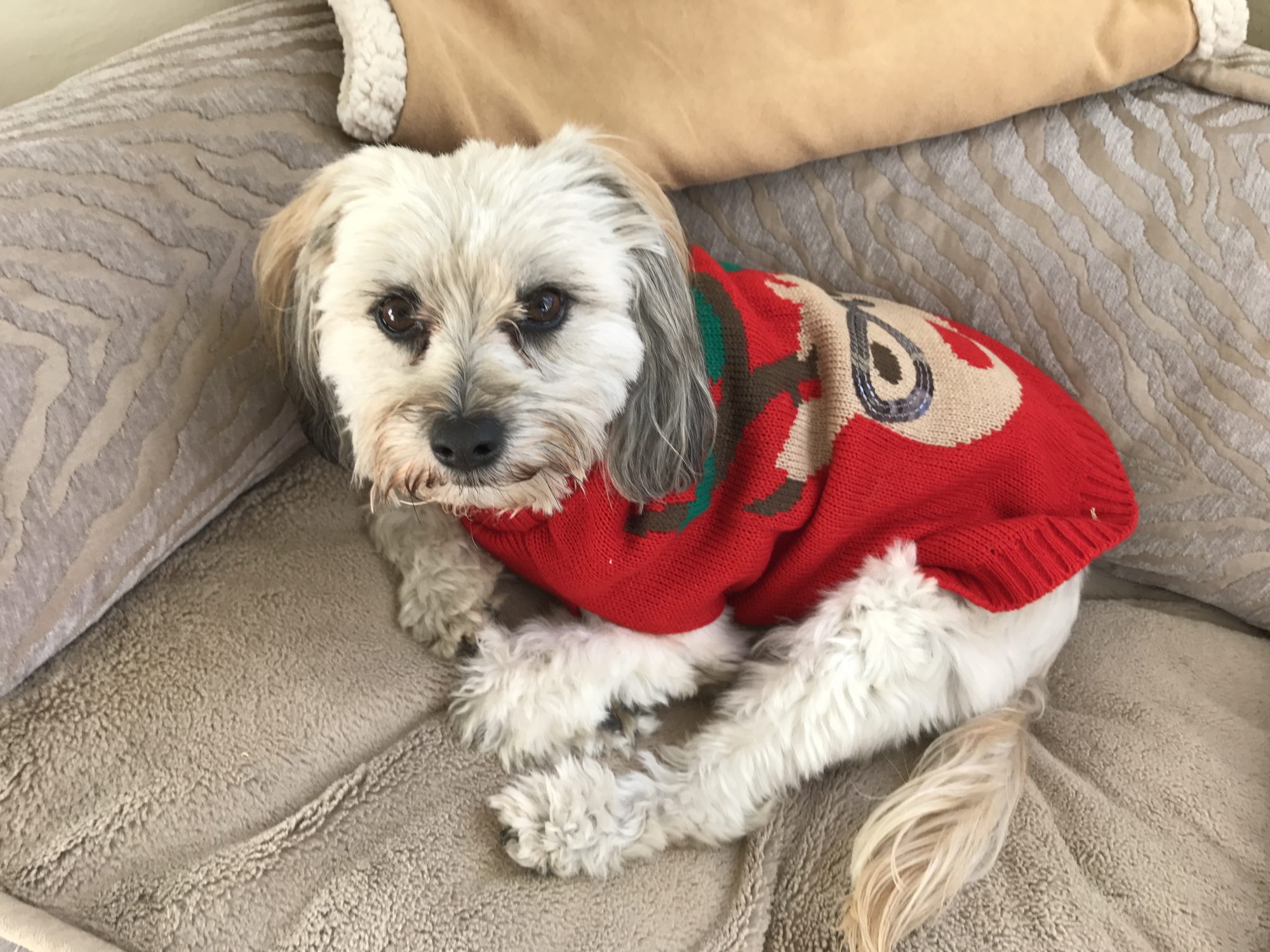 Oh, what's that? You want your dog to be the coolest (and warmest) dog at the holiday party? You'll definitely want to go with the Hipster Reindeer Dog sweater for $11.99.
5. Sherpa Hoodie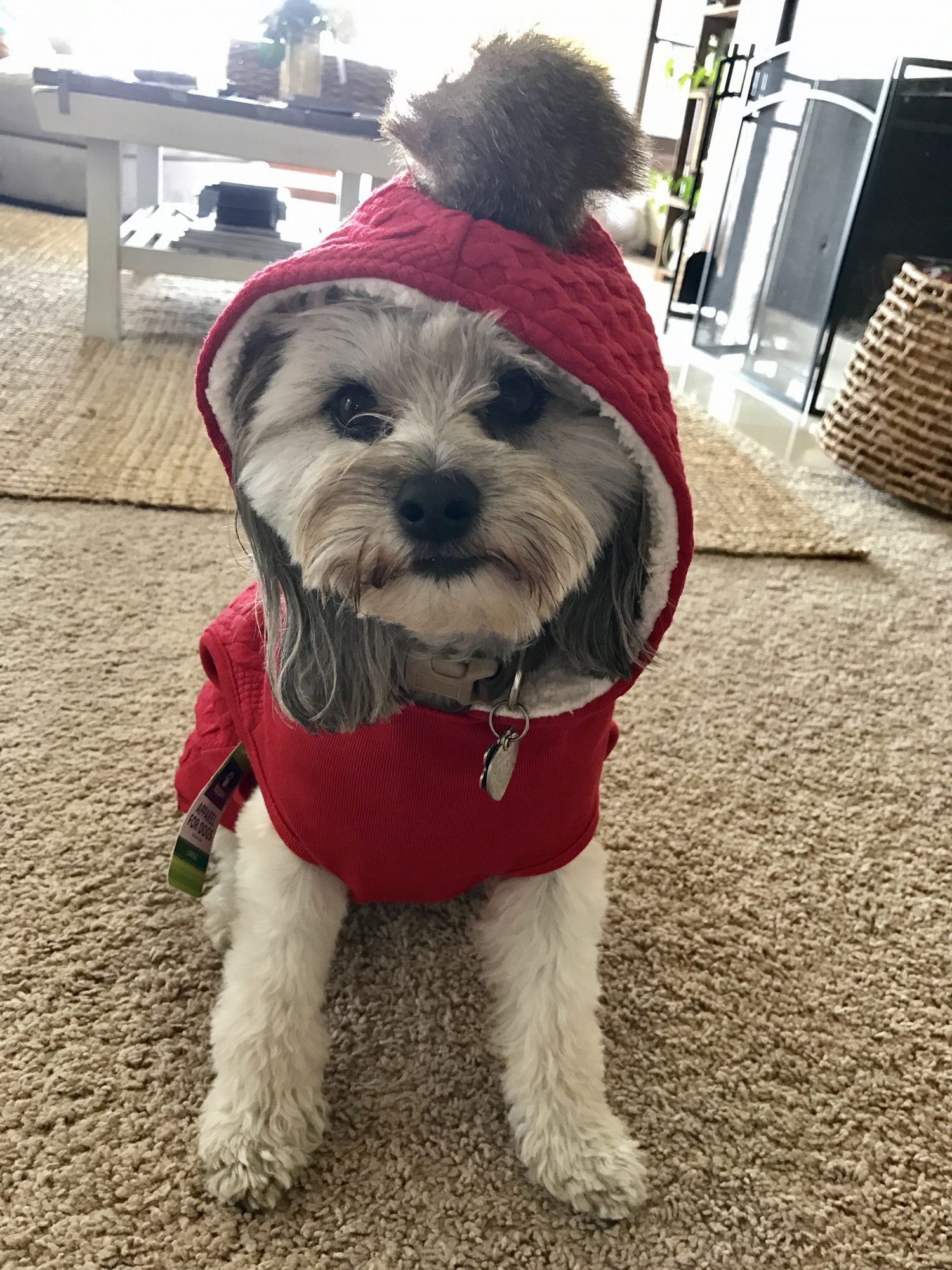 Super ready for a snowy holiday season… in California. The Top Paw Embossed Sherpa Dog Hoodie ranges from $11.99-$13.99.
6. Tree Headband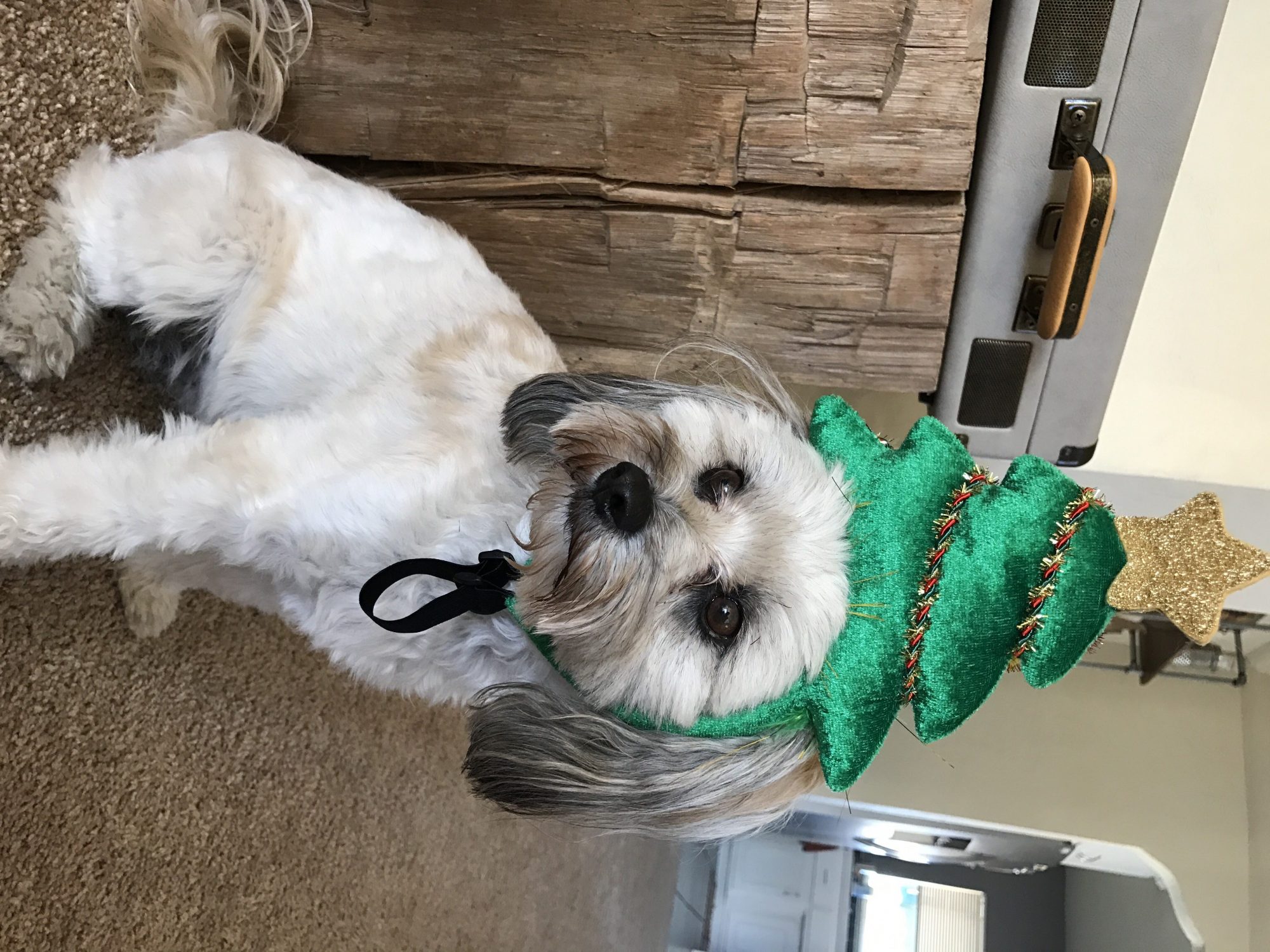 Who needs an actual Christmas tree when you can dress your dog up as one? Get the Tree Dog Headband for $5.99.
7. Moose Applique Crew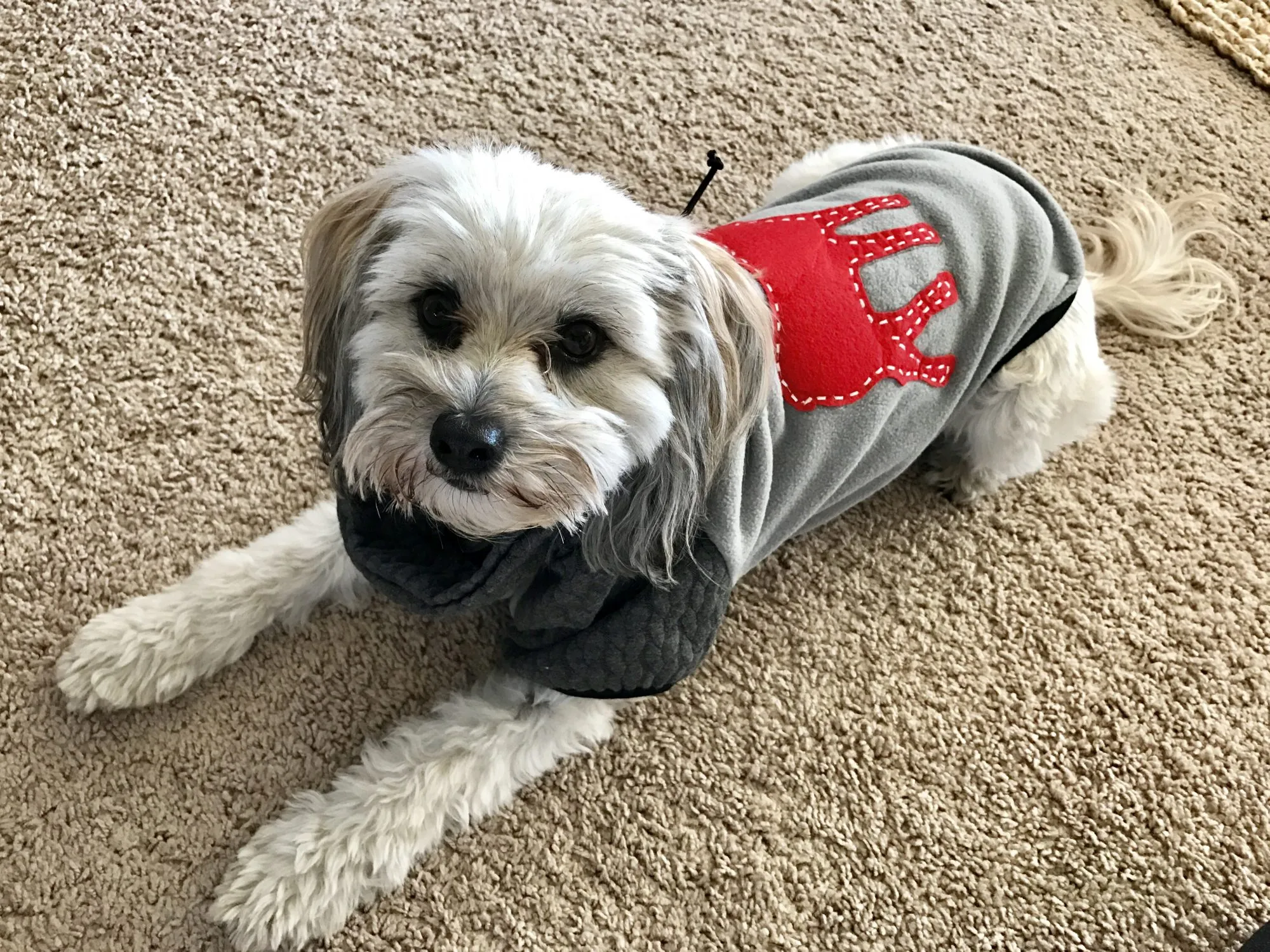 This fleece is so cozy, I wish I had an adult person-sized one. Mainly so Riley and I can be holiday twins, but also for warmth. The Martha Stewart Pets Moose Applique Crew can be yours and your dog's for $13.99-$15.39.
8. Go Nuts Squirrel Coat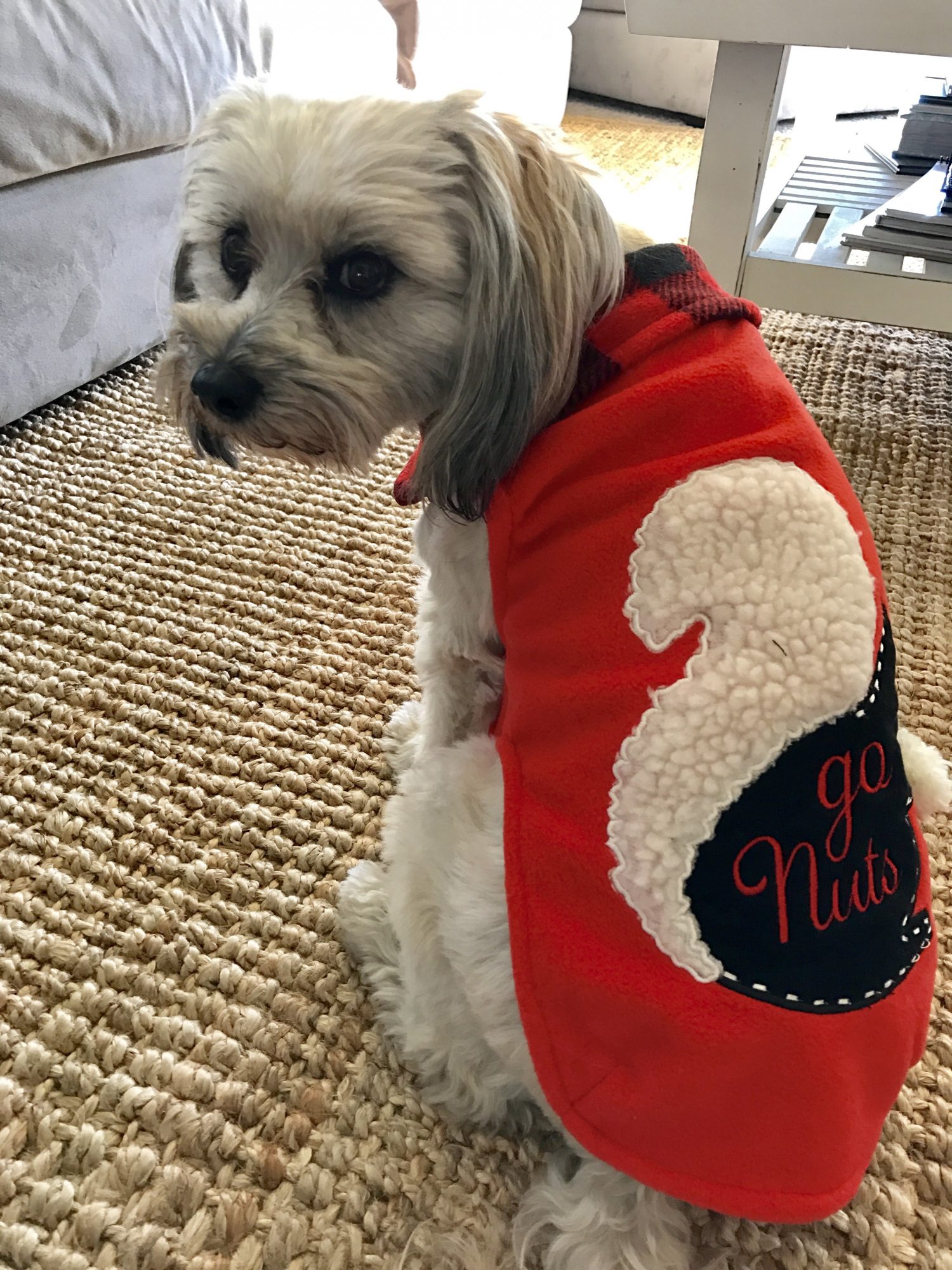 If your dog goes nuts for squirrels, this Martha Stewart Pets Go Nuts Squirrel Coat seems like the most logical choice. Available for $17.49-$18.89.
9. Black Buffalo Checker Into the Wood Coat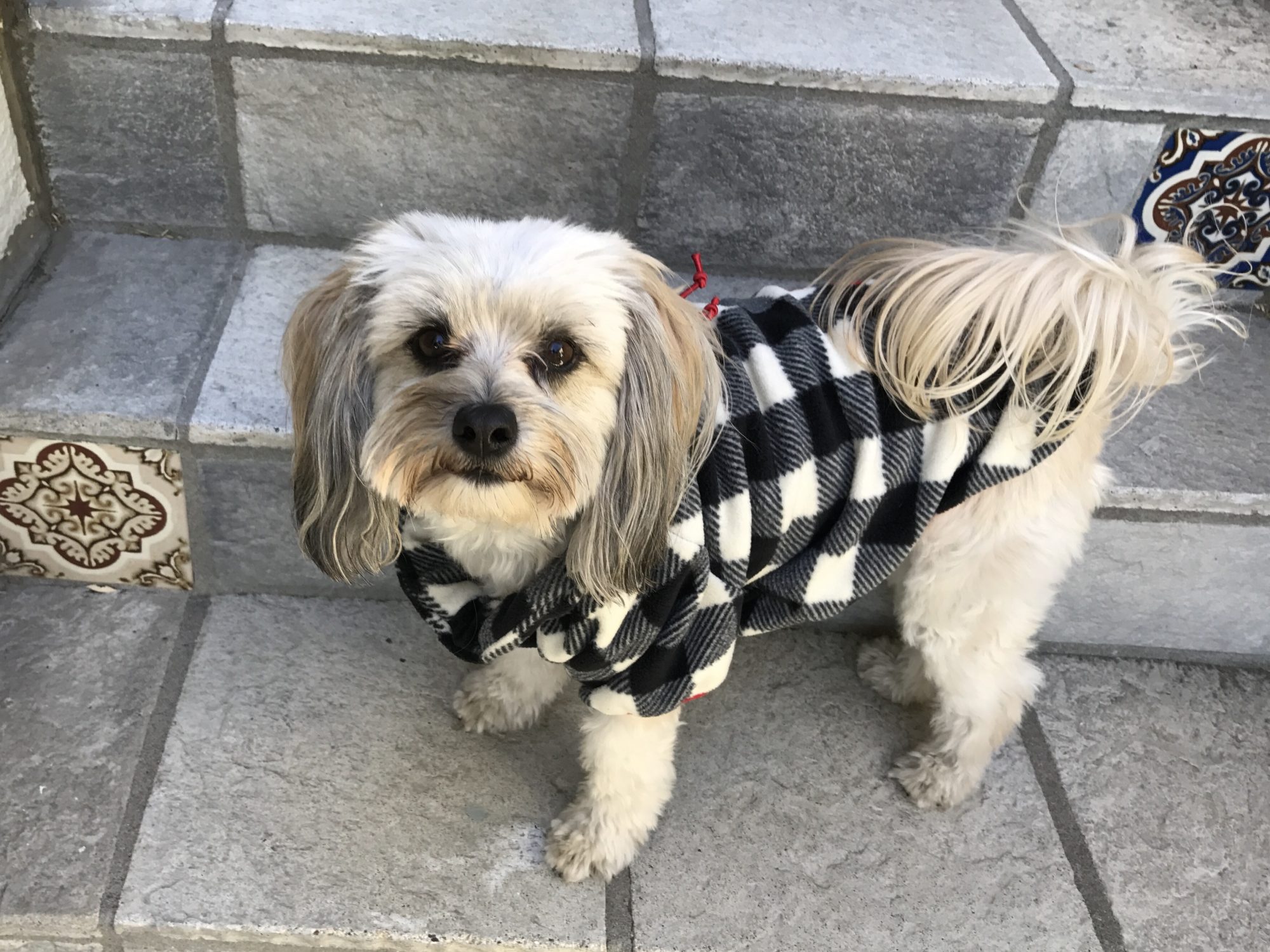 Riley is prepared for winter in this fleece. She's never actually seen snow, so maybe "prepared" isn't the right word. The Martha Stewart Pets Black Buffalo Checker Into the Wood Coat is $17.48.
10. Reindeer Antlers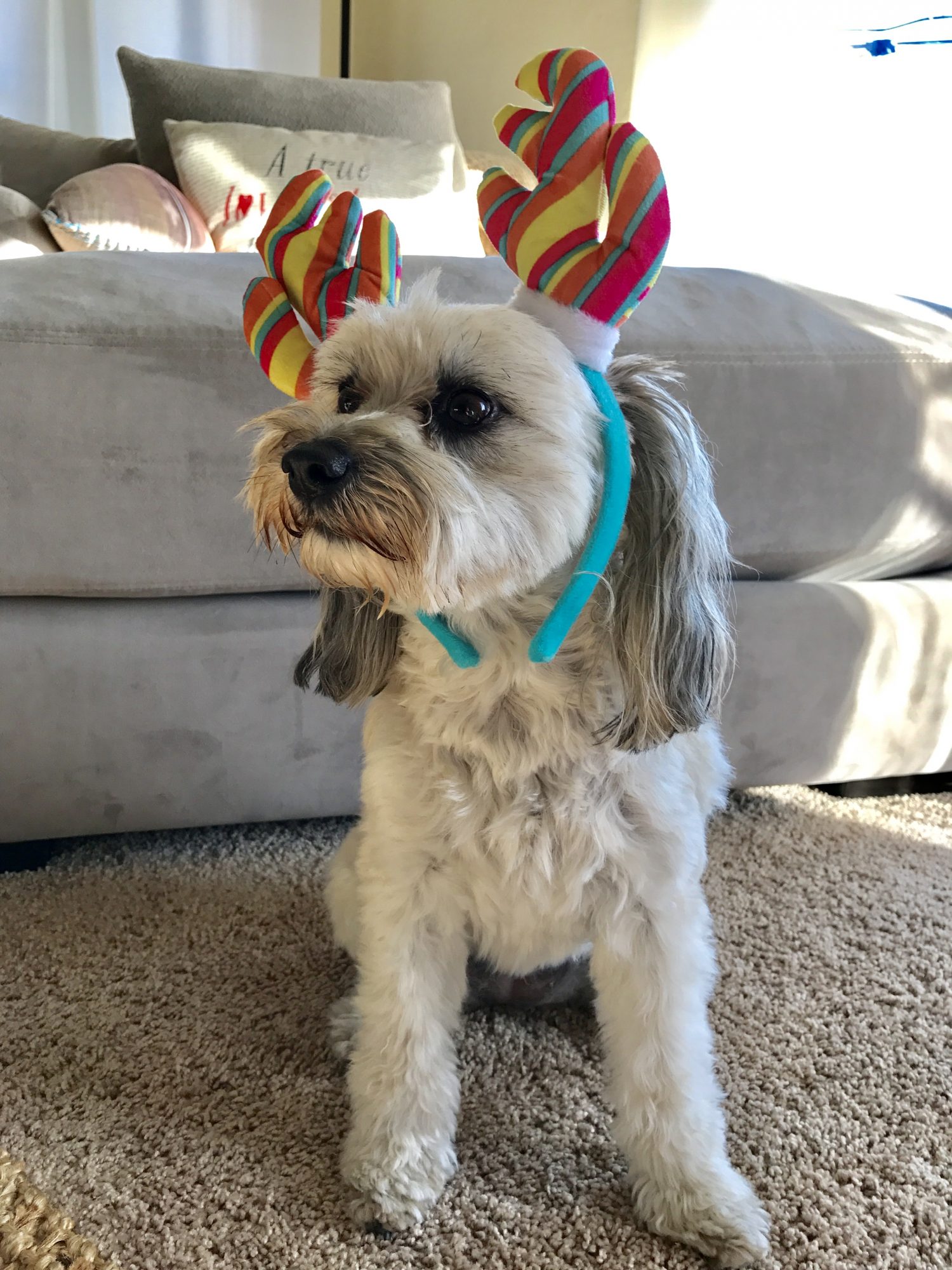 There's a better chance of Santa showing up at a Jewish kid's house than these Reindeer Dog Antlers actually staying on your dog's head for longer than 1.4 seconds. But those 1.4 seconds will be so worth it. Buy for $7.19.
11. Martha Stewart Holiday Fair Isle Harness Dress
If your holiday party is a little on the dressier side, this Holiday Fair Isle Harness Dress for $17.49 is probably the way to go. I mean, it has a bow.