12 back-to-school hairstyles that will earn you an A+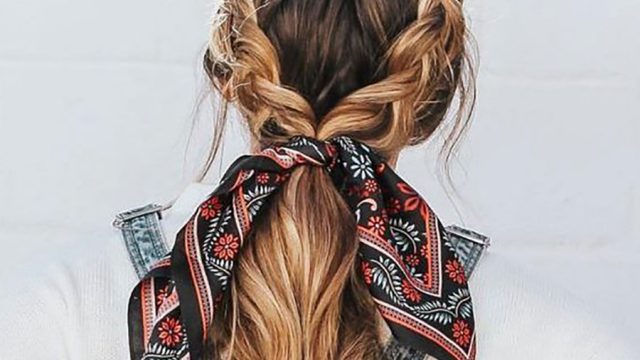 You finally mastered your contour and picked the perfect first day of school outfit—now all you need is a finishing touch to wow everyone you haven't seen since May. Enter: Cute back-to-school hairstyles. Braided buns, fierce fishtails, and power ponies are just the extra oomph your back-to-school look needs.
School mornings can be hectic, especially when you're just getting back into your routine. You need hairdos that aren't just stylish, but easy and quick, too. Even if you're an early riser, these cute back-to-school hairstyles will simplify your morning routine—and who wouldn't want that? Whether you're still loving your lighter hair from a sun-kissed summer or you've opted for a darker autumn shade, these cute back-to-school hairstyles will earn you an A+ all year long.
Cute back-to-school hairstyles for long hair
Long hair is the envy of many who have trouble growing their hair past their shoulders. But all that luscious hair can be overwhelming to style, too. These easy back-to-school hairstyles for long hair will shine the spotlight on your length—and get you out the door in no time.
1Pigtail braids
Pigtails or braids—why choose between these iconic back-to-school hairstyles when you can combine them? Opt for Dutch braids to give this classic school girl hairstyle a grown-up twist.
2Party pony
Who said school was all work and no play? This sassy half-up pony is the perfect way to bring some playful energy into your school day. Scrunchies also keep that youthful vibe alive.
3Box Braid Bun
Beat the back-to-school heat with this elevated box braid bun. Let a few plaits hang down to show that you're not all business.
4Oversized bun
Overslept and need your hair done, stat? Bundle your long hair into this low bun and—done. Add a colorful scarf to tie this back-to-school hairstyle together.
Shop hair scarves at Urban Outfitters.
5Low pony
Ooh la-la. This intricate double braid into a low, wavy pony might be a bit more challenging than other hairstyles, but the carefree boho vibe it exudes is worth it.
6Barrette boss
We're obsessed with the barrette trend, and we plan to take full advantage of it this school year. Slipping colorful or subtly sparkly barrettes into your hair adds an extra dash of style to your look—and it's so easy!
Cute back-to-school hairstyles for short hair
Having short hair doesn't mean you have fewer hairstyle options. There are tons of fun ways to elevate your look with your shorter 'do. Try these fun back-to-school hairstyles and you'll be the star student of the day.
1Half-up bun
The half-up bun trend isn't going away anytime soon, and we're sticking to it. Sassy and smart, this hairstyle is a tried-and-true fave.
2Dutch fishtail buns
This unique back-to-school hairstyle is a winner any day of the week. You might even be able to sleep in these stylish fishtail braids and wear them to school the next day without redoing them—we promise we won't tell.
3Accessorized Pony
If you're in a pinch, this pretty ponytail should be your go-to. Leave a few strands loose to frame your face and add a subtle barrette to cover the hair tie—effortlessly stylish.
4Headscarf Hair Do
We love a good headscarf. Wrap a headband or tie a printed scarf around your hair and voilà—fashionable back-to-school hairstyle: Achieved.
Shop scarves like this one at Madewell.
5Space buns
Unleash your spunky side with space buns. Wrapping colorful scrunchies around them adds a retro vibe we're all about.
Buy these scrunchies at Urban Outfitters.
6Fishtail tie-back
These loose fishtail braids pull hair away from your face, making this back-to-school hairstyle perfect for getting down to business—while still looking trendy. Once you've mastered these fishtails, you can master anything at school.
Try these cute back-to-school hairstyles this school year and your friends will be asking you to be their hair tutor in no time.