This customer-invented secret drink got so popular at Starbucks it's now officially on the menu!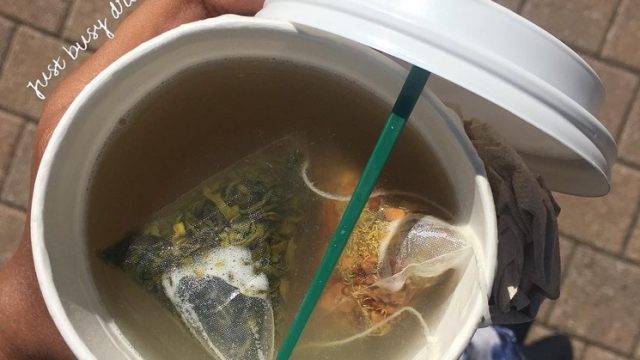 Starbucks has always given us what we want. From our beloved pumpkin spice lattes in the fall to newly released breakfast items, making a decision is never easy. In fact, Starbucks made it even more difficult with a new drink lineup for 2017, which included the winter exclusive Cascara Latte. That doesn't even include drinks on the "Starbucks Secret Menu" — a selection of drinks that customers have made up along the way.
However, one customer-invented secret drink became so popular, it's now officially on the menu.
The drink, dubbed "The Medicine Ball," became popular over Instagram and according to Fortune, that's when the *ball* started rolling. One manager reported that the drink had been requested in his store 20 times in one day. From there, other managers joined the conversation and naturally corporate took notice.
Just one day later, the customer-invented drink had its own ring-in code. Power to the people!
https://www.instagram.com/p/BQChz8vBnxW
But, what's in it, right?! The drink, also dubbed "The Cold Buster," consists of one Jade Citrus Mint Teavana bag, one Peach Tranquility Teavana bag to equal parts hot water and steamed lemonade. The drink is then topped off with honey. Yum!
https://www.instagram.com/p/BQfeNyNBjge
With all the ingredients combined, this drink is perfect remedy for sore throat and sinus ailments. Plus, honey has anti-microbial effects!
According to Instagram, it's pretty good, too! And if tea isn't your thing, there are plenty of "Secret Menu" items you can try!
This Tiramisu Frappuccino will definitely soothe your sweet tooth!
And this Arnold Palmer refresher is great for time spent by the pool!
Don't forget your four-legged friend, either. Pup cups allow your pooch to enjoy Starbucks, too (but obv no chocolate or coffee allowed)!
It's true that Starbucks has options for everyone! And, when they don't, we've shown them that we'll create our own!