OMG, just look at the photos of older Harry and Ginny from "The Cursed Child"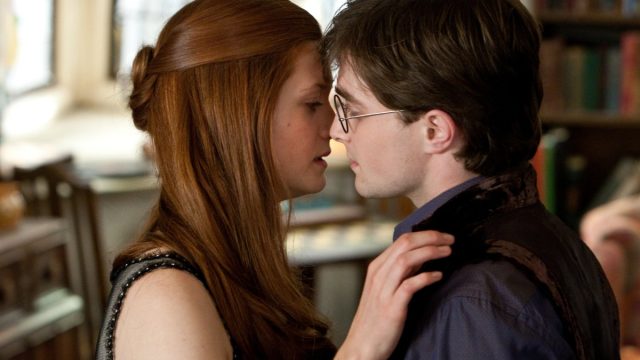 Harry Potter fans — us *certainly* included — have been desperate for any scrap of news on Harry Potter and the Cursed Child (both parts!). We're only a week away from the first preview of the play coming to London's West End, but already, the cast photos have got us misty-eyed for our fave magical characters.
The play will be debuting at the Palace Theater on July 30th — one day before the book's official release, which will be on the birthdays of Harry and J.K. Rowling, obvs. And the family picture of Harry (played by Jamie Parker), Ginny (Poppy Miller), and little Albus (Sam Clemmett) in his Hogwarts robes is giving us a heavy dose of feels. false
Look at Harry's messy hair! Ginny's smirk! And Albus's perfect combo between his mom and dad! Honestly, we couldn't be happier with our fave characters coming to life, decades later. false
But how does J.K. feel about all this? In regards to Jamie Parker, she told Pottermore, "He simply is Harry now. There's a kind of relief in watching him, he gets it so right."
But it's *so* weird to see Harry sans robes, in a full suit, isn't it? It all has been thought out quite extensively though, obvs. "He's wearing a suit because he's a Ministry man, but he's not just a bloke in a suit, that's way too anonymous," Jamie told Pottermore. "And it sounds strange but we talked around a lot of different suits, because there are suits and suits, and a lot of them we put on and we went 'Mmm it's just not right.'" false
J.K. was also super happy to see Poppy as Ginny, saying that "a lot of people would like to have imagined Poppy's Ginny for a mother. . . kind and cool, exactly as I imagined her."
As for Poppy, she's 100% thrilled not only to be in the production, but to be sporting the Ginny look. "So far I've had a fabulous haircut and, as this is Ginny's hair, it's obviously red and quite sleek," Poppy told Pottermore. "I also get to wear a gorgeous, hand-knitted jumper. I think of it as a really tasteful Pygmy Puff." (Laaawlz.) false
Oh, and little Albus! Except he's not so little anymore, and he's looking ready to face whatever adventures come his way, sporting his older brother's hand-me-down robes. We can't wait until July 30th — it's bound to be magical indeed.