This senior prank is going viral, and it's so brilliant the students didn't even get in trouble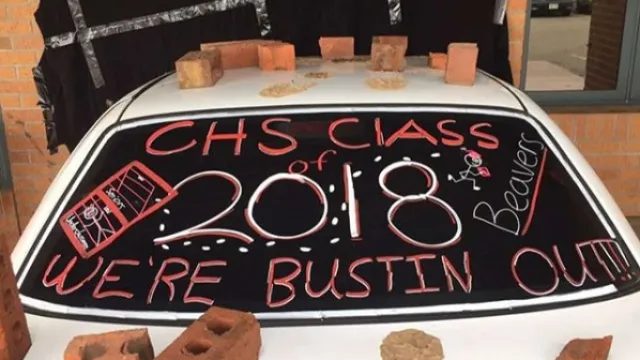 It's that time of year again: graduation season. High school seniors are writing their last papers, cleaning out their lockers, and preparing to collect their diplomas. But before graduation happens, there's one final rite of passage to partake in: the senior prank.
When we think of senior pranks, we think of elaborately staged musical numbers, hallways filled with tiny cups of water, and football fields decorated with plastic forks. But the clever seniors at Cumberland High School in Cumberland, Wisconsin just put every other senior prank to shame. And the best part? Their senior prank is so brilliant and funny, they're not even in trouble.
On Monday, May 14th, Cumberland police Chief Rick Rieper received a troubling phone call: A car had crashed into a wall at Cumberland High School, just outside of the principal's office. But when police arrived to investigate, all they could do was laugh. It turns out, in the middle of the night, four sneaky Cumberland High School seniors staged the elaborate car crash scene for their last week before graduating. And it's SERIOUSLY impressive.
In the photos below, you can see that the students covered the brick wall with black plastic to make it look like a giant gaping hole. Black electrical tape makes for very realistic skid marks, and the scattered bricks are an extra nice touch. But the back half of the old car really brings the prank together.
Best senior prank ever.
The masterminds behind the prank are Konur Pasko, Cody Paul, Adrian Warner, and Jacob Woodley. It's safe to say they're leaving behind quite a legacy.
The whole prank was all in good fun. The foursome was reportedly very careful, making sure not to damage school property in the process. And as a result, they didn't even get in trouble.
https://www.instagram.com/p/BixVd_pnZGi
"What they did was really creative," Rieper said of the senior prank, The Mercury News reports.
In fact, the senior prank was a hit for the whole city of Cumberland.
Cumberland has a population of 2,100, and many of the city's residents came to take pictures of the epic installation.
"It was the talk of the town. We had people driving up here all day taking pictures," said Cumberland High School principal Ritchie Narges, The Mercury News reports. "Graduating seniors at Cumberland often take part in some sort of prank. This is one of the more creative ones we've had, that's for sure."
The class of 2018 set the bar for future senior pranks REALLY high.