"Crystals" is your definitive guide to the magical world of minerals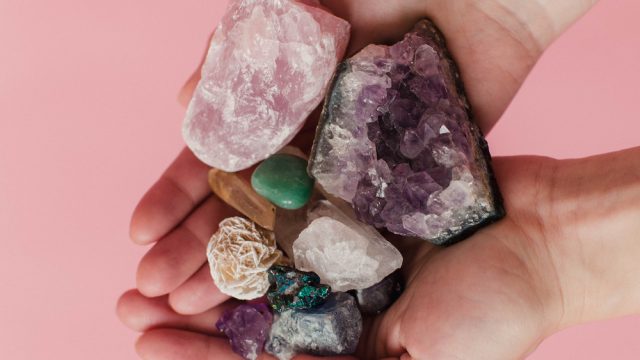 You don't have to be into spirituality or "the new age" to see the appeal of crystals. There's a reason why everyone from spiritual gurus to your favorite celebrity seems to love these ancient stones: they're pretty, and they're belived to believed to be powerhouses of energy. The best part about the beautiful pieces? They're easy to buy and work with — with a little guidance, of course.
Enter Crystals, the first in a series from Hat & Beard Press called "The New New Age: Exploring Spirit in the Modern World." The book offers a page-by-page guide into the mystical and fascinating world of crystals, providing an elegant overview of the healing, emotional, and spiritual attributes of nearly 50 stones. (Next up in the series: Tarot, Plant Medicine, and Rituals.)
Crystals is the chic coffee table addition that you didn't know you needed, but it'll also satisfy your otherworldy inclinations.
For the book, Hat & Beard consulted with Mark Phillips and Mark Anguiano, co-owners of Los Angeles cult favorite crystal shop, Spellbound Sky, so you know this is the real thing.
Other contributors to the book include Azalea Lee of Place 8 Healing, Gia Bahm of Unearthen, Sherise Lee of The Radder, Shannon Ross of SunMoonNation, and Erica Clum of Earthling Jewelry, according to a press release from the publisher.
So if you've ever considered learning about crystals but don't know where to start, consider this your invitation. We have a feeling you won't be sorry. You can get the book for $40, here.
Check out more Items of the Day, here!