Netflix Adds Disclaimer to 'The Crown' Season 5 Following Backlash
Dame Judi Dench suggests Netflix adds a disclaimer "to preserve their own reputation."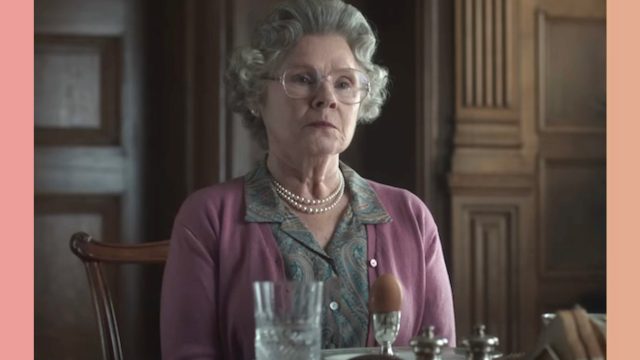 Dame Judi Dench is putting Netflix in its place. In an open letter to The Times, the English actress said it would be "cruelly unjust" of Netflix to disregard "The Crown" as a work of historical fiction ahead of its fifth season. Dench added it would be wise of the streamer to open each episode with a disclaimer reiterating that the series is a dramatization, out of respect for Queen Elizabeth II, who passed away in September, and Britain as a whole.
Dench's letter ran Thursday, Oct. 20, just moments after Netflix dropped "The Crown"'s season 5 trailer with no memoriam or note included. "Indeed, the closer the drama comes to our present times, the more freely it seems willing to blur the lines between historical accuracy and crude sensationalism," she wrote in her opening paragraph.
She went on to cite "wounding suggestions" of the royals, particularly of King Charles, that she fears "a significant number of viewers, particularly overseas, may take its version of history as being wholly true."
RELATED: 40 Questions to Ask Your BFF to Find Out How Well You Know Each Other
"The time has come for Netflix to reconsider — for the sake of a family and a nation so recently bereaved, as a mark of respect to a sovereign who served her people so dutifully for 70 years, and to preserve their own reputation in the eyes of their British subscribers," Dench concluded.
In response to Dench's letter, Netflix did add a disclaimer to "The Crown"'s Netflix page and the YouTube trailer.
However, it's unclear whether the statement will preface each episode as well. The disclaimer reads: "Inspired by real events, this fictional dramatization tells the story of Queen Elizabeth II and the political and personal events that shaped her reign."
Season 5 of the royal drama will take place in the 1990s. It will follow the unraveling of Princess Diana and Princes Charles' marriage, and consequently, his bond with Camilla Parker Bowles. This season will also cover Diana's extensive interview with BBC Panorama.
"The Crown" season 5 is slated to hit Netflix on November 9.
Emily is a NYC-based freelance entertainment and lifestyle writer — though, she'll never pass up the opportunity to talk about women's health and sports (she thrives during the Olympics).
Read more