PSA: Crocs Are Cool Again, Don't @ Me
Everyone from VSCO girls and Ariana Grande to Kentucky Fried Chicken and Balenciaga are hot for them.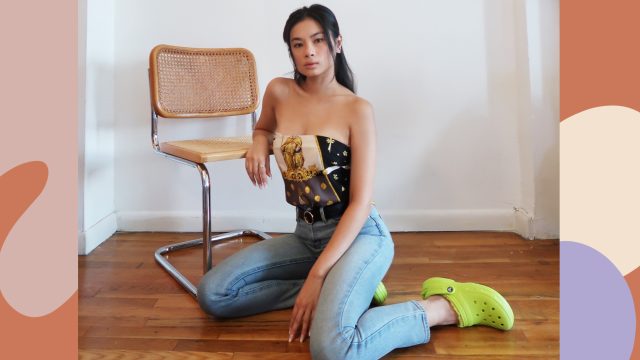 I'll admit: A large part of my personal branding used to be hating on Crocs. I used to love making jokes about their flubbery silhouette, how it's a shoe reserved for people named Nancy and Rand, and how all the holes triggered my trypophobia (they still kind of do). I hated on Crocs so much it nearly became a personality trait. But now I'm here to tell you that I have since converted. Crocs are cool, dude.
What's that one John Green quote? I fell in love (with Crocs) the same way you fall asleep: slowly, and then all at once. I wouldn't say there was one singular Croc incident that enlightened me. But there is that one image of Ariana Grande in an oversized sweatshirt and white Crocs that really got to me. Upon further inspection, I realized that Ari proudly sporting a pair of Crocs was a part of a movement that is much larger than both you and I—and that is the VSCO girl trend.
Young girls across the country are collecting scrunchies, carrying Fjällräven Kånken backpacks, and decorating their Hydro Flasks with stickers from Brandy Melville—all while wearing Crocs. And before you think these teen girls are doing it ironically, believe me when I say that they're not. Their unabashed devotion to the Crocs Classic Clog is real.
To add to that, rapper Post Malone has partnered with the brand to design not one but two pairs of Crocs. We're talking barbed wire imagery and a lot of "Posty" references. Both drops sold out within minutes and even had Madonna thirsting for a pair of Posty Crocs.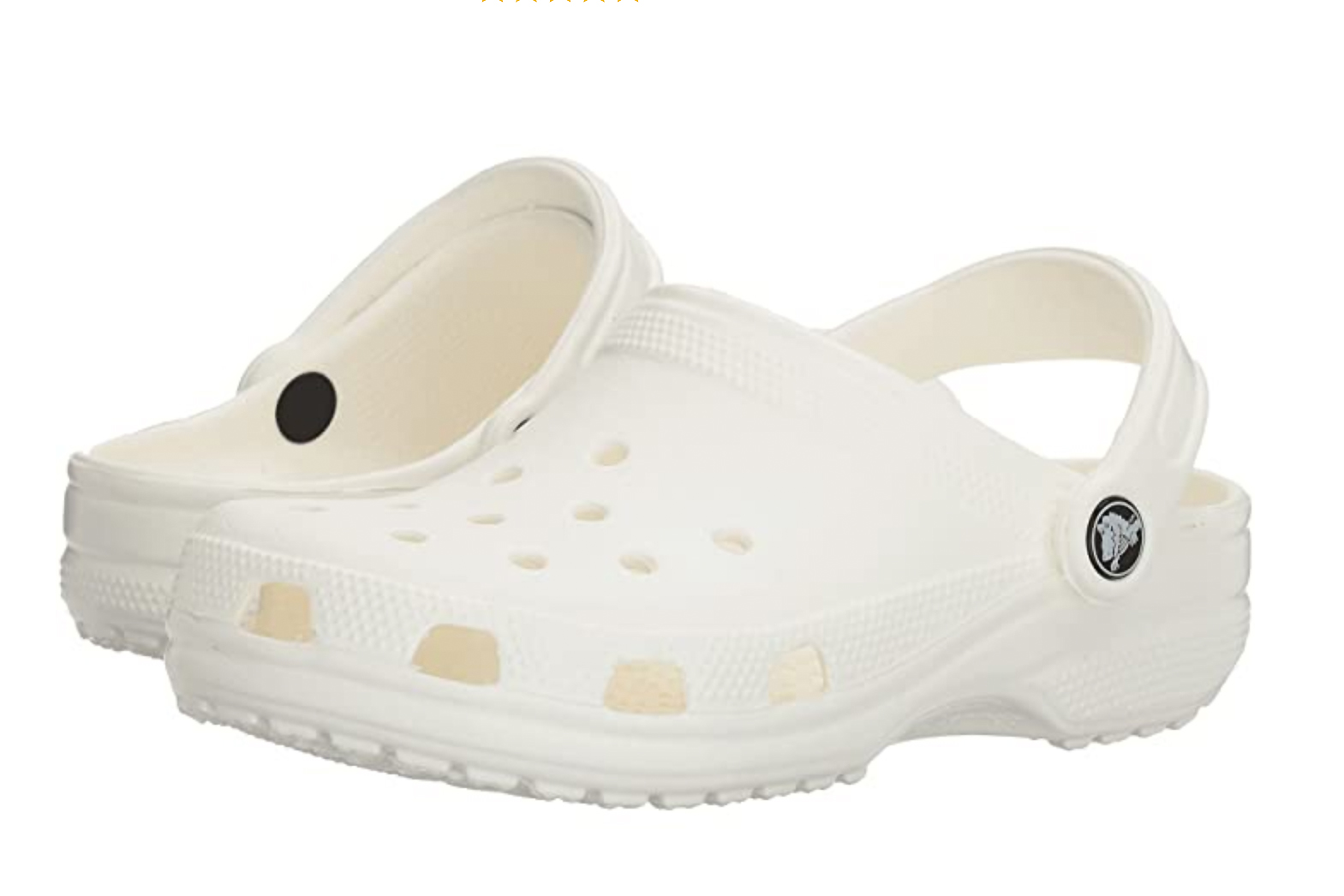 Crocs Classic Clog
$$44.95
Shop it
Zappos
From a sales perspective, it's clear that artist collaborations work for the brand. Crocs has also partnered with Luke Combs, Ruby Rose, and even viral meme masters/streetwear brand PizzaSlime for a slew of limited-edition Crocs. And if you're wondering, there really is a Croc for everyone.
Balenciaga came out with their own version of sky-high platform Crocs that (rightfully) shocked the masses. Christopher Kane showed off crystal-embellished Crocs on the runway (perfect for the smudging type). And Barneys New York (pre-official shutdown of all their locations) released two different versions of spiked clogs (two words: goth Crocs).
It's also worth mentioning that Crocs, as a brand, is smart. The brand has been leaning into the whole ironic essence and gone for other collaborations that make little to no sense, such as its sadly sold-out collab with Kentucky Fried Chicken, which featured hyper-realistic-looking fried chicken drumstick Jibbitz charms that, yes, smelled like fried chicken.
But aside from all the collaborations, the original Classic Clog is just a banger of a shoe on its own. Comfort has never really been questioned here, at least not as much as the aesthetic of the shoe, and perhaps first and foremost, that is the main factor behind the shoe's popularity.
If you're looking for different ways to style Crocs (apart from the oversized-sweatshirt-VSCO-girl way), then look no further. I'm bringing you three different looks for whatever occasion your Crocs might accompany you to.
How to wear Crocs at home: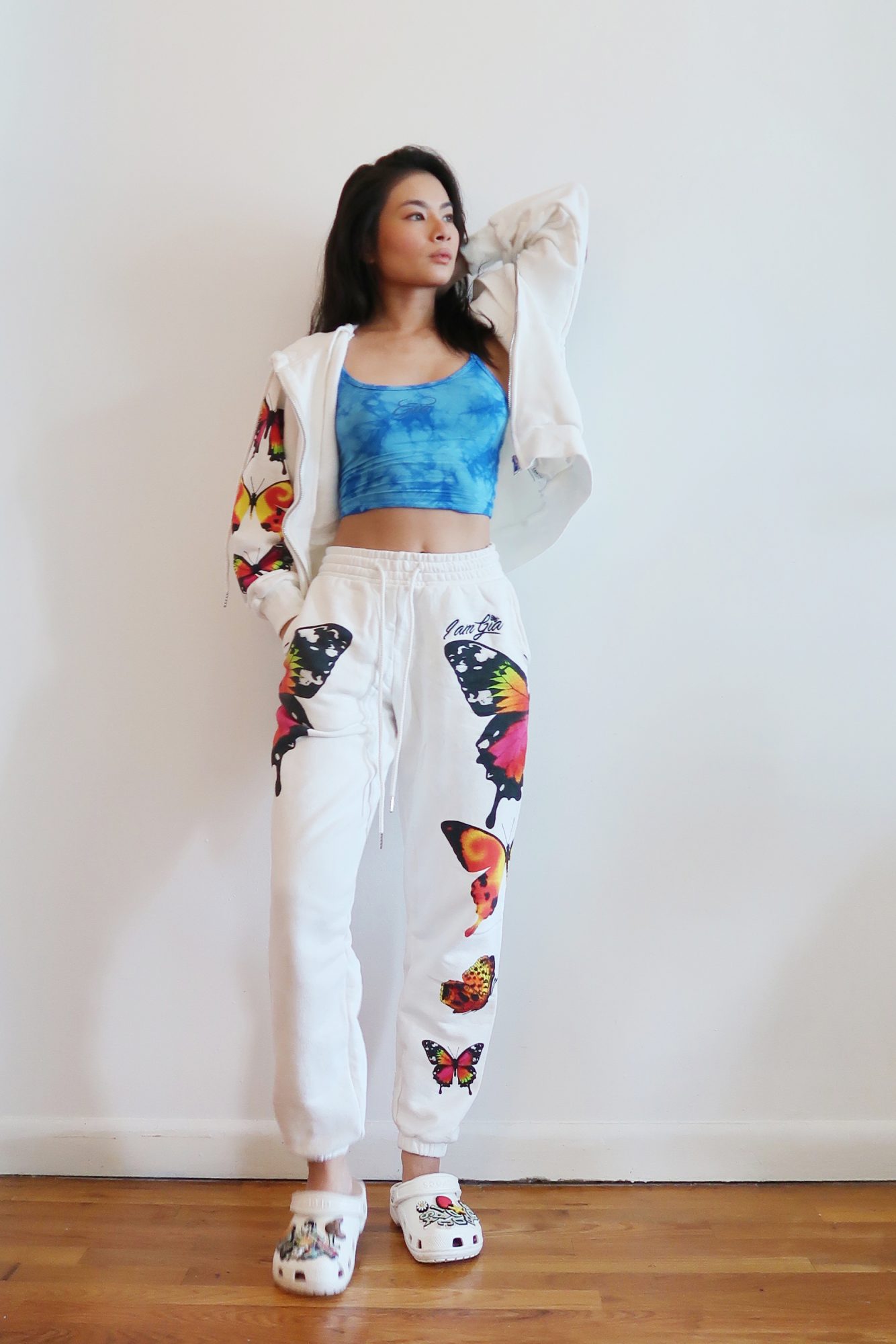 I have a pair of white Crocs that are dedicated to being worn around the house (and yes, this does imply that I now own multiple pairs of Crocs). They're just so easy to slip on, and the little nodes at the bottom of the shoe feel super comfy. I also love to slip them on right out of the shower and not worry about getting fuzz stuck to my toes—a consequence I used to have with regular house slippers. And as you can tell, I love adorning them with approximately one million different Jibbitz charms for some extra flair.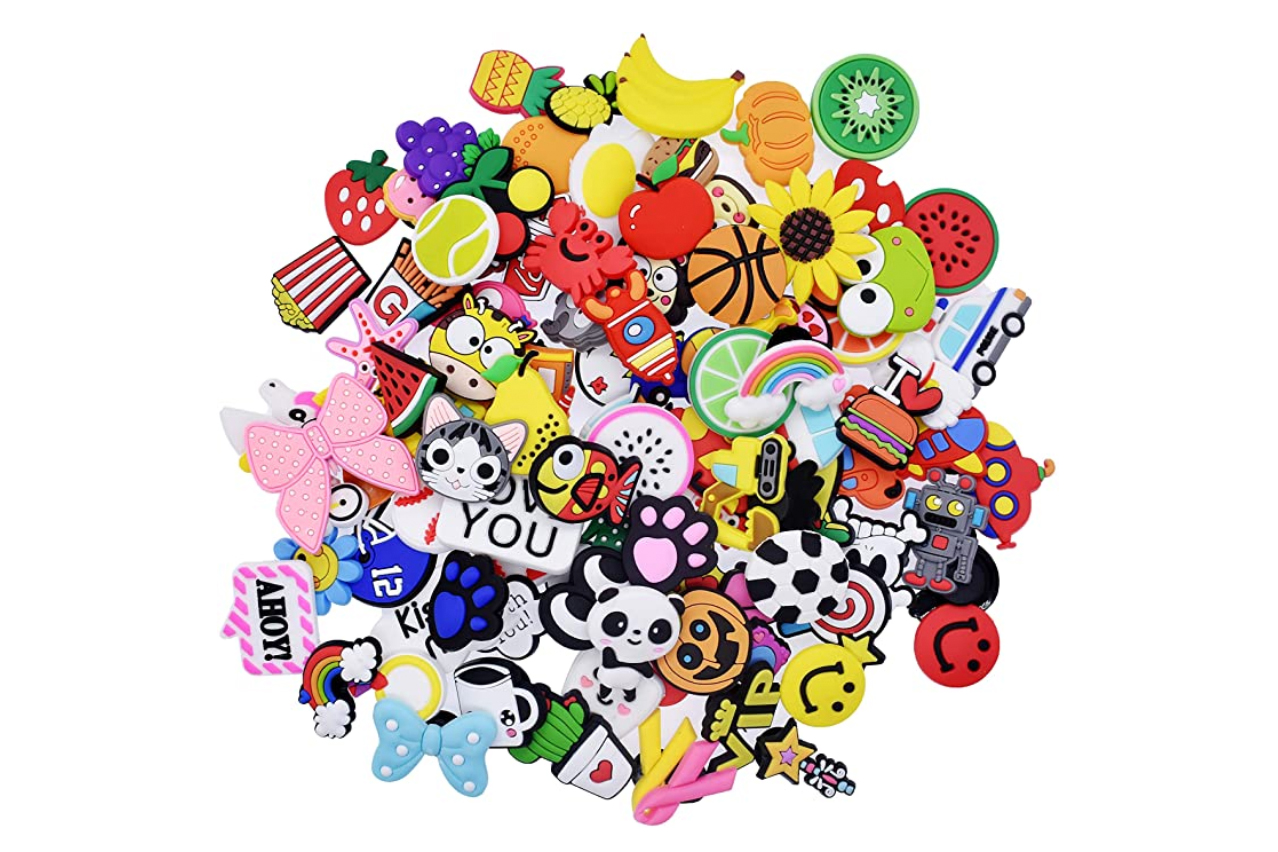 XHAOYEAHX Charms Fits for Crocs
$$13.99
Shop it
Amazon
How to make Crocs look funky-fresh: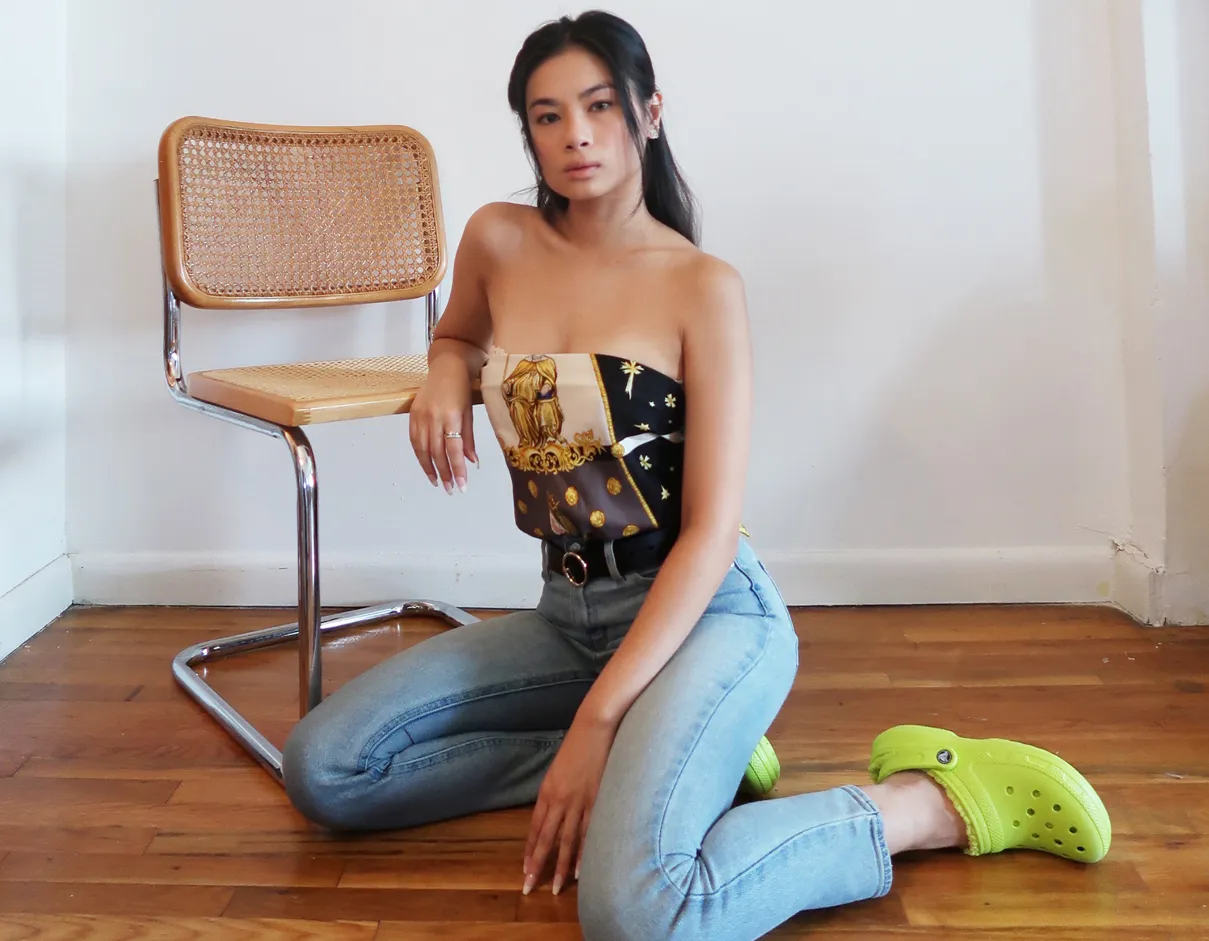 Please don't ask me about my current obsession with neon green—I don't understand it either. I absolutely love these lime green Crocs and figured they'd look best with a pair of trusted blue jeans. A fun top (or in this case, scarf) was all I needed to top it off. Hey Alexa, play Ciara's "One, Two Step"!
How to make Crocs look goth-girl edgy: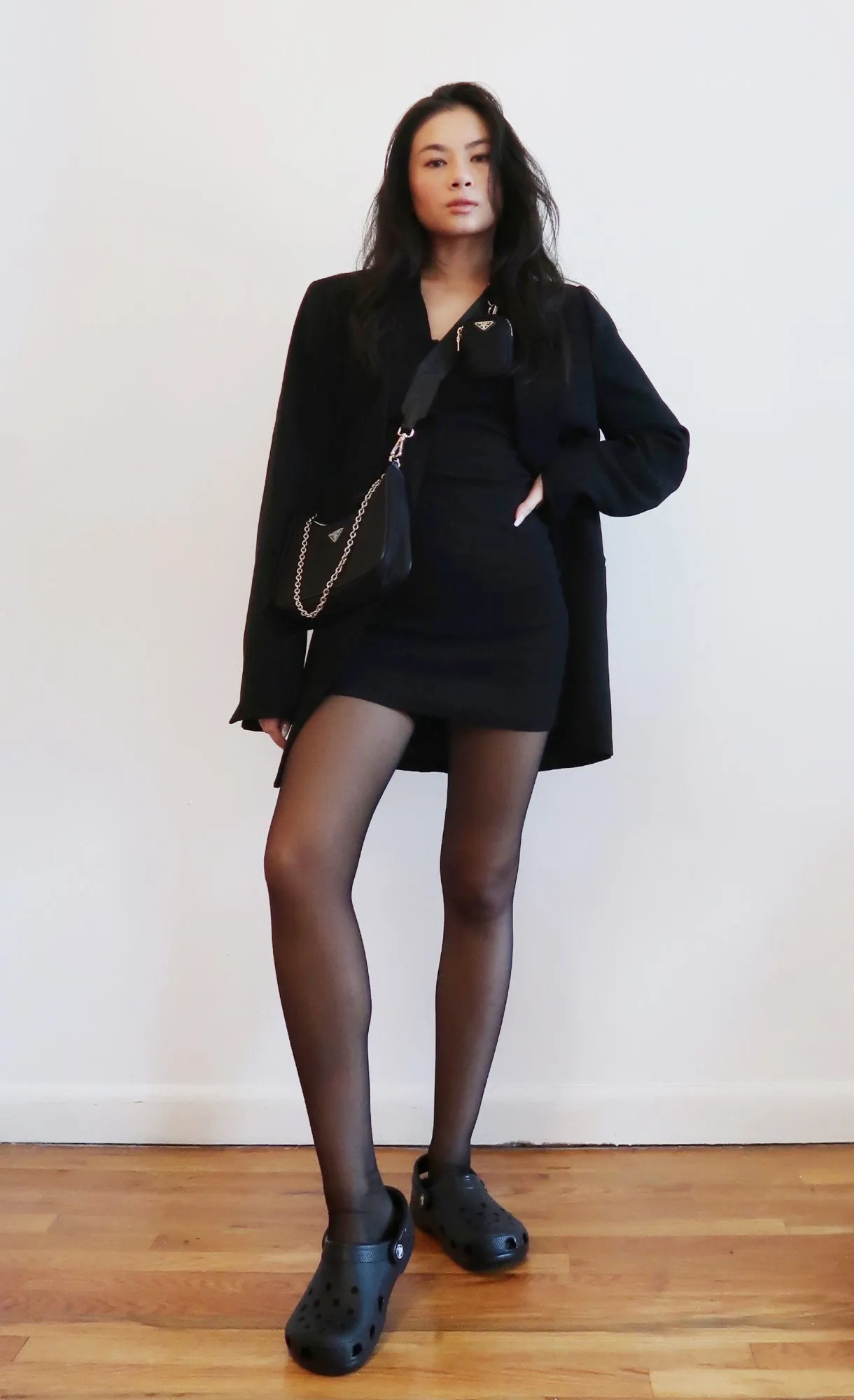 Here I'm embracing my minimalist (or inner goth) side with an all-black ensemble. Usually, I'd wear this sort of look with a pair of chunky combat boots, but a pair of black Classic Clogs looks great, too. I'm also wearing them in sport mode (with the heel strap down) for less of a slip-on and more put-together kind of look. Yes, Crocs can do that, and they slay.