Crock-Pot wants you to know its product won't destroy your life, like it does in "This Is Us"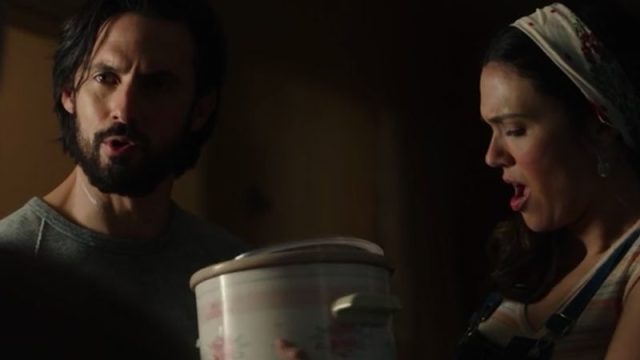 For the first time since its premiere, NBC's This Is Us actually didn't make us ugly cry at the very end this week. Well, not as much as they usually do at least. Instead, we were slowly peering at the beloved slow cookers on our countertops and wondering if they would destroy everything we ever knew about growing up, love, and family. And also, Super Bowl chili. Given the intensity of the episode, in which fans were brought one step closer to (probably) Jack's death, the Crock-Pot brand says its product is safe. Even though it might theoretically kill the beloved Pearson patriarch on the show.
In light of the ending montage this week, Crock-Pot has issued a couple statements defending its slow cookers and its love for the Big Three. It responded to one fan in a Facebook comment:
"Jack Pearson was our Valentine so we equally understand your pain with his loss. We love him and we love you too. Don't further add to our heartbreak by no longer using Crock-Pot Slow Cookers, rest assured our products have been generationally tested by your family and friends.
In another comment, the brand added that it was "innocent until proven guilty," which is true for a number of reasons, not the least of which is that this family drama is full of red herrings and twists. Who knows?! Maybe it's another fire that kills Jack. (Hey, we're just trying to hold on here, too.)
After fielding social media comments, the brand released another statement defending its all-American cookware and its love for the This Is Us family.  It said that they believe it is "important that our consumers understand and have confidence that all Crock-Pot slow cookers exceed all internal testing protocols and all applicable industry safety standards and regulations as verified by independent third-party testing labs."
In addition, it reminded consumers that their products are low wattage and the knobs, which were reportedly the cause for the Pearson's pot to burst into flames, are tested by multiple labs. The company then asked that the network inform its fans that Crock-Pots are safe, which is pretty hilarious, since really, only in 2018 would a beloved product that literally everyone owns endure a boycott because on Super Bowl Sunday, in some fictional TV world, one reportedly caught fire. You have to admit: The plot line with the Super Bowl and the Crock-Pot was unfortunately timed given that the big game is just weeks away, but…it's just a TV show. Really. If we avoided everything that killed our favorite characters on TV, we'd never get in cars, go to the ER, or hop on a plane. We must carry on.
Showrunner Dan Fogelman tweeted the next morning, seeing how fans were tossing out their own Super Bowl Sunday chili recipes, that it was a hand-me-down Crock-Pot and to not hold the brand accountable. "I just literally just sent out a tweet — because I was reading this morning the reactions to the episode — reminding everybody that this was a fictional Crock-Pot with a faulty switch that was 20 years old. So, I don't think the entire Crock-Pot community should be blamed for this," he added in an interview with Entertainment Weekly.
So, yes, your slow cooker is safe, fam. And listen, Jack would never want you to sacrifice your family cook-off traditions on his account anyway.