Crock-Pot has released an *official* statement on Jack Pearson's death, pinky-promises it will not kill you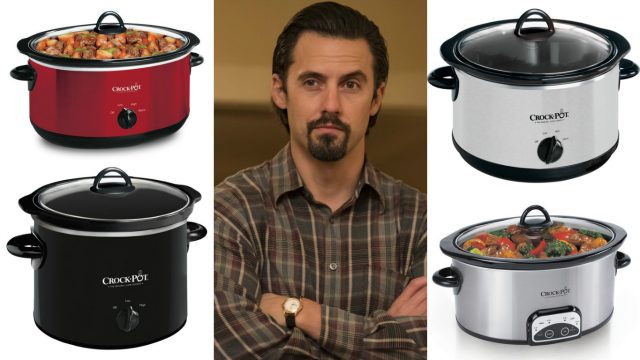 Who lives, who dies, who has to issue an official statement regarding your fictional death on an NBC show? Crock-Pot, that's who. Following the events of the latest episode of This Is Us, "That'll Be the Day," we learned that Jack Pearson dies in a house fire…that's started by a faulty Crock-Pot. Hopefully someone over at NBC warned Crock-Pot that this was going down, because fans and Jack Pearson stans are NOT happy with the slow cooker brand.
Immediately after the episode aired, people took to Twitter to air their grievances and threaten to throw away their Crock-Pots, since they are the inciting incident when it comes to Jack's death. Even more people took to Crock-Pot's social media channels to yell and cry about the death — and yes, this is the world we live in where we're blaming a real household product for the fictional death of a TV character. Welcome to 2018!
While Crock-Pot was doing a pretty good job calming those on Instagram and Twitter down, they've now released an *official* statement in response to Jack's death, and they swear they didn't have anything to do with it. Crock-Pot promises that their products are actually super safe — believe them! The brand released a statement to the Washington Post, which in short, asks us to calm down just a smidge:
"Crock-Pot understands the concerns brought up by last night's episode of 'This Is Us,' and we too are heartbroken by the latest development in Jack's storyline. However, it is important that our consumers understand and have confidence that all Crock-Pot slow cookers exceed all internal testing protocols and all applicable industry safety standards and regulations as verified by independent third-party testing labs. For nearly 50 years with over 100 million Crock-Pots sold, we have never received any consumer complaints similar to the fictional events portrayed in last night's episode. In fact, the safety and design of our product renders this type of event nearly impossible."
Also, the model that was in the Pearson house is very outdated, and don't forget, GEORGE KNEW IT WASN'T GOOD. WE SHOULD BE BLAMING GEORGE.
"In addition, and most relevant to the concerns consumers are having after watching the recent 'This Is Us' episode, our Crock-Pot slow cookers are low current, low wattage (typically no more than 200 or 300 watts) appliances with self-regulating, heating elements," Crock-Pot continues. "Our hope is that the team at NBC's 'This Is Us' will help us in spreading factual information regarding our product's safety. While we know their primary mission is to entertain — something they have continued to excel in — we also feel they have a responsibility to inform. Just like many fans, we will be watching next week's episode to see how Jack's story progresses and, regardless of the outcome, we want consumers first and foremost to know they are safe when using their Crock-Pot."
So cool, Crock-Pot's also a fan of This Is Us, that's nice. And once again, they swear their products will not kill you, and they'll *also* be watching the post-Super Bowl episode, to figure out how exactly Jack's death plays out. What a world.