This New Whitening Treatment Brightened My Teeth Without Causing Sensitivity
I started smiling with my teeth for the first time in years.
Welcome to Game-Changers, a weekly series in which we reveal the holy grail beauty products we're loving now—the ones that saved our hair, cleared our skin, and, in some way, changed our lives.
Ever since I was a teen, I've tried more than a dozen different targeted teeth whiteners, not to mention an array of toothpastes that promise whitening power, too. While I admittedly swear by some whitening toothpastes—like Davids Antiplaque & Whitening Premium Natural Toothpaste and Arm & Hammer Advance White Extreme Whitening Baking Soda & Peroxide Toothpaste—in all of my product testing, I had never found a targeted whitening treatment that satisfied me on all fronts—until now.
I tried everything, but no matter which at-home treatment I used, like whitening strips and trays, I always got less than awe inspiring results with a side of intense tooth and gum sensitivity. So instead, I focused on whitening toothpastes. But as much as I love how clean and shiny those pastes make my teeth look, I still wished for whiter teeth. It was a never-ending cycle of coming to terms only to then loop back around and wish for a dental miracle. And, surprisingly to me, that's exactly what presented itself.
Crest's Whitening Emulsions are the real deal. Unlike every other whitening solution on the market, this new gel treatment is designed to be left on. What's more, it's specifically formulated to freshen your breath without being unbearably minty to the point that it's irritating for your teeth and gums, causing sensitivity days after the treatment. This was a huge selling point for me because ever since I was a teenager craving sparkly white teeth in my class photos, I've had a real issue with rinse-off treatments burning so much that they trigger loads of extra saliva that makes me fear accidentally swallowing some of the product.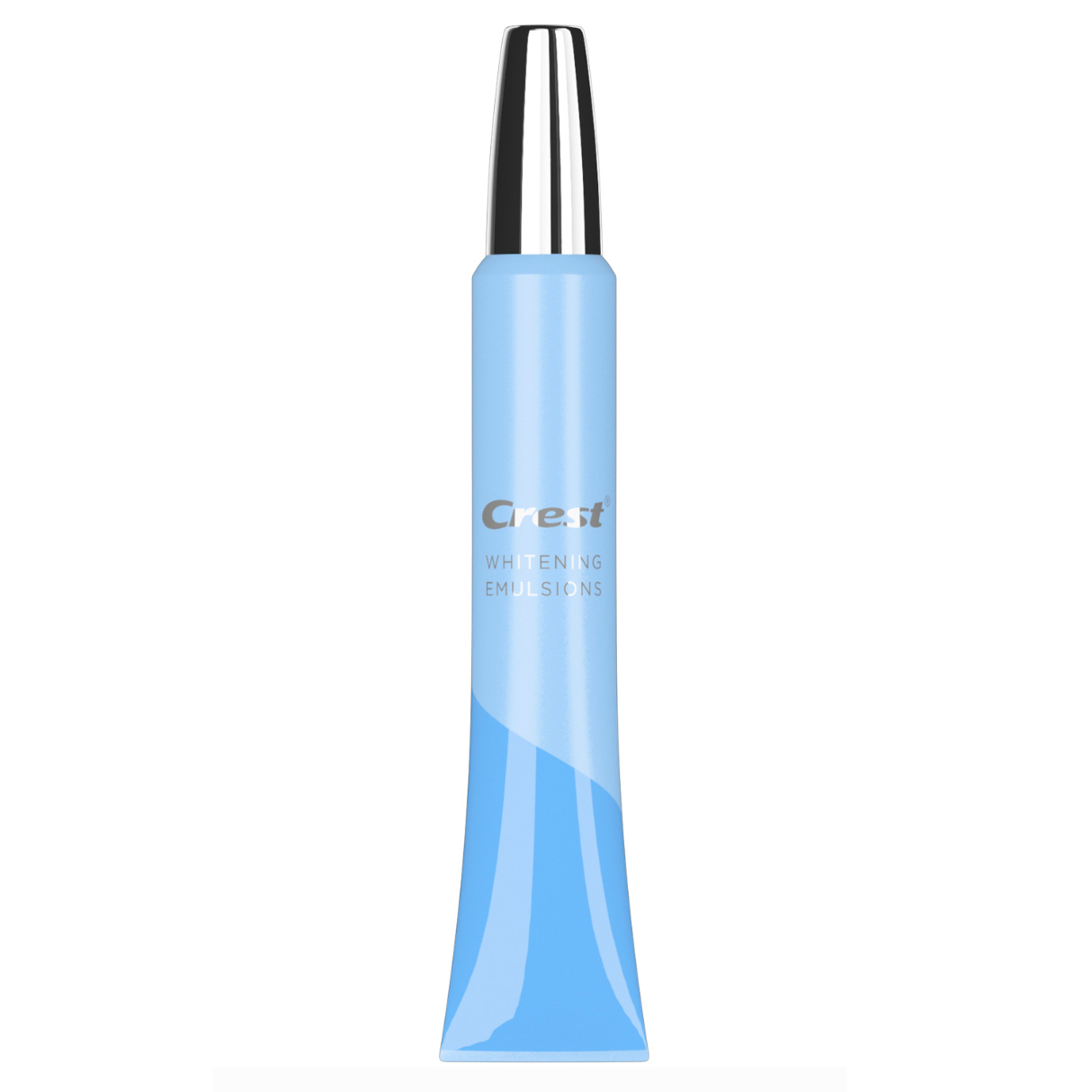 Crest Whitening Emulsions
$$59.99
Shop it
Ulta
Crest Whitening Emulsions is a water-resistant gel that's applied with an included flexible wand applicator. It's designed to whiten and hydrate your teeth—something I admittedly didn't even know was a thing. However, it's in that hydration that the product is able to avoid causing sensitivity. Beyond its gentle whitening power, this gel is designed to stay on for up to 10 times longer than traditional whitening gels. This ultimately means that the whitening treatment is still working well after you've forgotten about it. Best of all, since it's made with gentle, non-toxic ingredients, it can be reapplied up to four times in a day without causing tons of extra spit in the process.
Thanks to the true convenience of the Crest Whitening Emulsions—including the fact that it even comes in a travel size—I've been diligently whitening my teeth for the first time in years with little to no thought. Given that it's not associated with any sensitivity, I genuinely forget that I do it—it's just part of my evening routine now. After brushing my teeth and gargling, I swipe the gel over each and every tooth and head to bed without a single worry. It's a true game changer—one I would recommend 100 times over to anyone looking to effectively whiten their teeth without it becoming a source of stress in their lives. If you're like me, you'll be swooning over the oral care innovation and swearing by it after just one use. And who knows? For the first time in a long time, you might actually start smiling with your teeth. I know I did.