Meet the creator of JUICE Fest, a safe space for queer and trans women of color to celebrate Pride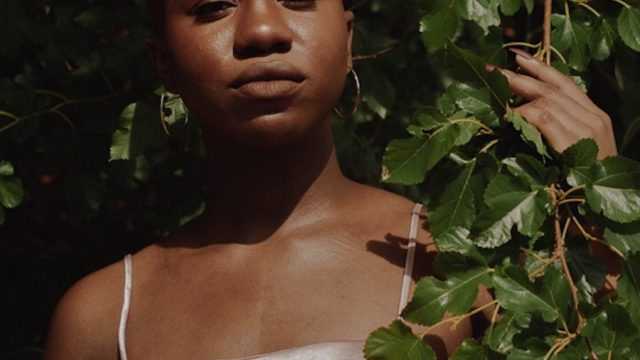 June is Pride Month.
Major music festivals like Coachella cost more than most of us can afford; they also offer little to no diversity among their attendees. Even a festival like AfroPunk —  once a donation-based underground gathering for devout Black punk rock fans — has been accused of inflating its prices and forgetting its roots. This can make it feel like there are no safe and celebratory artistic spaces for marginalized folks — bur enter JUICE Festival, an outdoor summer music, film, and arts festival for queer and trans women of color (or womxn). Based in Philadelphia, JUICE Festival is organized by Her Philly Moves, a collective that promotes visibility for the QTWOC community.
Described on the event site as a "vision of a more inclusive and intersectional Pride Festival," JUICE took place on June 9th, 2018 at Life Do Grow Farm, an urban community farm. Attendees at the festival experienced interactive art installments, film screenings at sunset, Black-owned vegan catering, and resource sharing among QTWOC.
Just in time for Pride Month, I spoke with Her Philly Moves founder and JUICE creator, Daiyon Kpou, about her vision for the festival, the importance of inclusivity in queer spaces, and what's on her summer playlist. Check out our talk below:
Hello Giggles (HG): Can you start by introducing yourself to our readers? Where are you from, and what you do?:
Daiyon Kpou (DK): My name is Daiyon (pronounced Day-on) Kpou. I'm 24 years old. My pronouns are she/her and I'm from (West) Philadelphia. By trade, I work in public health; I've been studying environmental science and biology for the past six years, so I'm particularly interested in issues surrounding LGBT health and issues surrounding sexually transmitted diseases, smoking, and mental health. Outside of that, I'm interested in environmental science.
HG: I love that you stated your pronouns — you're on top of it. How would you describe Her Philly Moves and its team? What inspired you to start that platform?
DK: I started it in June 2016. It was basically an events blog and we would post event flyers and different things going on, and different resources (like HIV testing), and different opportunities, or poetry session, or parties. Things that I thought were relevant to queer and trans womxn of color. The reason why I did that is because this is a time when a lot of conversations about racism in the Gayborhood were going on (the Gayborhood is a section of Philadelphia with queer resources and establishments). When I came "out" I was 21, and so the first thing I did was go to the Gayborhood. When I went to those spaces, I didn't feel as though I was being celebrated there.
It was important to highlight things happening for us, by us…[Her Philly Moves] was invested in that for a period of time, and then we decided to translate it into physical manifestations…into our own work. We have become a creative collective now; there are four members in total: Jamya Day (DJ and Creative ), Olivia Latney (Visual Artist), and Chris Wallace (Administrative Support).
HG: Queer spaces don't always focus on racial and cultural inclusivity. Can you explain why it's important that queer and trans womxn of color have their own spaces?
DK: I think it's important because every day we navigate spaces where we are susceptible to racism, homophobia, and discrimination — these things happen at the intersection of being Black and trans. Inclusive spaces create opportunities to feel more comfortable being ourselves.
HG: What other kinds of events has Her Philly Moves organized in the past?
DK: Our two major events are FADE and JUICE. FADE is a showcase, and sometimes it's a party. We have been able to experiment with it and take it to SXSW…and we'll take eight to 10 artists to Atlanta for A3C to showcase their talent…We also do a lot of collaborative work with organizations like March to End Rape Culture to fight for queer and trans womxn who are victims of rape culture, and we work with Philly Urban Creators on issues like food security. Our goal is to try and increase collaborative resources.
HG: JUICE Fest is in its second year. How would you describe the event? What kind of vibe do you want guests to experience?
DK: We describe JUICE as a more inclusive and intentional Pride festival. The vibe is freedom, openness, and proudly being "out." That's why the venue is a farm, because the sun is shining on you.
HG: Art, and art by queer and trans womxn of color, is a big highlight of JUICE. Why was this an important focus for you?
DK: I like the idea of integrating art… Art reflects the space we're in now. There are artists who critique police brutality and gentrification. Art promotes community building, initiates conversations, and can translate perspectives through a painting or a photograph…and gives representation in spaces that are usually dominated by mostly cisgender heterosexual men. During JUICE, there [was] a film showing about homelessness and Black queer women, and other stories that should be told.
HG: JUICE Fest has a dope playlist. What's your favorite song on the playlist, and what WOC artist should we be listening to this summer?
DK: My favorite song right now, is probably "Key Lime OG" by Rico Nasty. And I'd say that we need to listen to Janelle Monae this summer; she's having an amazing moment. (See JUICE's playlist here.)
HG: What keeps you motivated to fight for inclusivity for QTWOC?
DK: It probably sounds cliché, but I think about what I want to see more of in the world. I think about how I can support larger movements like Black Lives Matter and the anti-racism, anti-fascism, and feminist movements.
HG: It doesn't sound cliché at all — especially if you are taking actual steps to make it happen. How can people get involved with JUICE? And what's next for Her Philly Moves?
DK: We like for people to start as volunteers, and if they're a good fit for our dynamic and the unpaid work that we do, then they can become more involved. We have a zine coming out, Hoodstock Festival, and a few visual projects in mind; we also want to help artists build their careers.
Keep up with JUICE and Her Philly Moves on Facebook, Instagram, and Twitter.